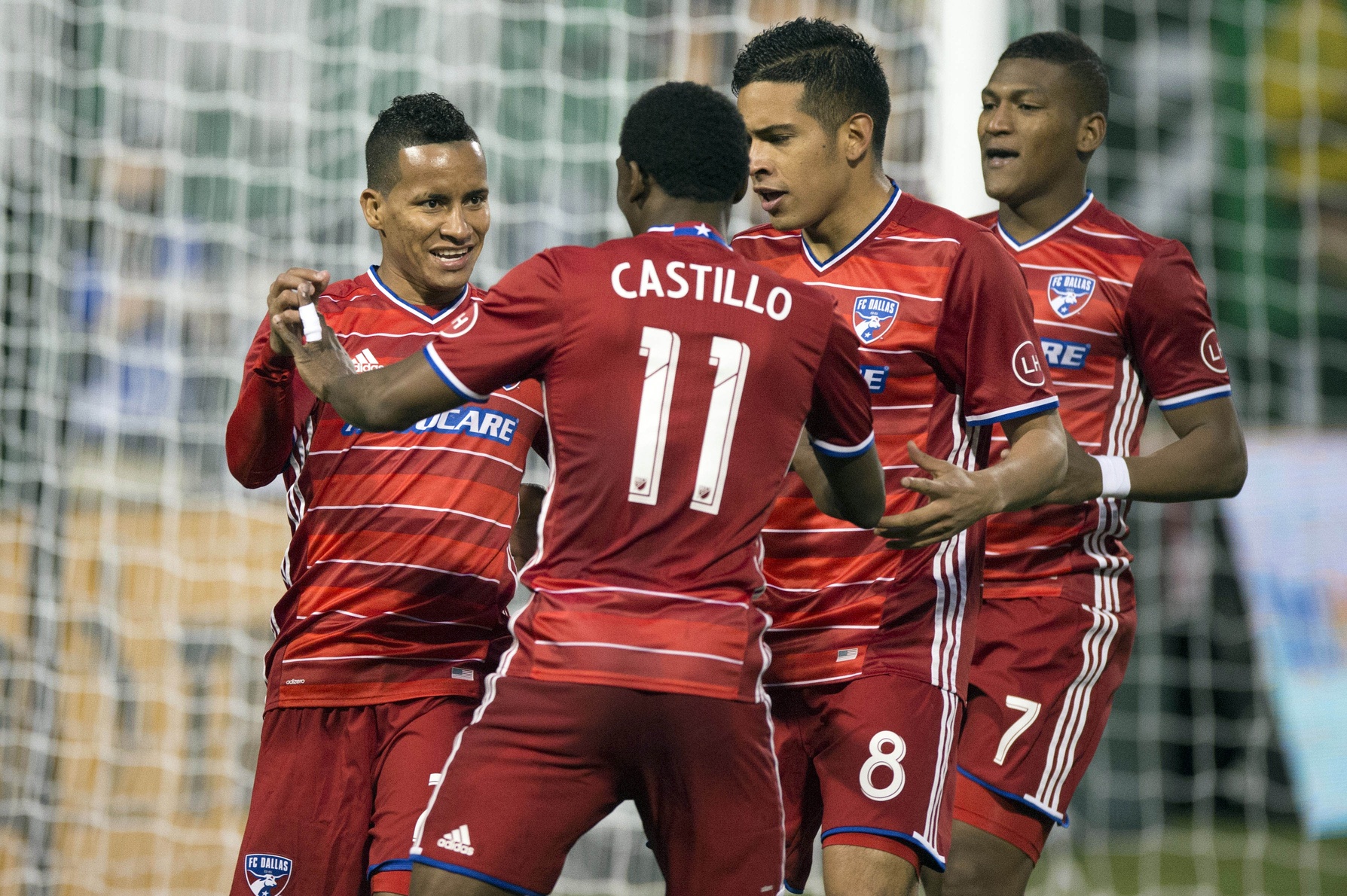 The Western Conference finals rematch between the Portland Timbers and FC Dallas was nowhere near as competitive as last year's postseason slugfest, and even the winner was different this time around.
FC Dallas rattled off three first-half goals, overwhelming a sluggish and short-handed Timbers side early on the way to an impressive 3-1 victory at Providence Park on Wednesday night.
The Timbers returned home from an emotional 1-1 tie against the LA Galaxy to face an FC Dallas side that dominated the proceedings early on. The visitors showed much more energy from the start, and it resulted in early chances FC Dallas was able to capitalize on.
Michael Barrios opened the scoring in the 4th minute, finishing off a Tesho Akindele pass to give the visitors the early lead. The Timbers never could find their footing after that goal, and FC Dallas pour the pressure on before Fabian Castillo made the score 2-0 in the 26th minute. Former Timber Maxi Urruti was the architect of that goal, forcing Jack Jewsbury into a turnover that fell to Castillo, who blazed his way at goal before beating Adam Kwarasey for the finish.
It only took FC Dallas three more minutes to make the score 3-0, when Tesho Akindele latched onto a mis-hit Fabian Castillo shot just three minutes after Castillo's goal.
The Timbers came out with more energy in the second half, and found some good chances, but failed to convert a handful of clear looks, including a point-blank chance by Fanendo Adi in the 64th minute.
Darren Mattocks replaced Adi in the second half, and paid immediate dividends, scoring two minutes after entering the match for his first goal as a Timber. It was the only goal the Timbers would find on the night.
The victory moved FC Dallas into first place in the West, and atop the Supporters' Shield standings, and now Oscar Pareja's side will return home on Sunday to take on Sporting Kansas City.
The loss drops the Timbers to 1-3-2, and now the defending champions will return to action on Sunday, hoping to snap their five-match winless streak by beating the San Jose Earthquakes.
MAN OF THE MATCH
There were several good performances, such as Maxi Urruti's successful return to Portland, but Tesho Akindele gets the nod for his goal and assist in FC Dallas' first-half flourish.
MOMENT OF THE MATCH
Michael Barrios' early goal set the tone for the night and put the Timbers on the back-foot right from the start.
MATCH TO FORGET
Jack Jewsbury will have nightmares of Maxi Urruti after having his former teammate force him into turnovers that led to FC Dallas' first two goals.