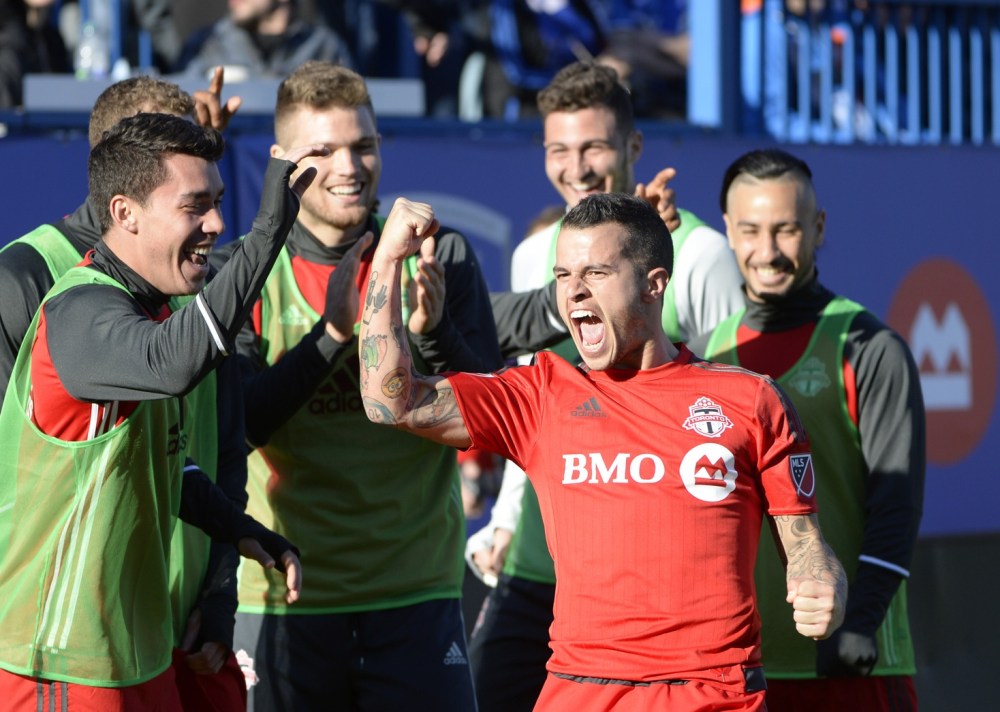 In a all-Canadian clash between Didier Drogba's Montreal Impact and Sebastian Giovinco's Toronto FC, the latter was spurred on to victory by its Italian star.
Giovinco scored his fifth and sixth goals of the season to lead Toronto FC to a  2-0 victory at Stade Saputo.
While the former Juventus striker grabbed the headlines, it was TFC's revamped defense that helped secure the victory by shutting down the dangerous Montreal attack, which featured Drogba in the starting lineup for the first time this season.
Giovinco scored his first goal by way of a penalty kick in the 40th minute after Victor Cabrera was whistled for a foul in the box. He then blasted in a late effort to seal the result in Montreal.
The play leading to the game-winning goal started with a Michael Bradley long ball sent upfield to Jozy Altidore down the left wing. Ambroise Oyongo mishit an attempted clearance into the path of the U.S. Men's National Team forward, who then beat Oyongo on the dribble into the box. Cabrera lunged in and took down Altidore, leading to Giovinco's game-winner.
Played into open space down the left wing by midfielder Will Johnson, Giovinco blasted a left-footed effort in for the second goal of the game in the 81st minute.
On the other side of the ball, Drogba was only able to test TFC goalkeeper Clint Irwin once. That shot on goal was only one of two the Impact had throughout Saturday's match.
Toronto FC will stay on the road and play the Portland Timbers on May 1, while the Impact will host the Colorado Rapids next Saturday.
Man of the Match
Reigning MLS MVP Sebastian Giovinco played like an MVP on Saturday. He confidently buried the penalty kick drawn by Altidore, set up Altidore with a golden chance in the second half he should have buried, and then closed the show with an excellent finish to cap a two-goal day.
Moment of the Match
Jozy Altidore's strong run into the box before earning the foul that led to the game-winning goal deserves praise, but Sebastian Giovinco's second strike of the day was the true decider. A well-placed finish capped off a superb ball into space from Will Johnson to secure the win on the road.
Match to Forget
Victor Cabrera deserves mention for his takedown of Jozy Altidore in the penalty area, but Ambroise Oyongo's play in the buildup to that tackle was downright awful defending. The Cameroonian defender's bad touch set Altidore up down the left wing, and Oyongo was beat too easily after the Toronto FC striker gained control of the ball.