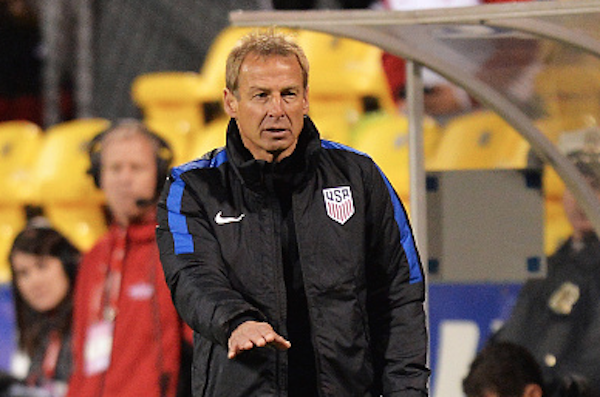 The topic of video review has been a hot one for quite a while now, but U.S. Men's National Team head coach Jurgen Klinsmann believes the debate should have been settled decades ago.
Klinsmann chimed in on the latest topic to take center stage in U.S. Soccer, stating that the introduction of instant replay is long overdue and that he believes that video review should be implemented across the soccer landscape.
"The last thing you want to see is a game decided by referee mistakes," Klinsmann said in a video released by U.S. Soccer. "Referees are trying their best. They're humans and mistakes happen, but we are at a time now where technology is just outstanding (and) not only goal-line technology that finally was used in the last World Cup. It was overdue for 20 years.
"Now you are at a time where you can easily stop real quick, have the slow motion on the sideline, look at it real quick. Was it inside the box or outside the box? Was it a red card or was it not a red card? Penalty or not? Just take those 10 seconds and decide that and not leave it up to the human decision that saw it in that moment maybe the wrong way. I think video technology is overdue in important decisions on the soccer field and it has to be a part of the game in the future time."
Klinsmann's comments come in the wake of several controversial decisions across MLS, prompting several of the league's coaches to speak out in favor of increased replay measures.
A total of 19 red cards have been issued across MLS through seven weeks, while several, such as Nigel de Jong's foul on Darlington Nagbe, have been blatantly missed. Referees have also come under fire for a series of incorrect calls, with Sunday's clash between Orlando City and the New England Revolution providing extra fodder with a pair of game-changing blown calls in stoppage time.