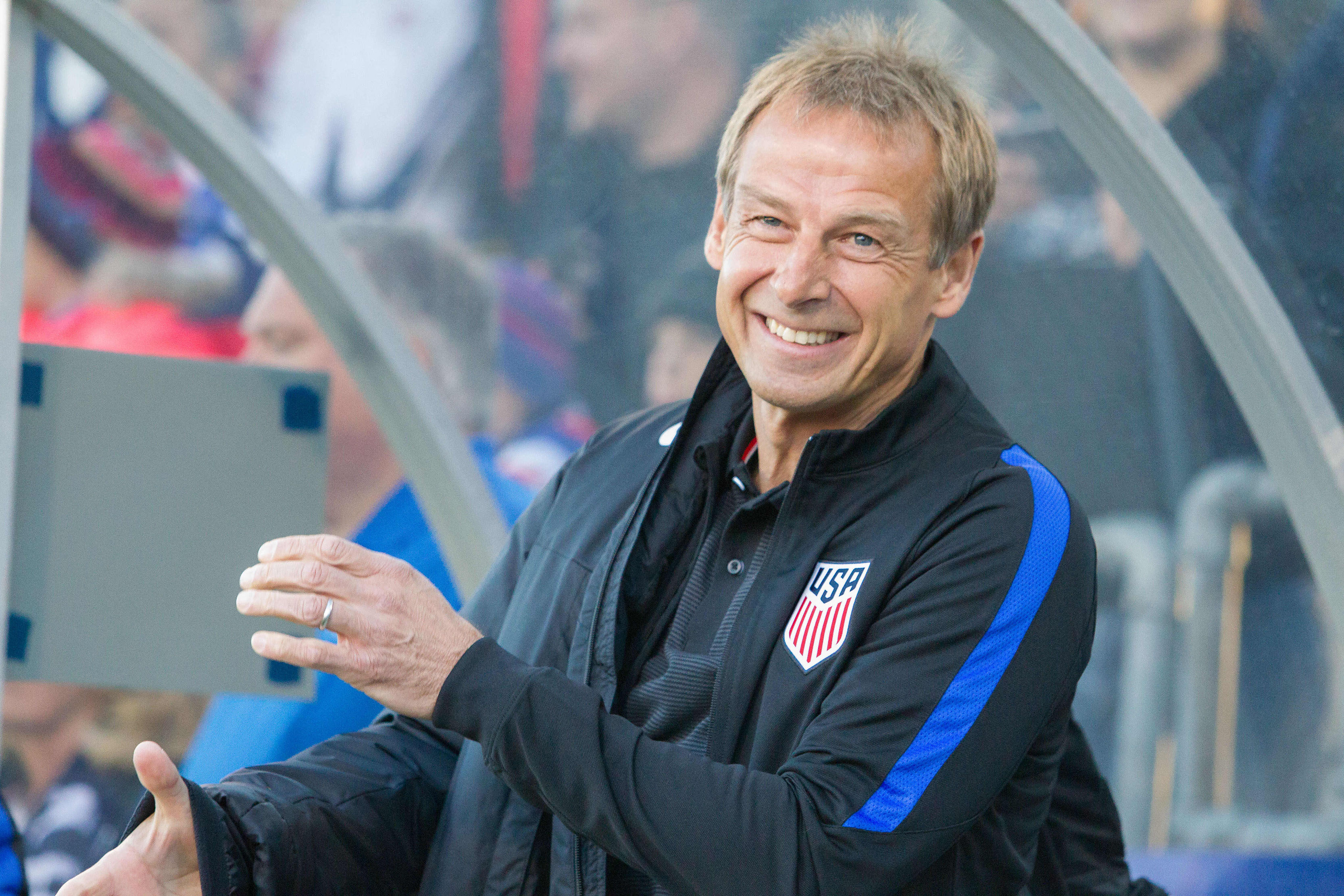 Jurgen Klinsmann has repeatedly stressed the importance of this summer's Copa America Centenario, but the U.S. Men's National Team head coach insists he won't be afraid to bring along young talent if they have earned a spot on the roster.
In recent weeks, Klinsmann has stated his admiration for Borussia Dortmund star Christian Pulisic, who has broken into the German Bundesliga powerhouse's first team in recent weeks. His recent goal-scoring performance has seen expectations soar even higher, with Klinsmann going so far as to say Pulisic has greatly increased his case for inclusion in this summer's tournament.
Pulisic is far from the only youngster on Klinsmann's radar, though. Jordan Morris also experienced a major moment last time out by scoring his first professional goal for the Seattle Sounders. Meanwhile, Matt Miazga has earned minutes for Chelsea in English Premier League action, as several of the younger players in the USMNT pool have furthered their case in a major way in recent weeks.
"With every one of them right now, we are very close," Klinsmann said. "We are watching their minutes, their touches, their performances, and it's the best team that you try to put together for such a huge competition. Christian is in that run and others are as well. With a lot of scouts, we are very busy going from location to location every weekend and observing the games going on, seeing who is playing and who's not playing, who gets the minutes, who's making the statements, who has bad moments, who has good moments. In a couple weeks down the road, we are going to name a 23-man roster which will not be easy for us coaches, but it is just a fact that we can only take 23.
"With young players, you have to do it one step at a time," Klinsmann added. "You have to give them the feeling that they can make mistakes, that they can go through some downs and that they have a long way to go."
Here are some more excerpts from Klinsmann's latest USMNT video:
TIMING VITAL FOR USMNT AHEAD OF COPA AMERICA
The Copa America is set to get underway in June, and Klinsmann could not be happier about the way the schedule has been laid out.
Last summer, the USMNT faltered in the Gold Cup, falling all the way to a disappointing fourth-place finish. Klinsmann says that European-based players were at a disadvantage following two months away from their club atmospheres ahead of the July tournament.
The UMNT head coach expects no such issues this year, as players are expected to be fresh ahead of a series of friendlies in late May.
"I think for everybody involved in Copa America, it's a really good time since we come out of the European calendar straight into the tournament," Klinsmann said, "which didn't happen last year with the Gold Cup. The Gold Cup was moved into July, and our European-based players had to go on vacation first and we had to prepare them again. We never got up to the level they were before when they were still in the season.
"The timing now – having the tournament right away in June and right after the European season stops – is ideal for all the teams. This will show a different quality: our players that come from Europe and Liga MX are in a better flow, and the MLS players having just started their season get stronger every week, and towards June and July that's where they will start to peak."
Prior to the tournament, the U.S. will convene in May ahead of a trio of friendlies. U.S. Soccer announced on Thursday that the USMNT will take on Puerto Rico on May 22 before facing off with Ecuador and Bolivia on May 22 and 25, respectively.
Looking specifically at the first of those matches, the U.S. will rely on several players that may not make the official roster. However, the camp will give Klinsmann to evaluate players and establish a feel prior to the summer's tournament.
"In preparation for Copa America, we are trying to get the European players over to the U.S. as quickly as possible," Klinsmann said. "They have their last games the weekend of May 14-15, so we will start camp on the 16th in Miami with all the European-based players. Some will be Liga MX guys that are done with their season already. A group of players which will be a roster of about 18-20 guys will have the pleasure to go to Puerto Rico on May 22 to play Puerto Rico.
"This is a nice opportunity for those players to get a game in, but also to stay in a rhythm. That first week is intended to keep the flow, to keep them training and to keep them going so they are not falling into a hole after their season stopped. Once the MLS players join in, we can fully prepare for Copa America."
USMNT PREPARING FOR 'BIGGEST TOURNAMENT SINCE 1994 WORLD CUP'
Ever since the tournament was announced, the Copa America has been a target for the USMNT and Jurgen Klinsmann, but the head coach says the competition will be massive for the game as a whole in the U.S.
Klinsmann says that the tournament will be the biggest on U.S. soil since the 1994 World Cup, a tournament widely recognized as pivotal in the growth of American soccer. The U.S. has recently hosted numerous Gold Cups, as well as the 1999 and 2003 Women's World Cups, but Klinsmann expects this summer's tournament to as grand as any.
"The Copa America is the second biggest tournament after the World Cup," Klinsmann said, "and really the biggest tournament since the World Cup in 1994 in the United States for us as a host. It's unbelievable. When you've got the big players from Brazil, Argentina, Uruguay, Colombia and all these places from South America and Mexico – our biggest rival from our region –coming in to play this tournament, it's really special.
"This is a big deal. Once the tournament starts – and it starts with us playing Colombia in Santa Clara on June 3 – it will kick off an amazing month of June with good games and hopefully a successful National Team as a host.
KLINSMANN PRAISES PICAULT FOR PERFORMANCES IN 2. BUNDESLIGA
While players like Morris, Pulisic and Miazga have all recently seen time with the USMNT, one player has emerged that was previously well off of the radar.
Forward Fafa Picault has recently caught the eye of Klinsmann for his play with 2. Bundesliga club St. Pauli. Formerly of the NASL's Fort Lauderdale Strikers, Picault as previously been called up by Haiti, but has yet to appear for the USMNT's CONCACAF rival.
The 25-year-old has scored three times in his past six games for St. Pauli to join Bobby Wood and Andrew Wooten as 2. Bundesliga forwards on Klinsmann's radar. While Picault remains very much an outside shot to be a part of the Copa America squad, the New York-native has done enough to earn plenty of praise from the USMNT head coach.
"Over the weekend, Fabrice Picault – playing for St. Pauli in the second division in Germany – scored two goals, and people wondered why he's not on the radar for the national team," Klinsmann said. "When he left Fort Lauderdale Strikers to St. Pauli, he was already looked at by us. The coach at St. Pauli, Ewald Lienen, mentioned to me a few times that there's a kid who is extremely hungry and wants to prove a point. He said he has a way to go, but to just follow him. Now over the weekend he scored two goals in a big game in front of 30,000 people and got them really excited.
"It shows how diverse things are with the U.S. national team. We have players coming through in completely different channels – if it's through Europe, Mexico, NASL, the college system and MLS – everyone is so different and every one of these players is unique. So Fafá – the way they call him – Picault is a unique player, a counter-break player and very fast. We pay attention to a lot of players out there that maybe think they are not on the radar screen."