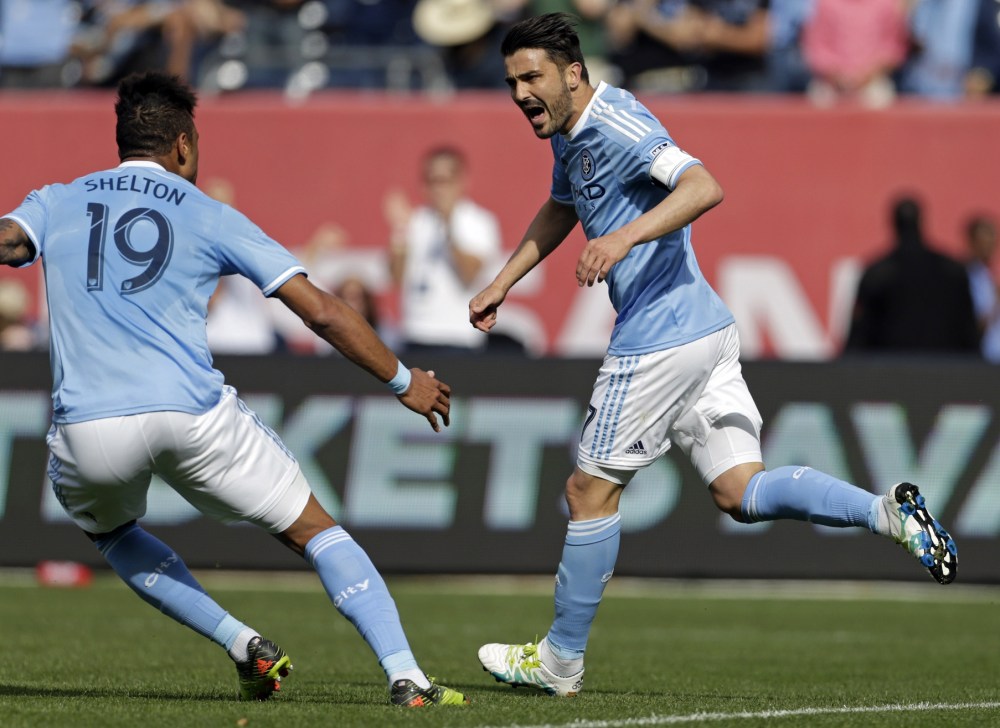 NEW YORK — For the first time in more than seven months, New York City FC emerged victorious at Yankee Stadium.
Behind a brace from David Villa and a go-ahead score from substitute Steven Mendoza, NYCFC snapped a six-game winless streak at home — dating back to September 2015 — with a 3-2 victory over the Vancouver Whitecaps on Saturday in the Bronx.
After coming on in the 67th minute, Mendoza made a quick impact as he buried a left-footed shot into the bottom-right corner, beating a diving David Ousted in the 74th minute. The goal was also the Colombian forward's first tally in MLS.
The Whitecaps had leveled the game at 2-2 just 10 minutes prior, with Christian Bolaños pouncing on his own penalty-kick miss, which was awarded after NYCFC defender Ethan White dragged Kekuta Manneh down just inside the box. Goalkeeper Josh Saunders had saved Bolaños' initial attempt from the spot, but could not beat the Costa Rican forward to the rebound.
Prior to Bolaños' equalizer, NYCFC had looked dominant for better parts of the game, with Villa converting both of his scores in the first half to erase an early Saunders blunder.
After mishandling a back pass from Jason Hernandez in the opening minute, Saunders conceded a goal to Octavio Rivero to put the home side behind the eight ball from the get-go. Villa, however, was able to draw it even in the 35th minute with a calm finish before giving the home side the lead six minutes later.
Off a corner kick from the left side in the 41st minute, Villa volleyed the service from Andrea Pirlo to beat Ousted for his team-leading sixth goal. NYCFC took the lead into the half, having dominated the possession, 62-38, with an edge in shots.
The win for NYCFC also snapped a seven-match winless streak on the season after it had opened the 2016 campaign with a win at Chicago.
MAN OF THE MATCH
David Villa continues to play the role of savior for NYCFC with this goal-scoring touch. Saturday's tallies increased the Spaniard's season total to six.
MOMENT OF THE MATCH
NYCFC seemed to be heading torward a similar fate from its game on Wednesday in which it squandered a second-half lead at home to settle for a draw against the Montreal Impact, but Steven Mendoza provided the spark that the home side needed with his first MLS goal to snap out of its recent funk and get back into the win column.
MATCH TO FORGET
Pa-Modou Kah and Tim Parker played on their heels for most of the match and were inefficient with their distribution, having connected just 14 of their 40 total passes. The centerback duo was also partially responsible for the marking mistakes on both Villa's second goal and Mendoza's go-ahead score.