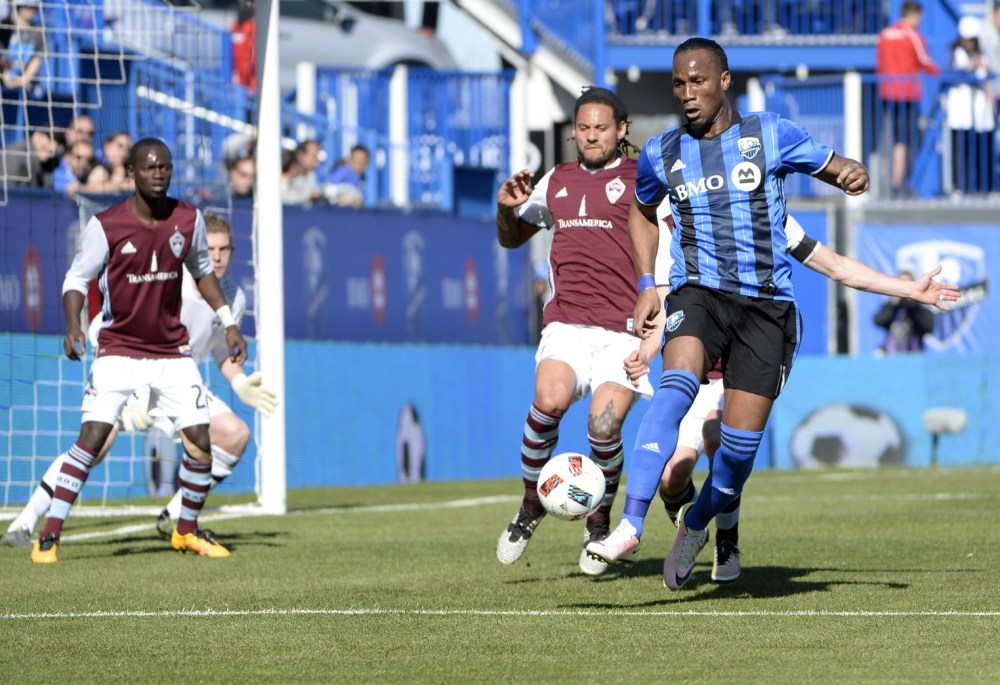 The Colorado Rapids made the most of the few opportunities they had to spoil two sensational Montreal Impact blasts at Stade Saputo.
Didier Drogba netted an extraordinary free kick nine minutes into the match, and Maxim Tissot scored a screamer from distance. However, the Rapids were productive with their chances and forced a 2-2 tie on Saturday.
Drogba's free kick was canceled out by a Shkelzen Gashi goal early into the second half. Attacking down the left wing, Mekeil Williams sent a pass across goal for Gashi to tap in.
Minutes after Gashi's goal, Harry Shipp laid off a pass for Tissot, who drilled the ball towards the bottom-right corner.
For the most part, the Rapids struggled to create chances throughout the 90 minutes. Yet, Bobby Burling scored the game-tying goal from a set piece in the 73rd minute. Axel Sjoberg redirected a Gashi cross into the box, and the defender was at the right place at the right time to tap in the opportunity.
Drogba, who started for the third time in eight days, was in good form in the first half. He nearly scored another sensational flick following his free kick, but was denied on the goal line. In the second half, Drogba did not have much of an impact, while the 38-year-old drilled his best chance of the final 45 minutes just above the crossbar.
Next up for the Impact is a road meeting against the Columbus Crew on May 7, while the Rapids head home to face Real Salt Lake that same day.
Man of the Match
While Didier Drogba dominated the first half, Maxim Tissot was the most consistent player throughout Saturday's tie. The left back had a spectacular defensive outing, making four tackles and dispossessing the Rapids two times. And he arguably scored a better goal than Drogba, sending a low strike past Rapids goalkeeper Zac MacMath from distance in the second half.
Moment of the Match
The Impact's two goals will be ones played over and over again following this weekend's action in MLS, but Bobby Burling's game-tying goal kept the Rapids' unbeaten run alive. The tap-in was not as flashy, but it got the job done for a Rapids team that has been resilient this season.
Match to Forget
It was only his second outing of the season, but Marlon Hairston may want to forget Saturday's match. The right back showcased his exceptional recovery speed, but he did not look in tune with the team. He completed just 73 percent of his passes, earned a yellow card and nearly received a second yellow later into the match.