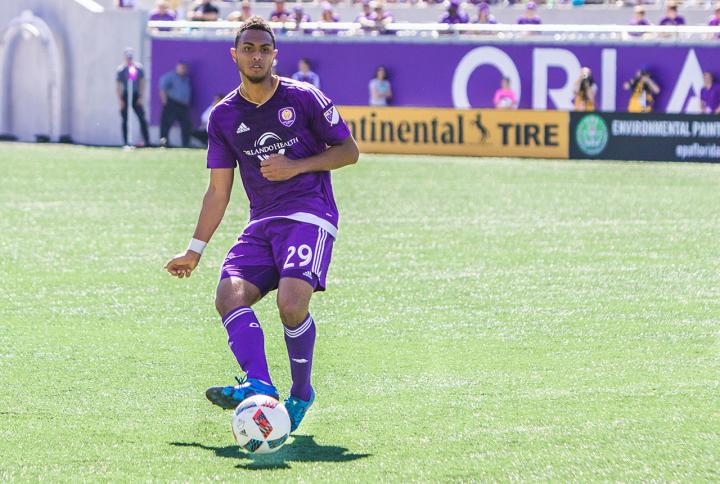 Tommy Redding remembers the moment vividly. He remembers walking out of the tunnel in front of more than 60,000 Orlando City SC fans clad in purple. He remembers the combination of nerves and excitement, and the feeling of honor in representing a club that put so much faith in him at just 19 years old.
Most of all, he remembers the road that got him there and the path that has led him from a 17-year-old prospect to bonafide MLS starter.
Two weeks before the start of the 2016 MLS season, and just several weeks after his 19th birthday, Redding was informed he had earned a place in Orlando City's starting lineup for opening day. It was a moment of great pride for Redding, the club's first Homegrown signing, and he hasn't looked back since.
Redding started Orlando City's first four games of the season before missing the fifth, a loss to the Philadelphia Union, due to injury. In just over a month of action, the young defender has felt the weight of the pressure and the expectations that have followed him since he signed with the club two years ago.
To this point, Redding has seized the opportunity. Against legitimate stars like New York City FC's David Villa, Redding has never looked out of his element. Rather, he has appeared to be a player unfazed and more than ready to make a major leap forward.
"I think the biggest thing is that it used to be pressure; now, it's confidence," Redding told SBI. "I look at it as an honor. They have confidence and trust in me, and I should be able to do this. They wouldn't have picked me as the first Homegrown if they didn't have confidence or if they didn't want to see me succeed or if they didn't know if I could succeed. I just keep working, and I always think about it as motivation.
"Ever since preseason, I just came in with the mentality where I'm not really worried about breaking into the starting lineup or anything. I'm just worried about playing the best soccer I can, working as hard as I can and, hopefully, with that, the rewards will come. Being able to start in the home opener was really nerve-wracking for me, but at the same time, it was a big honor. It helped my confidence a lot. I think every game I play in, my confidence gets stronger and stronger."
Redding is the first to admit the belief that has defined the start of his 2016 has been one that has been developed over several trying years.
The defender's road began in March 2014 with the signing of his first professional contract. Throughout his life, Redding believed he would follow the typical path of any kid while hoping his ability in soccer could maybe help guide him through college. As university offers flew in, Redding's discussions with Orlando City became more and more serious, and with his family's blessing, Redding opted to forego the traditional path in pursuit of what seemed like his version of an Orlando fairytale.
Redding's first taste of the pro game came in the USL. Playing for an Orlando City side preparing to make the leap to MLS, Redding made 15 appearances for the Lions while admittedly learning some lessons on what exactly it takes to be a professional.
"One of the things we did with Tommy is we found him early," Orlando City head coach Adrian Heath told SBI. "The great thing for him was that we had the USL team, and we were a very good USL team. We could put him in the team, and he could make the mistake, but he wouldn't cost us dearly because, invariably, we were winning games. He was fortunate that he sort of learned on the job. He was learning against men, against professional players.
"We were able to get Tommy in and, yeah, it might be a bit too much for you, but you're going to go."
Even with everything that happened in the year prior, Redding admits his first season in MLS was something he wasn't quite ready for. Just 18 years old, Redding now felt like a full-fledged professional at an age where few are ready for the demands of beginning any sort of career.
Redding vividly remembers the first day of preseason before the club's first MLS campaign. Still just a kid, Redding found his locker stationed across the locker room from Kaka, a player he had idolized throughout his young life. An avid gamer, Kaka graced the cover of Redding's first copy of the FIFA video game, and now Redding was expected to earn his respect while developing as one of his peers.
The experience was an eye-opening one for the "starstruck" teenager, and one of several that made him realize the commitments that were ahead of him. In Kaka, Redding had a role model, a consummate professional to look up to as the game around him continued to shift.
"The first USL season was obviously a professional environment," Redding said, "but between USL and MLS, there's such a huge difference in the players and the games. You go from having 5,000 fans to have 25-30,000. The game is much bigger, nationally broadcasted, all of this stuff, and I think it really hit me last year. I realized this is the real deal. This isn't just playing soccer for fun anymore; it's my job. I can definitely go out and enjoy it, but I have to work super hard to make sure I keep improving.
"Last year was eye-opening for me. It was tough, but, as the year went on, it got better and better. I took everything I learned from last year and have put it to use this year … I think the biggest thing you learn when you sign a professional contract, at any age, is that the game isn't just a game anymore. It's literally your job. It's all fun and games, but if you're not doing well, they have no reason to keep you around. It's not that just because you're here, you're guaranteed anything. You have to really work for everything you get."
Redding has entered the 2016 season with that mindset, and, to this point, it has paid off massively.
Heading into the 2016 season, Heath told Redding he wanted to see him develop as more of a leader, despite his age. Although he's naturally a shy kid, Heath insisted there were other ways to lead. Redding didn't have to be the loudest or the most boastful; he just had to be the guy making things happen.
According to Heath, Redding has everything it takes to be a top-level central defender. The Orlando City coach raves about the 19-year-old's ability on the ball, stating he hits a 15-20 yard pass as cleanly as one could ever hope. The defensive aspect of the game is one Redding continues to show well with, while at 6-foot-2, Redding has the size of a prototypical centerback.
Where Redding needs to develop is the mental aspect, the professional aspect. Through the first several games of 2016, Redding has shown improvement in leaps and bounds, but the task now lies in being motivated to push for more and more despite all of the recent successes.
"If he stays injury-free, stays fit and wants to be a player, and that's a part that people don't look at all the time," Heath said. "I say this to all young players: you have to come in every single day trying to get better, trying to learn something and not taking your natural talents for granted. I've witnessed a million people with incredible talent be out of the game in two or three years because they abused their talent and not done enough. I want him to come in every day hoping to get better, and if he does, he has a really bright future. "
"I think the biggest thing that he's taught me that, just because I'm young doesn't mean I'm going to be given anything," Redding added. "This isn't a place where I can come and say, 'I've signed young and I should have my opportunity.' I have to work for it, just like everyone else, or even harder because I am younger. If I keep doing that, the rewards will come."
To this point, Redding has seen his efforts rewarded. Now firmly a starter, Redding is expected to return to the lineup on Sunday. Heath said Redding has earned his place on merit, and the position will be his to lose as the season wears on.
Internationally, Redding recently featured for the U.S. Under-20 Men's National Team at the Dallas Cup, an experience which he called a massive honor. Now featuring consistently on the club level, Redding understands someone is always watching, and every performance for club and country will give people a chance to dissect every aspect of his game.
For Redding, the recent successes are not the culmination of any sort of process. Rather, they're just another step as the 19-year-old centerback continues to make the leap from prospect to legitimate professional.
"I think Tommy is stepping up to the understanding that he has always had potential," Heath said. "Last year, the kid played some games, and we think the kid's got enormous talent, and he can go a long way in the game. Tommy has stepped it up this year, and I said to him, 'This is a man's world, this,' and he's only young, but he's got to start being a bit more a leader and be a bit more vocal and show a bit more of his personality, and I think he's doing that."
"The biggest thing I'm looking forward to is just maturing as a person and becoming a better soccer player," Redding echoed. "I really enjoy being out on the field because it gives me a lot of confidence in myself and it's just nice to have this opportunity, and I don't want to let it go. I'm just going to keep working hard and pushing myself."