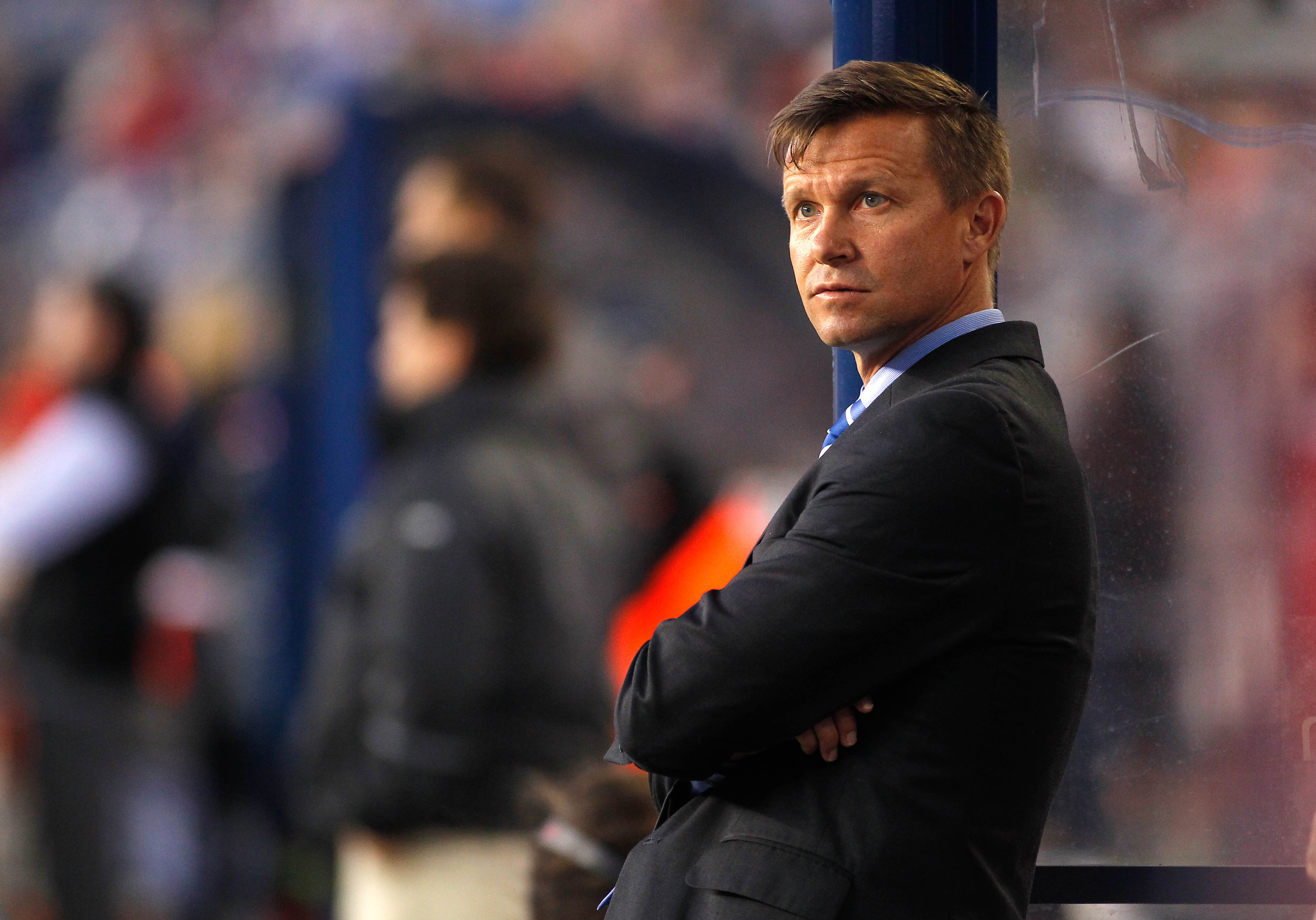 HARRISON, N.J. — Mired in a seven-game funk to start the season, the New York Red Bulls could have made any number of changes to try and turn things around. Head coach Jesse Marsch stuck to his guns, however, and got a Week 8 victory that brought back some joy and optimism to the club.
For that, he deserves his share of credit.
The Red Bulls came from behind and defeated Orlando City SC, 3-2, at Red Bull Arena on Sunday to snap a four-game losing streak that had dropped the 2015 Supporters' Shield winner to last place in the Eastern Conference. Bradley Wright-Phillips and Mike Grella got plenty of praise and a good amount of the plaudits for their contributions on the field, but Marsch was equally as praiseworthy.
Facing a tough situation that would have had many other coaches considering — and likely making — alterations to lineups and tactics, Marsch continued to believe in his team and high-press strategy despite the lack of production. Entering Sunday, the Red Bulls were 1-6, Wright-Phillips had yet to open the seal on his scoring account, Grella and fellow winger Lloyd Sam had looked like shadows of their former selves and string-puller Sacha Kljestan had been inconsistent.
Nonetheless, Marsch remained convinced that goals and a result would come. Even after seeing last week's pair of losses out west. Even after seeing Cyle Larin score three minutes into Sunday's game to put the Lions ahead. Even after seeing the Red Bulls' attacking foursome squander multiple chances to head into halftime yet again with a donut on the scoreboard.
"When I've been looking at things, it's not like I look at a bunch of attacking players that have lost their way or have lost their work ethic or desire or commitment or anything," said Marsch. "Which then leads me to believe that people believe in luck, destiny, and fate and all these different things. But for me, I believe in what's real, and what I know is real is those four guys are real, and they're dangerous.
"I see it every day, and they're quality guys, they're quality players, and I knew that they're going to be dangerous players in this league and get us goals. Did it take reminders at times for all of us? Yeah, but that's normal when you go through stretches like this. It's just that you continue to do the things that we all value and we're going to come out on the other end in a good way."
Marsch did not just stay firm in his belief throughout these last few challenging weeks. He also held himself accountable in the face of mounting criticism, admitting last week that he had reset some of the club's goals for the season due to its poor start and stating publicly a few weeks prior that maybe the 2016 Red Bulls were not as deep as he and the rest of the club's brass originally thought.
Everyone was responsible for this poor stretch, but that type of accountability trickled down through the group and allowed it to remain focused on the task at hand. Sure, there was growing disappointment and aggravation on everyone's part, but the Red Bulls stuck together through the difficult stretch rather than point fingers and potentially fall apart.
Credit to Marsch.
"To see that sort of humility and character from your coach to be able to do something like that not only inspires you but know that you're in it together," said goalkeeper Luis Robles. "For him to maintain confidence, for him to continue to believe in us is huge, but, more than anything, for him to include himself in all of it – in the struggles, in the frustration – allows us to continue to believe in him as a leader."
Sunday's win was only worth three points, but the Red Bulls plan to use that victory as a springboard to dart up the Eastern Conference standings. The club will need to maintain the level of attacking prowess and sharpness that it showed in the second half, especially if the injury-riddled defense continues to make costly errors.
Still, the Red Bulls players believe they have what it takes to do just that thanks in part to the belief that Marsch has in them.
"I couldn't have blamed him for trying someone else," said Wright-Phillips when asked about Marsch's vote of confidence in him. "(Anatole) Abang has been doing well in training, you can play Mike up front, we've got Alex Muyl coming in. All of our front players can rotate. We've got my brother waiting patiently.
"Credit to Jesse. I've had little talks with him, and he's always been confident. I told him after, I appreciate him sticking with me. He said, 'Don't be silly.'"