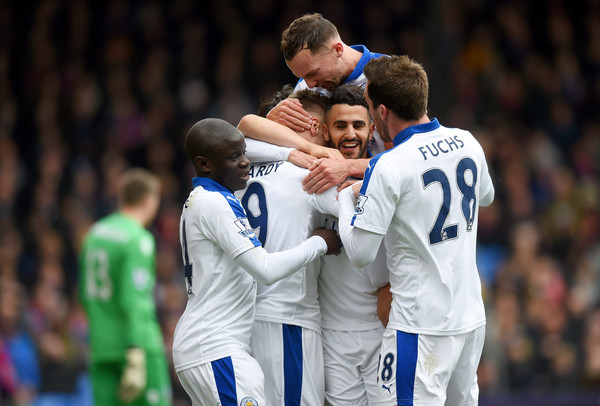 We're heading into the final stretch in European soccer and several clubs can take another step closer toward clinching their respective titles this weekend.
In the English Premier League, Leicester City — seven points clear of second place — looks to take care of business against West Ham United while Tottenham will have to wait until Monday to make a push. Fourth-place Manchester City hopes to hang onto its top-four spot when the Citizens travels to Stamford Bridge to take on Chelsea. Manchester United is trailing City for the final Champions League berth and will look to close the gap with a win against last-place Aston Villa.
As for the Spanish La Liga, the race once thought to be over is getting some intrigue as Barcelona's lead is down to three points ahead of its match against Valencia this weekend. Second-place Atlético Madrid can catch up with a win against Granada while Real Madrid can also get back in the mix with a result at Getafe.
Over in Germany, Bayern Munich is in the same situation as Leicester City, and will take on Schalke, while second-place Borussia Dortmund hosts Hamburg. Juventus, meanwhile, hopes to keep its distance with Napoli with a win at home against Palermo.
Stateside, MLS will see Houston Dynamo-LA Galaxy, Orlando City-New England and FC Dallas-Sporting KC get national coverage this weekend.
Here is a rundown of all the soccer action on TV this weekend:
FRIDAY
MAJOR LEAGUE SOCCER
7 p.m. — UniMás/MLS Live — Houston Dynamo vs. LA Galaxy
NASL
7 p.m. — beIN Sports USA/beIN Sports Connect/WatchESPN/ESPN3/NASL Live — Jacksonville Armada vs. Miami FC
SPANISH LA LIGA
2:30 p.m. — beIN Sports en Español/beIN Sports Connect — Levante vs. Espanyol
GERMAN BUNDESLIGA
2:30 p.m. — Fox Sports 2/Fox Sports Go/Fox Soccer 2Go — Hannover 96 vs. Borussia Mönchengladbach
FRENCH LIGUE 1
2:30 p.m. — beIN Sports Connect — Lyon vs. Nice
MEXICAN LIGA MX
8:30 p.m. — Univision Deportes — Querétaro vs. Club América
ENGLISH LEAGUE CHAMPIONSHIP
2:45 p.m. — beIN Sports USA/beIN Sports Connect — Hull City vs. Wolverhampton Wanderers
SATURDAY
MAJOR LEAGUE SOCCER
5 p.m. — MLS Live — Chicago Fire vs. Montreal Impact
5 p.m. — MLS Live — D.C. United vs. Toronto FC
7:30 p.m. — YES Network/MLS Live — Columbus Crew vs. New York City FC
9 p.m. — MSG/MLS Live — Colorado Rapids vs. New York Red bulls
10 p.m. — MLS Live — Real Salt Lake vs. Vancouver Whitecaps
10 p.m. — MLS Live — Seattle Sounders vs. Philadelphia Union
10:30 p.m. — CSN California/MLS Live — Portland Timbers vs. San Jose Earthquakes
NASL
7:30 p.m. — WatchESPN/ESPN3/NASL Live — Carolina RailHawks vs. Ottawa Fury
7:30 p.m. — WatchESPN/ESPN3/NASL Live/One World Sports — Indy Eleven vs. New York Cosmos
7:30 p.m. — WatchESPN/ESPN3/NASL Live — Tampa Bay Rowdies vs. Edmonto FC
8 p.m. — WatchESPN/ESPN3/NASL Live — Minnesota United vs. Fort Lauderdale Strikers
ENGLISH PREMIER LEAGUE
7:45 a.m. — NBCSN/NBC Sports Live Extra — Norwich City vs. Sunderland
10 a.m. — NBCSN/NBC Sports Live Extra/NBC Universo — Manchester United vs. Aston Villa
10 a.m. — NBC Sports Live Extra — Everton vs. Southampton
10 a.m. — NBC Sports Live Extra — Newcastle United vs. Swansea City
10 a.m. — NBC Sports Live Extra — West Bromwich Albion vs. Watford
12:30 p.m. — NBC/NBC Sports Live Extra/NBC Universo — Chelsea vs. Manchester City
SPANISH LA LIGA
10 a.m. — beIN Sports USA/beIN Sports en Español/beIN Sports Connect — Getafe vs. Real Madrid
12:15 p.m. — beIN Sports en Español/beIN Sports Connect — Las Palmas vs. Sporting Gijón
2:30 p.m. — beIN Sports en Español/beIN Sports Connect — Eibar vs. Real Sociedad
4:05 p.m. — beIN Sports en Español/beIN Sports Connect — Celta de Vigo vs. Real Betis
ITALIAN SERIE A
2:45 p.m. — beIN Sports USA/beIN Sports Connect — Inter vs. Napoli
GERMAN BUNDESLIA
9:30 a.m. — Fox Sports 2/Fox Sports Go/Fox Deportes/Fox Soccer 2Go — Bayer Leverkusenvs. Eintracht Frankfurt
9;30 a.m. — Fox Soccer 2Go/Fox Soccer Plus — FC Augsburg vs. VfB Stuttgart
9:30 a.m. — Fox Soccer 2Go — Werder Bremen vs. VfL Wolfsburg
9:30 a.m. — Fox Soccer 2Go — Hoffenheim vs. Hertha Berlin
9:30 a.m. — Fox Soccer 2Go — Darmstadt 98 vs. FC Ingolstadt
12:30 p.m. — Fox Soccer 2Go — Bayern Munich vs. Schalke 04
FRENCH LIGUE 1
11 a.m. — beIN Sports USA/beIN Sports Connect — Paris Saint-Germain vs. Caen
MEXICAN LIGA MX
6 p.m. — Univision Deportes/Univision — Cruz Azul vs. Santos Laguna
8 p.m. — Univision Deportes — Tigres UANL vs. Dorados
9:06 p.m. — NBC Universo — Club León vs. Puebla
10 p.m. — Univision Deportes — Chiapas vs. Pumas UNAM
ENGLISH LEAGUE CHAMPIONSHIP
7:30 a.m. — beIN Sports USA/beIN Sports Connect — Bolton Wanderers vs. Middlesbrough
DUTCH EREDIVISIE
2:45 p.m. — Univision Deportes — Roda JC vs. PSV Eindhoven
SUNDAY
MAJOR LEAGUE SOCCER
3:30 p.m. — ESPN/ESPN Deportes/MLS Live — Orlando City SC vs. New England Revolution
7 p.m. — Fox Sports 1/Fox Sports Go/Fox Deportes/Fox Soccer 2Go — FC Dallas vs. Sporting Kansas City
ENGLISH PREMIER LEAGUE
8:30 a.m. — NBC Sports Live Extra — Bournemouth vs. Liverpool
8:30 a.m. — NBCSN/NBC Sports Live Extra/Telemundo — Leicester City vs. West Ham United
11 a.m. — NBCSN/NBCS Sports Live Extra/Telemundo — Arsenal vs. Crystal Palace
SPANISH LA LIGA
6 a.m. — beIN Sports Connect — Málaga vs. Athletic Bilbao
10 a.m. — beIN Sports en Español/beIN Sports Connect — Sevilla vs. Deportivo La Coruña
12:15 p.m. — beIN Sports en Español/beIN Sports Connect — Rayo Vallecano vs. Villarreal
12:15 p.m. — beIN Sports en Español/beIN Sports Connect — Atlético Madrid vs. Granada
2:30 p.m. — beIN Sports USA/beIN Sports en Español/beIN Sports Connect — Barcelona vs. Valencia
ITALIAN SERIE A
9 a.m. — beIN Sports USA/beIN Sports Connect — Juventus vs. Palermo
GERMAN BUNDESLIGA
9:30 a.m. — Fox Sports 1/Fox Sports Go/Fox Deportes/Fox Soccer 2Go — Borussia Dortmund vs. Hamburg
11:30 a.m. — Fox Soccer 2Go/Fox Soccer Plus — Mainz 05 vs. Cologne
MEXICAN LIGA MX
1:45 p.m. — Univision Deportes/Univision — Toluca vs. Veracruz
6 p.m. — Univision Deportes/UniMás — Guadalajara vs. Atlas