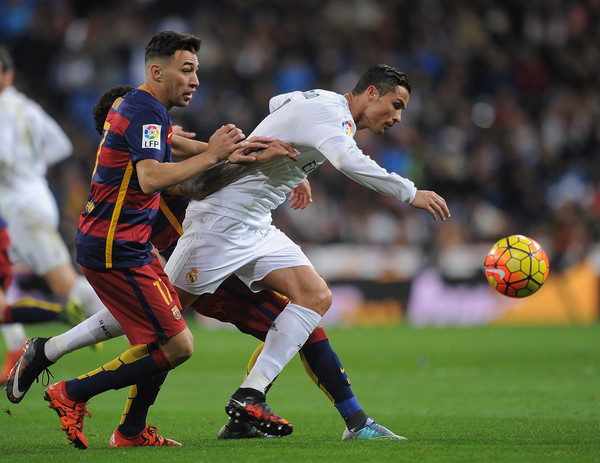 It's all about pride for Real Madrid this weekend.
After getting thrashed, 4-0, at the hands of Barcelona in their last meeting on Nov. 21 and getting left in the rearview mirror in the Spanish La Liga race, Los Blancos are hoping to save some face in this Saturday's El Clasico.
Ten points separate the two sides in the standings right now with Atlético Madrid sandwiched in between, and although a win for Real could close the gap somewhat, with only seven matches remaining after this weekend, it's hard to see Barcelona crumble down the stretch.
In a tighter title race elsewhere, Bayern Munich looks to keep its five-point advantage in the German Bundesliga when it hosts Eintracht Frankfurt. Second-place Borussia Dortmund, meanwhile, will take on Werder Bremen.
As for the English Premier League, leader Leicester City hopes to take another step closer toward its improbable goal with a fixture against Southampton, while Tottenham looks to make a late surge starting with a positive result at Liverpool.
Stateside, MLS action resumes, and the NASL season kicks off. Here is a look at the full TV schedule for this weekend:
FRIDAY
MAJOR LEAGUE SOCCER
7 p.m. — Univision Deportes/MLS Live — New England Revolution vs. New York Red Bulls
SPANISH LA LIGA
2:30 p.m. — beIN Sports en Español/beIN Sports Connect — Rayo Vallecano vs. Getafe
GERMAN BUNDESLIGA
2:30 p.m. — Fox Sports 2/Fox Sports Go/Fox Deportes/Fox Soccer 2Go — Bayer Leverkusen vs. VfL Wolfsburg
FRENCH LIGUE 1
2:30 p.m. — beIN Sports Connect — AS Monaco vs. Bordeaux
MEXICAN LIGA MX
10:30 p.m. — Univision Deportes — Toluca vs. Santos Laguna
ENGLISH LEAGUE CHAMPIONSHIP
2:45 p.m. — beIN Sports USA/beIN Sports Connect — Queens Park Rangers vs. Middlesbrough
CLUB FRIENDLY
9:25 p.m. — beIN Sports USA/beIN Sports en Español — Mexico Legends vs. Barcelona Legends
SATURDAY
MAJOR LEAGUE SOCCER
5 p.m. — MLS Live — Chicago Fire vs. Philadelphia Union
8 p.m. — MLS Live — Colorado Rapids vs. Toronto FC
8:30 p.m. — MLS Live — Sporting Kansas City vs. Real Salt Lake
9 p.m. — MLS Live — FC Dallas vs. Columbus Crew
10 p.m. — MLS Live — Seattle Sounders vs. Montreal Impact
10 p.m. — MLS Live — Vancouver Whitecaps vs. LA Galaxy
10:30 p.m. — MLS Live — San Jose Earthquakes vs. D.C. United
NASL
3 p.m. — ESPN3/WatchESPN/NASL Live — Carolina RailHawks vs. Minnesota United
7 p.m. — beIN Sports USA/beIN Sports Connect/One World Sports/ESPN3/WatchESPN/NASL Live — Fort Lauderdale Strikers vs. Miami FC
7:30 p.m. — ESPN3/WatchESPN/NASL Live — Tampa Bay Rowdies vs. Indy Eleven
8 p.m. — ESPN3/WatchESPN/NASL Live — Rayo OKC vs. FC Edmonton
ENGLISH PREMIER LEAGUE
7:45 a.m. — NBCSN/NBC Sports Live Extra/NBC Universo/NBC Deportes en Vivo Extra — Aston Villa vs. Chelsea
10 a.m. — NBCSN/NBC Sports Live Extra/NBC Universo/NBC Deportes en Vivo Extra — Arsenal vs. Watford
10 a.m. — NBC Sports Live Extra — West Ham United vs. Crystal Palace
10 a.m. — NBC Sports Live Extra — Stoke City vs. Swansea City
10 a.m. — NBC Sports Live Extra — Bournemouth vs. Manchester City
10 a.m. — NBC Sports Live Extra — Norwich City vs. Newcastle United
10 a.m. — NBC Sports Live Extra — Sunderland vs. West Bromwich Albion
12:30 p.m. — NBC/NBC Sports Live Extra/NBC Universo/NBC Deportes en Vivo Extra — Liverpool vs. Tottenham
SPANISH LA LIGA
10 a.m. — beIN Sports USA/beIN Sports en Español/beIN Sports Connect — Atlético Madrid vs. Real Betis
12:15 p.m. — beIN Sports Connect — Las Palmas vs. Valencia
2:30 p.m. — beIN Sports USA/beIN Sports en Español/beIN Sports Connect — Barcelona vs. Real Madrid
4:05 p.m. — beIN Sports Connect — Celta de Vigo vs. Deportivo La Coruña
ITALIAN SERIE A
Noon — beIN Sports Connect — Carpi vs. Sassuolo
2:45 p.m. — beIN Sports Connect — Juventus vs. Empoli
GERMAN BUNDESLIGA
9:30 a.m. — Fox Sports 2/Fox Sports Go/Fox Soccer 2Go — Bayern Munich vs. Eintracht Frankfurt
9:30 a.m. — Fox Soccer 2Go/Fox Deportes/Fox Soccer Plus — FC Ingolstadt vs. Schalke 04
9:30 a.m. — Fox Soccer 2Go — Hannover 96 vs. Hamburg SV
9:30 a.m. — Fox Soccer 2Go — Mainz 05 vs. FC Augsburg
9:30 a.m. — Fox Soccer 2Go — Darmstadt 98 vs. VfB Stuttgart
12:30 p.m. — Fox Soccer 2Go — Borussia Dortmund vs. Werder Bremen
FRENCH LIGUE 1
11 a.m. — beIN Sports USA/beIN Sports Connect — Paris Saint-Germain vs. Nice
2 p.m. — beIN Sports Connect — Gazélec Ajaccio vs. Saint-Étienne
2 p.m. — beIN Sports Connect — Toulouse vs. Caen
2 p.m. — beIN Sports Connect — Stade Rennes vs. Stade de Reims
MEXICAN LIGA MX
7 p.m. — Univision Deportes/Univision — Cruz Azul vs. Pachuca
10:06 p.m. — NBC Universo/NBC Deportes en Vivo Extra — Club León vs. Monterrey
10:30 p.m. — Azteca America — Morelia vs. Puebla
11 p.m. — Univision Deportes — Chiapas vs. Club América
ENGLISH LEAGUE CHAMPIONSHIP
7:30 a.m. — beIN Sports Connect — Brighton & Hove Albion vs. Burnley
DUTCH EREDIVISIE
1:45 p.m. — Univision Deportes — AZ Alkmaar vs. PSV Eindhoven
SCOTTISH PREMIER LEAGUE
7:30 a.m. — Fox Soccer Plus/Fox Soccer 2Go — Celtic vs. Heart of Midlothian
SUNDAY
MAJOR LEAGUE SOCCER
8 p.m. — Fox Sports 1/Fox Sports Go/Fox Deportes/Fox Soccer 2Go — Orlando City SC vs. Portland Timbers
NASL
6 p.m. — ESPN3/WatchESPN/One World Sports/NASL Live — New York Cosmos vs. Ottawa Fury
ENGLISH PREMIER LEAGUE
8:30 a.m. — NBCSN/NBC Sports Live Extra/NBC Universo/NBC Deportes en Vivo Extra — Leicester City vs. Southampton
11 a.m. — Telemundo/NBC Sports Live Extra/NBC Deportes en Vivo Extra — Manchester United vs. Everton
SPANISH LA LIGA
6 a.m. — beIN Sports Connect — Athletic Bilbao vs. Granada
10 a.m. — beIN Sports en Español/beIN Sports Connect — Málaga vs. Espanyol
12:15 p.m. — beIN Sports en Español/beIN Sports Connect — Eibar vs. Villarreal
2:30 p.m. — beIN Sports en Español/beIN Sports Connect — Sevilla vs. Real Sociedad
ITALIAN SERIE A
6:30 a.m. — beIN Sports Connect — Udinese vs. Napoli
9 a.m. — beIN Sports Connect — Genoa vs. Frosinone
9 a.m. — beIN Sports Connect — Atalanta vs. Milan
9 a.m. — beIN Sports USA/beIN Sports Connect — Lazio vs. AS Roma
9 a.m. — beIN Sports Connect — Fiorentina vs. Sampdoria
2:45 p.m. — beIN Sports USA/beIN Sports Connect — Inter vs. Torino
GERMAN BUNDESLIGA
9:30 a.m. — Fox Sports 1/Fox Sports Go/Fox Deportes/Fox Soccer 2Go — Borussia Mönchengladbach vs. Hertha Berlin
11:30 a.m. — Fox Sports 2/Fox Sports Go/Fox Soccer 2Go — Hoffenheim vs. Cologne
FRENCH LIGUE 1
8 a.m. — beIN Sports Connect — Nantes vs. Lille
11 a.m. — beIN Sports Connect — Bastia vs. Marseille
3 p.m. — beIN Sports Connect — Lorient vs. Lyon
SCOTTISH PREMIER LEAGUE
7:30 a.m. — Fox Soccer 2Go/Fox Soccer Plus — Aberdeen vs. Hamilton Academical