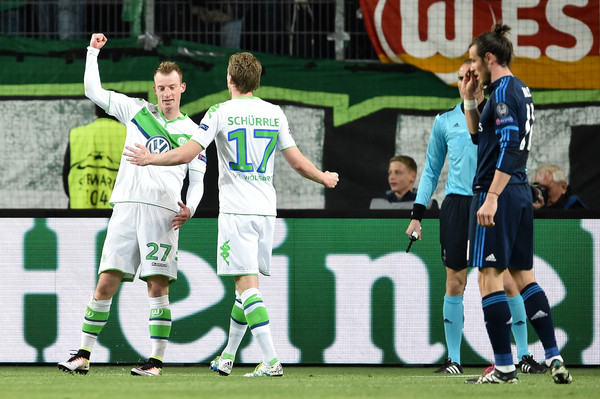 While Manchester City earned an impressive 2-2 result at the Parc des Princes, Wolfsburg stunned Real Madrid in Germany.
Both results came as surprises, as Paris Saint-Germain and Real Madrid were the favorites to advance in each UEFA Champions League quarterfinal series heading into Wednesday's matchups.
The German club has not had the best of campaigns in the Bundesliga this season, but two first-half goals saw Wolfsburg earn a 2-0 win against Real Madrid at the Volkswagen Arena.
Ricardo Rodriguez converted from the spot after Casemiro was ruled to have illegally taken down Andre Schurrle in the penalty area. Seven minutes later, Julian Draxler slotted a low pass to the top of the six-yard box, and Maximilian Arnold buried his shot past a diving Keylor Navas.
Wolfsburg centerback Naldo, who had suffered a shoulder injury in February, returned to the starting lineup on Wednesday, and turned in a quality shift while helping his side earn the shutout.
Real Madrid will host Wolfsburg in the second leg next Tuesday.
MAN CITY EARNS CRUCIAL AWAY GOALS IN PSG TIE
Neither side will leave Paris with a goal advantage in the series, but Man City must be happy with its standing.
The English club earned a 2-2 tie on the road, putting a lot of pressure on PSG to produce a result in England.
After an early goal from Kevin De Bruyne, PSG came back to take a lead against Man City. Zlatan Ibrahimovic canceled out the Belgian's goal just before halftime, and Adrien Rabiot tapped in the home side's second goal of the game.
The Parisians looked set to ride the 2-1 result out, but Serge Aurier and Thiago Silva had trouble clearing a cross sent into the box during the 72nd minute. Fernandinho pounced on the error, hitting a shot that deflected in to give the Citizens momentum heading into the second leg.
Man City and PSG will finish their quarterfinal series next Tuesday.