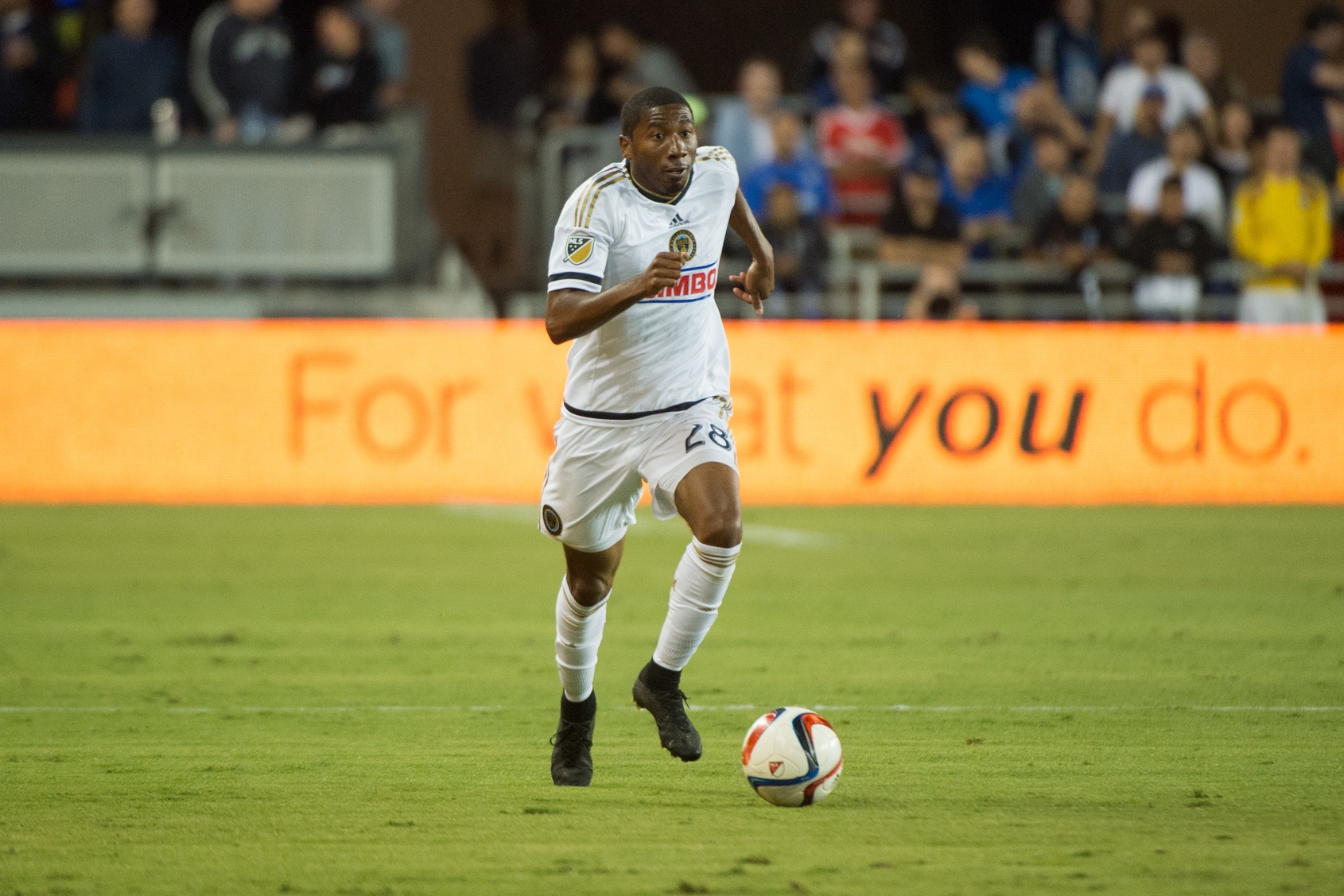 Ray Gaddis has seen his role change in the Philadelphia Union defense to start the season, but that won't be the case on Saturday as the fullback is likely set to receive his first start of the 2016 campaign.
Gaddis, who was a first-team regular in each of the last three seasons, should replace the suspended Fabinho on Saturday in the Union's home contest with the San Jose Earthquakes.
"It can happen at anytime," Gaddis said. "Being a professional, you have to stay ready so you don't have to get ready. That's something my dad has always told me. When your number's called you have to step up and play. It's a long season and we're all in it together, as a team."
Gaddis was sidelined with a knock at the start of the season, which led to rookie Keegan Rosenberry earning a starting role right away. Despite the setback, Gaddis has been working hard to earn a position in the starting 11.
"A little injury went against him early in the season and Keegan was in good form so as challenging as that is for a pro, I'm happy with how Ray's handled it," Curtin said. "He has the opportunity now. He's not a guy I get too nervous about because I know how good of a competitor and player he is." 
The 26-year-old defender received his first taste of action in Week 8's 2-0 win over New York City FC after Fabinho picked up a yellow card against Khiry Shelton in the first half. The Brazilian's fifth yellow triggered a one-game suspension for yellow-card accumulation.
Gaddis admitted facing Shelton in the second half on Saturday wasn't a big task for him because he's dealt with plenty of talent on the training field each day.
"Nothing against Shelton, but we have great players on our team, we have Chris Pontius, we have Erik Ayuk, Tranquillo Barnetta, all running  at me every week," Gaddis said. "How you practice is how you play, so I think the guys in our locker room, they keep me ready."
"I thought it was good for Ray to get the 45 minutes,"  Curtin added. "He did very well."
After Saturday's win, Gaddis was already looking forward to facing the dangerous Earthquakes attack led by Quincy Amarikwa and Chris Wondolowski.
"I'm excited about the win but I'm already looking how we can shut down Quincy and how we can shut down Chris Wondolowski, a prolific scorer," Gaddis said. "I'm very excited and we're going to take this win in stride and look at some things."
"Wondo is not a one-person assignment because his movement is so good in the box," Curtin added of the forward, who leads MLS in scoring.
Dominic Kinnear's side also possesses a threat on the wings with Alberto Quintero and Simon Dawkins in the starting lineup and former Union man Shea Salinas on the bench. If the Earthquakes are trailing late, Salinas could enter the contest and make a sudden impact like he did against D.C. United on April 2.
As for the rest of the Union back line, Curtin told reporters center back Ken Tribbett is close to 100 percent, and the rest of the squad with the exception of Maurice Edu and his long-term injury is healthy.
"Tribbett is not, in his words, 100 percent yet," Curtin said. "But he's playing pretty darn good in training."