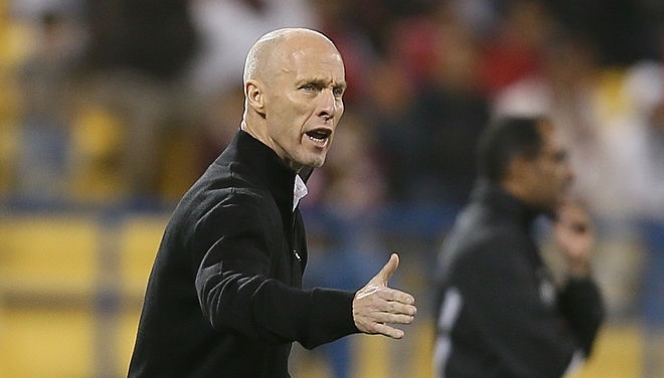 Like many throughout the soccer community, Bob Bradley is quick to identify the game's top managers: Pep Guardiola, Jurgen Klopp, Carlo Ancelotti, Mauricio Pochettino. But, when looking back at the experiences that have defined his career, the former U.S. Men's National Team boss believes he deserves a chance to earn his place among them.
Speaking to Sirius XM, Bradley said that he believes he has what it takes to be counted among the game's very best managers. Bradley, who was hired by French second division club Le Havre in November, recently missed out on promotion to the top flight by just one goal.
"When I have a chance to observe different managers," Bradley told Sirius, "the ones that do good work, I mention Pochettino, Klopp, (Thomas) Tuchel that took over for Klopp at Dortmund, he's a fantastic young manager. We haven't even talked about the Guardiolas and the Ancelottis, but I'll tell you what, maybe I'm stupid, but I think I'm a manager in and around that level. I'm not saying I'm better than these guys, I haven't had those types of opportunities, but I think people that have played for me have always felt that the experience in the team was different, that training was challenging, that there were a lot of things done to help them become better players and better people.
"I believe in my work, but I don't go around every day complaining. I roll up my sleeves and try to show people what I'm all about and see what happens."
Bradley's career is one that has taken him all over the world in a variety of jobs. After beginning his career on the college level, Bradley made his name in MLS as head coach of the Chicago Fire, New York Metrostars and Chivas USA before accepting the USMNT head coaching position. It was with the U.S. that Bradley managed what was likely his best game to date, a defeat of juggernaut Spain in the 2009 Confederations Cup that ended La Roja's 35-game unbeaten run.
A first place group stage finish followed at the next summer's World Cup before defeat at the hands of Ghana. Just one year later, Bradley was removed from his post following a Gold Cup defeat to Mexico.
Since, Bradley took over the national team job at Egypt before beginning his climb up the European coaching ranks. After leading Norwegian club Stabaek to unprecedented success, Bradley took over at Le Havre and nearly secured promotion on the season's final day.
Through all of his travels, Bradley admits there is still a certain stigma around the American manager, one that has hurt his opportunities to prove himself among the best at the top level.
"Take out the American tag for a second, and for me, here's how it works," Bradley said. "Around the world, there are some great managers. For every one great one, there are a lot that aren't so good. We've seen young managers, look at the job Pochettino has done. When jobs open, every club has this way to go about a process to bring a new guy in. My name gets mentioned sometimes, but I've said before, I've only had a few times where I've got in and felt like I was really being considered.
"What are you going to do? You try to prove yourself. With every team you manage, you try to show your work. You try to show what your team is all about, your ability to develop players, your ability to manage players. Are you a team that plays with some kind of an identity? What are you all about? When I look at the job Jurgen Klopp has done in Liverpool, the first thing that flies off the page is that, when he goes into a team, you could tell that that team has identity, that team has a whole different way. I think many of the teams that I've managed, that happens, but my name's not Jurgen Klopp."