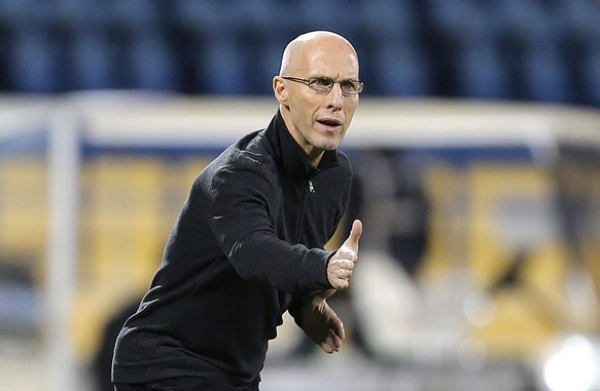 Two games remain in the French Ligue 2 campaign for Bob Bradley and Le Havre AC, and the path to promotion is not entirely free and clear.
Metz, currently in second place with three more points and a better goal differential than Le Havre, can win both of its remaining contests to claim the third and final promotion spot to Ligue 1. Bradley's side, therefore, needs to win its last two games against Auxerre on Friday and FC Bourg-Peronnas on May 13 while hoping Metz drops points in the final weeks.
Following Le Havre's latest win — a 3-1 result against Nimes — Bradley said he had "no regrets" about not scoring more goals to close the goal-difference gap between his club and Metz.
A Le Havre loss or tie and Metz win would officially eliminate the former from contention this weekend. However, no matter what Le Havre does, a win from Metz — which hosts ninth-place Tours FC on Friday — would all but seal its spot in the top three.
Here is a look at the top of the Ligue 2 table and the remaining schedules for the clubs in the running for the third and final promotion spot:
Ligue 2 standings
1. Nancy (68 points | 19-6-11 | 54 Goals For | 30 Goals Against)
2. Dijon FCO (67 points | 19-7-10 | 58 Goals For | 33 Goals Against)
3. Metz (62 points | 18-10-8 | 52 Goals For | 37 Goals Against)
4. Le Havre AC (59 points | 17-11-8 | 44 Goals For | 36 Goals Against)
5. Red Star (58 points | 16-10-10 | 36 Goals For | 34 Goals Against)
Team schedules
METZ
Friday – vs. Tours FC
May 13 – at Lens
LE HAVRE AC
Friday – at Auxerre
May 13 – vs. FC Bourg-Peronnas
LENS
Friday – at FC Bourg-Peronnas
May 13 – vs. Metz
RED STAR
Friday – vs. Dijon FCO
May 13 – at Creteil