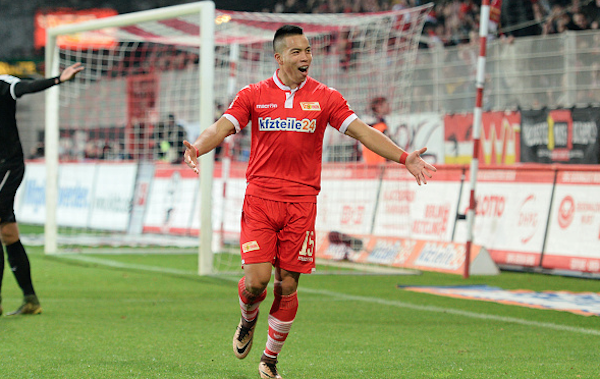 Bobby Wood made his name tearing apart defenses in the 2. Bundesliga, but the U.S. Men's National Team forward is now set for a rise in competition with a club that seems to be the ideal next step in his professional career.
After ripping apart the German second division with an American record 17 goals in 31 starts, Wood will join Hamburg in the top flight next season. The transfer represents a deserved move up the ladder for the 23-year-old striker, who will now be challenged with leading his new club back into relevancy.
The 2015-16 season was a difficult one for Hamburg, and it appears that the addition of Wood signals the start of a roster rebuild. When all was said and done, the club wrapped up a somewhat disappointing 10th place finish while remaining the only team to have played in every season of the German top flight.
In particular, the club was plagued by issues at the forward position. Hamburg scored just 40 goals in 34 games, good for 12th in the Bundesliga. Led by nine goals from wide midfielder Nicolai Muller, Hamburg saw the forward core of  Pierre-Michel Lasogga, Sven Shipplock, Joseph Drmic and Michael Gregoritsch combine for just 14 goals in 81 appearances between them. Add in the impending retirement of veteran forward Ivica Olic and Drmic's upcoming return to Borussia Monchengladbach, and Hamburg appears to have a major need at forward heading into the 2016-17 season.
Wood is a player that can be expected to fulfill that role, and their are currently players scattered throughout the Hamburg roster that can aid him in that pursuit. Muller is a talented right-winger coming off of one of the best years of his career, while playmaker Lewis Holtby is a solid player despite never truly living up to his potential at Tottenham. The club will also likely bring in more attacking pieces to supplement, or perhaps compete with, Wood as the club has been linked with players such as Real Madrid prospect and Norway prodigy Martin Odegaard in recent weeks.
While Wood will likely be given every chance to succeed with a team in desperate need of his services, the forward will also face his share of challenges. Wood only needs to look so far as to Julian Green, another talented American prospect that was all but banished to the reserve team during his short loan stint with Wood's new club. While Green may not have been ready and management has since changed, the Bayern Munich product's ill-fated loan spell still serves as a reminder of the pressure to perform when trying to survive in what is inarguably one of the world's top leagues.
The jump to a more competitive league will always require adjustment, and it will be up to management to help guide Wood through the rigors of Bundesliga play. Plenty of American players have made jumps in the past, but struggled to adapt to the increased pressure and level of the top division game. To date, the Bundesliga has proven somewhat of a safe haven for American players, as Wood joins a cast that includes Fabian Johnson, Christian Pulisic and the recovering Aron Johannson among the American attackers in the German top flight.
Like Johnson's move before him, Wood's move comes at an interesting time. Johnson made the leap to a bigger club just before the 2014 World Cup, signing with Borussia Monchengladbach after impressing with Hoffenheim. After shining for the USMNT at the World Cup, it appeared Johnson could have held out for an even bigger leap in the aftermath of the world's biggest tournament. Since, the USMNT winger has become one of Monchengladbach's stars, earning a nomination for the Bundesliga Team of the Season.
The Copa America could have served as a similar springboard, or anchor, for Wood depending on his summer performances. Previously linked to clubs like Liverpool, Wood could have no doubt earned countless suitors with a dominating performance at the Copa America.
However, Wood opted for the more methodical route, one which has paid off mightily for Johnson. In Hamburg, Wood joins a team that provides a natural fit and, with a big summer looming, Wood's decision appears to be the start of a defining period of the young forward's professional career.