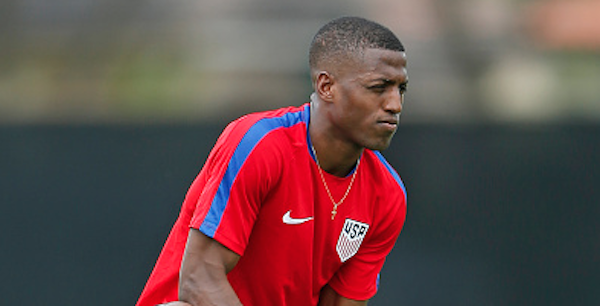 MIAMI SHORES, Fla. — Fabrice Picault met with members of the media for the first time as a member of the U.S. Men's National Team earlier this week and in a few short words gave a fitting description to his recent rise in the world of soccer.
Started from the bottom.
Picault was one of the most unknown and surprising names included on the roster that U.S. head coach Jurgen Klinsmann put together for a preparation camp in South Florida in the build-up to next month's Copa America Centenario. Picault, whose nickname is Fafa, was called in after impressing during the second half of the 2. Bundesliga season with St Pauli, which he signed with less than a year after playing in the NASL with the Ft. Lauderdale Strikers.
"Obviously, he took the route to Europe and fought his way through and came out now in St Pauli with a coach that I know really well," said Klinsmann. "He told me already, 'That kid is a fighter. He wants to prove it. He wants to show it.'  I said, 'Well, I'll send my people out there.' They had a look at him and he's coming off the bench sometimes, sometimes he gets the start, he scored his first few goals. It's a process that he's in that takes time.
"You're not going to Europe and you're going to be the superstar from one day to the next. You have to work your way through over a couple of years and every year you've got to get stronger otherwise they send you home. Hopefully we see a Fafa here that kind of gets a first impression by the national team program, is obviously happy to be home, but also takes it as the next step in his career and says, 'Okay, I get it now. I go back then after the summer break to Germany and I have to become a starter, I have to become a regular goal-scorer, and I show them that I'm so hungry that I want to be part of this more often.'"
The 25-year-old Picault seems to have already gotten the message. The speedy winger was not named to the preliminary roster for the fast-approaching Copa America Centenario, but nonetheless is eager to make an impression in practice sessions and Sunday's friendly against Puerto Rico.
Picault knows that showing well in this current camp could lead to future looks down the road, but is also aware that he has to go back to St Pauli and build on the year he just had. The 5-foot-8 Picault scored four goals in 16 games this past season, but only six of those appearances came as a starter.
"This is the first call-up, so I don't jump to anything, but obviously I don't want this to be the last one," said Picault. "My objective is to push far and keep going up. It's been literally from the bottom, so I think if somebody knows how to fight through situations and push themselves up it would be me. I look forward to doing that."
Picault's career has had its share of challenges. The New York native spent time as a youth with Italian side Cagliari before officially beginning his professional career with the Tampa Bay Rowdies in the NASL in 2012. He was without a club the following year, but was signed by the Strikers two years ago and did well enough there to make a move to Czech Republic outfit Sparta Praha.
His time there was short-lived. Picault spent six months there during the second half of the 2014-15 season before parting ways with the club, and afterwards signed a deal with St Pauli in September with the hopes of breaking through.
Picault made a few appearances shortly after his arrival, but did not really hit his stride until March. He played in nine games in the spring, and opened his scoring account in a loss to SC Paderborn before bagging a brace in a 2-0 win vs. VfL Bochum and netting an equalizer in a draw with Fortuna Dusseldorf.
Along the way, Klinsmann gave Picault a social media shoutout when he tweeted a congratulatory message on April 16 following the veteran's two-goal performance. Picault thanked Klinsmann with a tweet of his own, and was spurred on by the kind words.
"It definitely motivated me to keep pushing harder and gave me some good confidence leading into the end of the season," said Picault.
Picault has brought that confidence into this U.S. camp. While he is still adjusting to his new teammates and the speed of play at the international level, Picault has managed to make an impression already with his natural and technical abilities.
"Fafa is a hungry goal-scorer," said Klinsmann. "He's hungry for goals, he's hungry taking on people, he has speed obviously. He's not the player that you play long balls and do these type of things, but he's quick, he smells where the ball goes, so he has a good instinct. These are things that are difficult to teach."
Added goalkeeper Brad Guzan: "Obviously, he's a good player. He's got good pace. He's comfortable with the ball at his feet."
Picault is hoping that his performances with St Pauli down the stretch of the 2. Bundesliga campaign and his showing in this week's U.S. camp will lead to him earning his first cap on Sunday when the Americans take on Puerto Rico in a friendly. Picault is "100 percent" committed to the U.S. despite previously accepting call-ups from but never playing for Haiti, and wants to impress in order to put an exclamation point on what has been a strong few months for him.
He might have started from the bottom, but Picault is quickly on the rise.
"It's my first game so I have to show my qualities to the team and the head coach," said Picault. "I expect to have a good game."