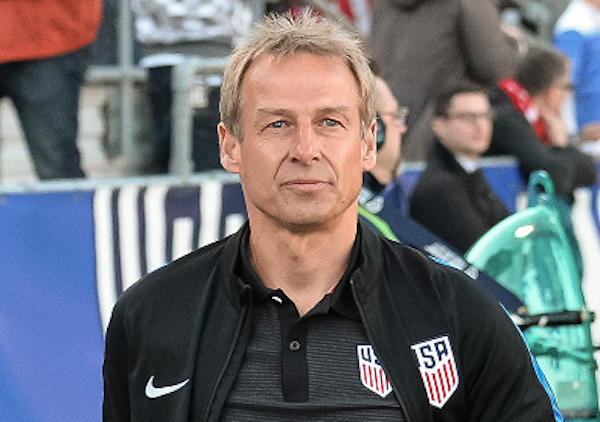 Whenever the England management position opens, a whole slew of candidates from all over the world are linked with the job. This time, one of those candidates just so happens to be Jurgen Klinsmann, even if a move seems unlikely.
The U.S. Men's National Team had coach has been linked with the England gig in the aftermath of Roy Hodgson's resignation following England's Euro 2016 loss to Iceland. The move would hypothetically represent a return to Europe for Klinsmann, who managed Germany before assuming the role as USMNT boss.
According to Sky Sports, Klinsmann does have interest in the England job. However, Klinsmann has publicly stated his happiness with the USMNT job, as well as the toll working in Europe took on him during his days with Germany and Bayern Munich. The German-born head coach still has several years on his contract and would be unlikely to leave before the 2018 World Cup.
Reports abroad state the impression that Klinsmann has made with his USMNT achievements. Klinsmann is credited for guiding the USMNT out of their World Cup group in 2014, while also earning praise for reaching the Copa America semifinals.
Former England defender Jamie Carragher stated that he believes Klinsmann is his pick to take the job.
"My own view is that international football should be about the best in your country against the best of someone else's," Carragher said in his column, "so I had always favored an Englishman but there can be no complaints if the FA look to a foreign coach.
"With that in mind, I wouldn't knock the idea of appointing Jurgen Klinsmann, who has been to a World Cup semi-final with Germany, a Copa America semi-final with the United States and knows our game."
What do you think of the links? Expect England to offer the job? Should Klinsmann consider it?
Share your thoughts below.