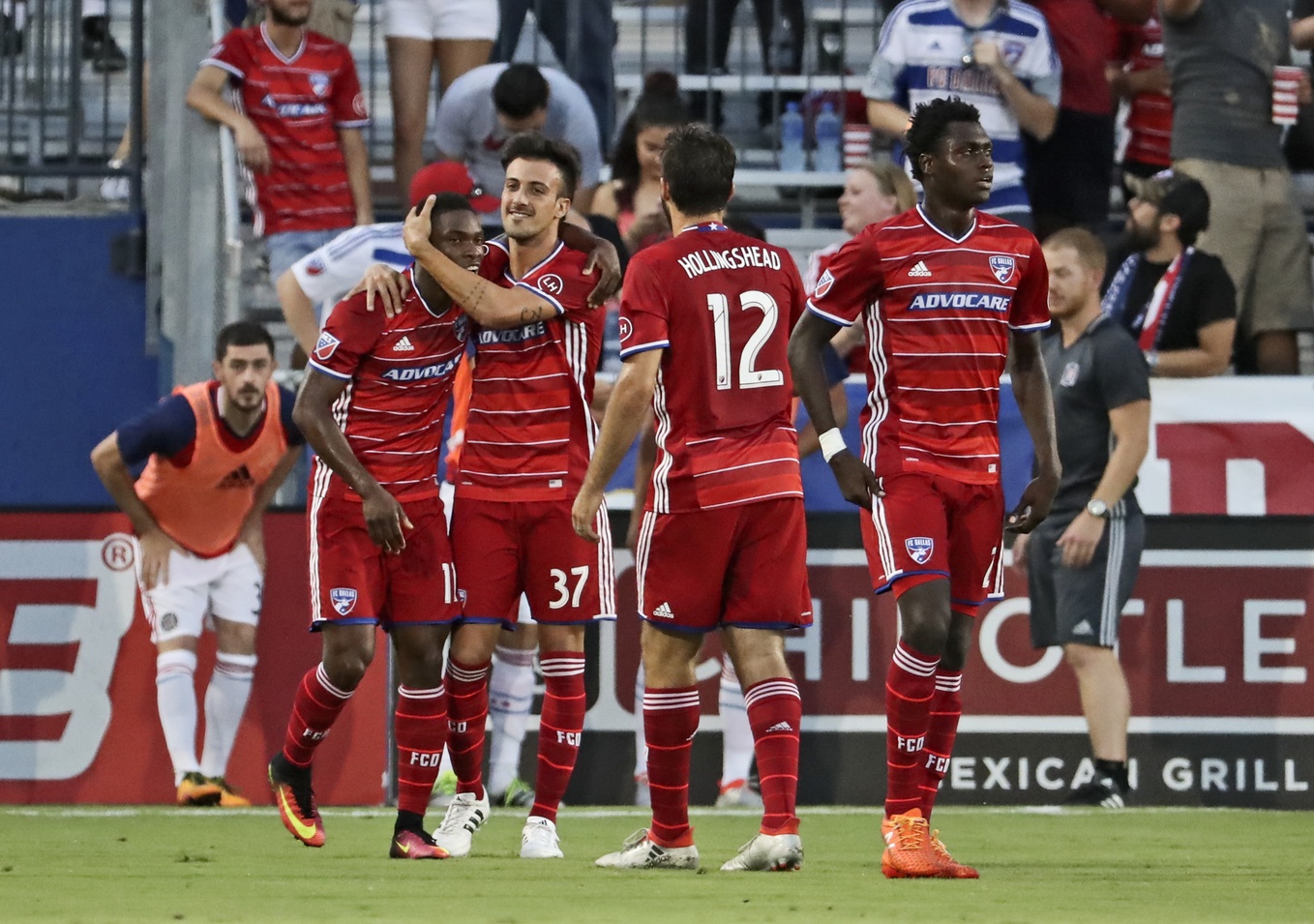 FC Dallas is routinely among the more entertaining teams in MLS, but the Western Conference contender took style points to a whole new level on Saturday night.
A pair of spectacular goals scored on Saturday are destined for the highlight reels, as FC Dallas toppled the Chicago Fire, 3-1, at Toyota Stadium.
Maxi Urruti provided the game's opening goal in the 23rd minute, but it was Fabian Castillo that provided the entertainment with an electric sequence. After darting past a pair of defenders down the left-hand side, Castillo flicked the ball up and over an onrushing defender and into the box. After beating his man to the ball, Castillo fired a rabona cross into the center, allowing Urruti to smash a header home for the 1-0 lead.
The game's second goal was arguably as spectacular, as Mauro Diaz etched his name among the Goal of the Week contenders with a long-distance shot in the 41st minute. After receiving the ball from Kellyn Acosta, Diaz took a touch before firing a right-footed shot all the way to the far post, beating goalkeeper Matt Lampson from 25 yards out while doubling FC Dallas' advantage.
Arturo Alvarez added a free kick goal in stoppage time before Castillo set up Mauro Rosales one minute later to push the lead to 3-1.
Lampson would be called into action several times throughout the night, and, despite some potential blunders, the Fire goalkeeper provided five saves to keep FC Dallas from running up the score. FC Dallas keeper Jesse Gonzalez played his part as well with three saves, but the hosts were never truly threatened en route to three points.
With the win, FC Dallas stays atop the West with 40 points through 22 games, while the Fire remain bottom of the East with 17 points from 18 matches.
FC Dallas returns to action on Wednesday for a U.S. Open Cup clash with the Houston Dynamo, while host the NASL's Fort Lauderdale Strikers that same day.
MAN OF THE MATCH
Leading the way with a pair of assists, Fabian Castillo proved to be a menace throughout Saturday's match while providing a rabona assist for the highlight reels.
MOMENT OF THE MATCH
Fabian Castillo's spectacular cross and Maxi Urruti's ensuing header set the tone, as FC Dallas cruised past an overmatched Fire team.
MATCH TO FORGET
One could forgive Matt Lampson on the goals, but the Fire goalkeeper was shaky throughout the night with his distribution, nearly gifting FC Dallas several chances.