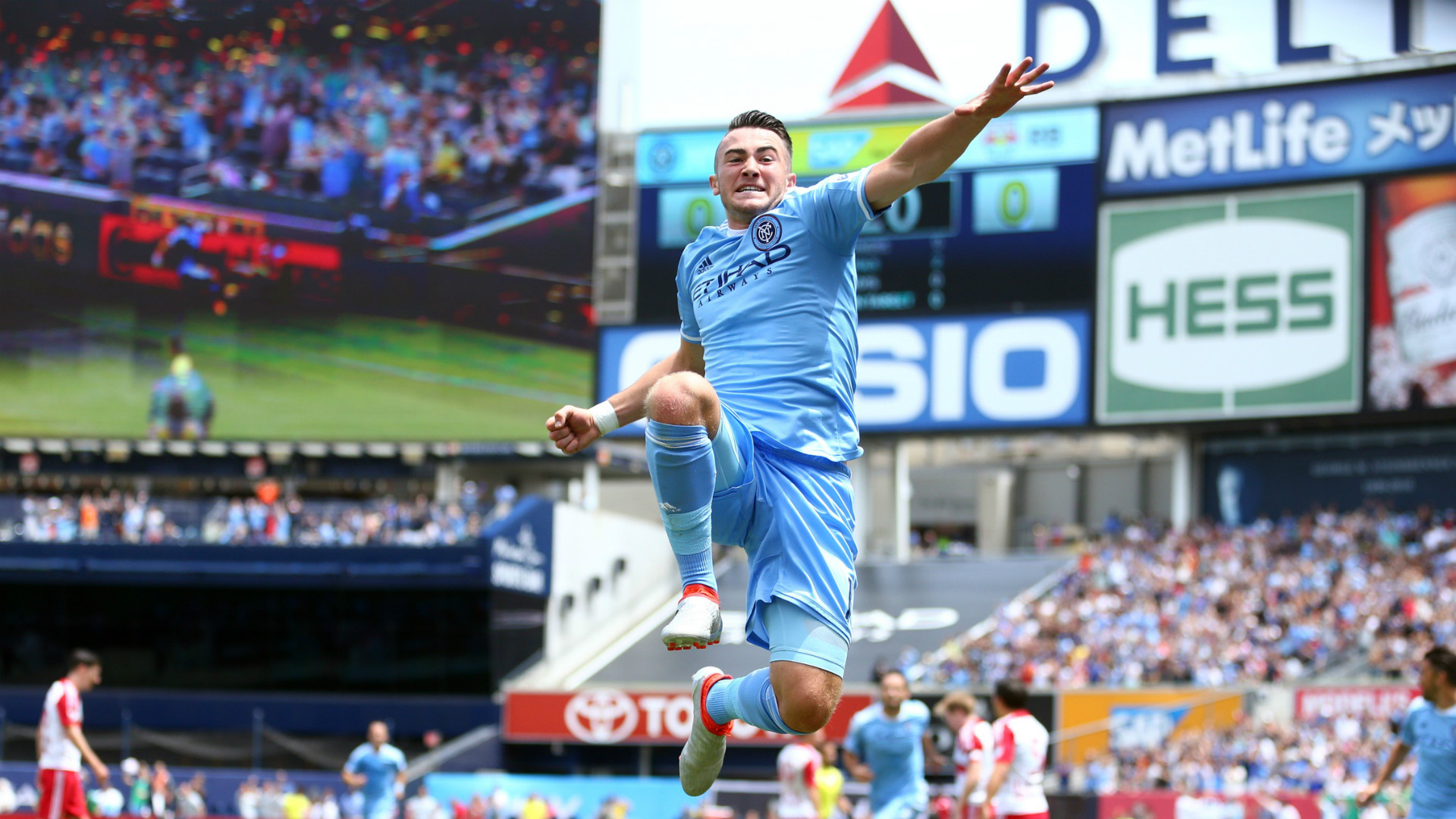 NEW YORK — It took the brilliance of a 19-year-old rookie for New York City FC to best the New York Red Bulls for the first time in club history, but what Jack Harrison was able to do on Sunday was a surprise to anybody but his own team.
"'Rookie' doesn't mean anything for me," NYCFC head coach Patrick Vieira said. "What is important is talent and this is the reason why we went for him in the draft because we watched him play a few games and he had something really special and something that we didn't have in our squad. I think we are very pleased because we made the right decision."
Harrison was selected as No. 1 overall pick in the 2016 MLS SuperDraft by the Chicago Fire on Jan. 14 but quickly traded to NYCFC for the club's No. 4 overall pick and general allocation money.
The Wake Forest product, however, was sidelined with a pelvic injury before making his professional debut on May 21 as a substitute in NYCFC's lopsided 7-0 loss to the Red Bulls at Yankee Stadium.
"Ever since we lost the last time, we've just been looking forward and preparing really well and just working hard in practice," Harrison said. "We've been preparing for this game for a long time, not just this last week."
The winger provided a goal and an assist in his side's 2-0 win over the same opponent in the Bronx on Sunday, giving NYCFC its first win in the New York derby in five tries.
His goal in the eighth minute off a corner by Andrea Pirlo got things started.
"We've been working on some set pieces in practice and it came out to me outside the box," Harrison said. "I had a bad touch at first but I was able to pull it across my body to my right and just kind of hit it and hoped for the best. Luckily for me, it went in."
The score was Harrison's second in his professional career in just five games. He tallied his first one on June 2 in a 3-2 loss to Real Salt Lake at home.
"I still believe the best is yet to come [for Harrison]," Vieira said. "I think he's played really well, but don't forget that he was out for four months with an injury and we know in football, to get back, you need another three, four months to get back to your best. I'm really pleased with his commitment and his hard work in training. And of course, when you play next to guys like David [Villa], Andrea [Pirlo] and Frank [Lampard], you can express your talent."
Harrison did just that in the second half when he set up Villa's goal in the 66th minute with a charging run down the right flank followed by a well-placed rolling cross.
"He's given us an edge on that right wing and he's a huge part of the last few performances," said Lampard, who fed Harrison the ball leading up to his assist. "He's got great, natural ability on the ball and some players just know when to pass, when to dribble and have the ability to skip past people. On top of that, he has a lot of humility, he's a really good kid. He wants to learn, he wants to work hard in the week. He's not ahead of himself already and I don't think he will be. He's a real weapon for us now and he's got everything he wants in front of him."
And for Villa, who has scored two of his MLS-leading 12 goals this season courtesy of assists from Harrison, he notices the spark the youngster brings as well.
"I think he has something else that is very important," the NYCFC captain said. "I've spent a lot of years in this game, and he has something important that only a few players have. When he has the ball at his feet, you get the sensation something is going to happen.
"He has the ball at his feet and you think, 'Something can happen.'," Villa said. "Few players give you that feeling and he has it."
A lot of young players may not be able to handle all this praise and hype at such an early stage in their careers, but Harrison believes that won't happen to him.
"I think just staying humble is the main thing," he said. "I learned that from my mom. She kind of brought me up to be like that, and obviously guys around here like Frank and David have both given me advice as well."
Vieira, meanwhile, is keeping his expectations for Harrison in check somewhat, but relishes at the prospect the youngster brings.
"He's still young and he's going to make mistakes," he said. "Today he went well but he's going to go through a difficult period and we're going to give the support that he will need. But right now, we have a young and really talented player in our football club."