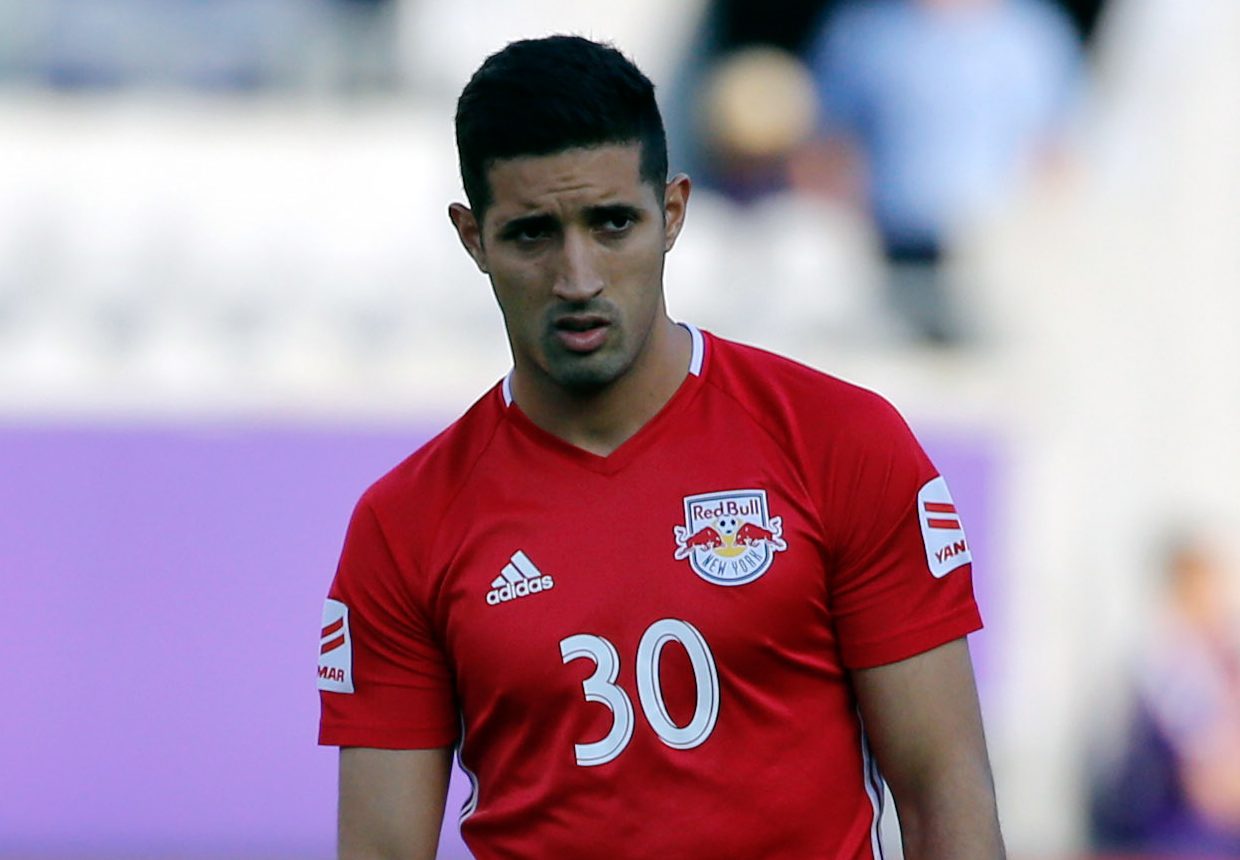 NEW YORK — Legs were heavy. Tanks had less fuel than usual.
The New York Red Bulls were already feeling tired before Sunday's game was well under way, the result of having had such a loaded schedule in recent weeks. A rotation of some players was always going to be in the cards, especially for those who had not seen much time in the previous matches.
Designated Player Gonzalo Veron fit that bill, but still did not get the nod.
The Red Bulls suffered their first loss to New York City FC on Sunday afternoon by being on the wrong end of a 2-0 result at Yankee Stadium, and Veron was nowhere to be found when the game began. Actually, that is not true. Veron, 26, was in his usual spot on the bench, forced to play the role of spectator again rather than being on the field trying to make an impact.
This despite the fact that he had played a combined 28 minutes in the two matches prior. This despite being a highly-touted acquisition that the Red Bulls raved about both last year and at the beginning of this season. This despite making a handsome $500,000, per the MLS Players' Union, to contribute to the club's cause.
Veron eventually entered the game vs. NYCFC, but only in the 70th minute after the Red Bulls had gone down 2-0. Alex Muyl, a 20-year-old Homegrown Player in his first season as a professional, was the one chosen to start on the right wing in place of regular starter Lloyd Sam and Veron. That, however, raised an interesting question.
Why?
"We just felt like on a day where we knew it was going to be about competitive effort, that that's really what Alex is about," said Red Bulls head coach Jesse Marsch in the post-game press conference. "Also, trying to figure out how to put some fresh legs on the field, how to put some guys that can really now meet the standards of what the game are going to be.
"I thought Alex did fairly well for the most part, and then when we took him out we're hoping to put Lloyd in at 1-0 and he's a good attacking player and a guy that helps make plays. (We're) hoping that he can help, but then the game got down to 2-0 and then we're really chasing."
Bringing Sam on as a substitute in this edition of the Hudson River Derby made sense given that he is 31-years old, but not having Veron, a DP, on the field from the opening whistle was a curious development. This was a perfect opportunity for him to contribute, but there he was on the bench again as Marsch went with a younger player deemed capable of providing more in a rivalry game.
Truth be told, the Argentine – who was described as representing what the future of the Red Bulls would be about when he arrived in summer 2015 – has contributed little to the Red Bulls' season thus far. He has never really found a regular place in the lineup, and been given few minutes even after recovering in early May from the hamstring injury that sidelined him for the first couple months of the campaign.
In total, Veron has played in nine of the club's 18 league games this year. Certainly, that is not a bad total when considering how much time he has missed through injury and suspension (he received a red card in a match in late May), but that figure is less impressive when you see how much he has contributed.
So far, Veron has just four starts to his name in MLS play this year and a whopping total of 297 minutes. He is averaging 33 minutes per appearance, which is hardly the type of figure you would expect from the fourth-most expensive player on the team.
His lack of playing time has played a part in his lack of statistics as well, as Veron has produced just one goal and zero assists in 2016. Some would label that type of return as disappointing and the player as a bust given his status in the squad.
To his and the Red Bulls' defense, the attack has done fairly well without him after a slow start to the season. The club is currently tied for third-highest in goals scored with 28 tallies, behind only the LA Galaxy and FC Dallas with 30 apiece and the Philadelphia Union and New York City FC with 29 each.
Still, figuring out how to better incorporate him into the team is a challenge Marsch needs to overcome during the second half of the campaign. Veron is getting paid a hefty sum to contribute, and is versatile enough to fit into any of the attacking four positions in the team's preferred 4-2-3-1 formation. Not using Veron will only threaten to add him to a list of DPs that failed in New York, a list that includes Claudio Reyna, Rafa Marquez, and Frank Rost.
Veron surely wants to play more, too, especially after looking like he would start over Mike Grella at the start of the season and after enduring some hardships on and off the field this year that include him losing his father. He will more than likely get a lengthy run-out and chance to shine in the Red Bulls' midseason friendly vs. Club America on Wednesday, but needs to be given that opportunity in games that matter as well. He also has to deliver, of course. Such is the life of a Designated Player.
Otherwise, he will continue to be more of a luxury than a necessity.