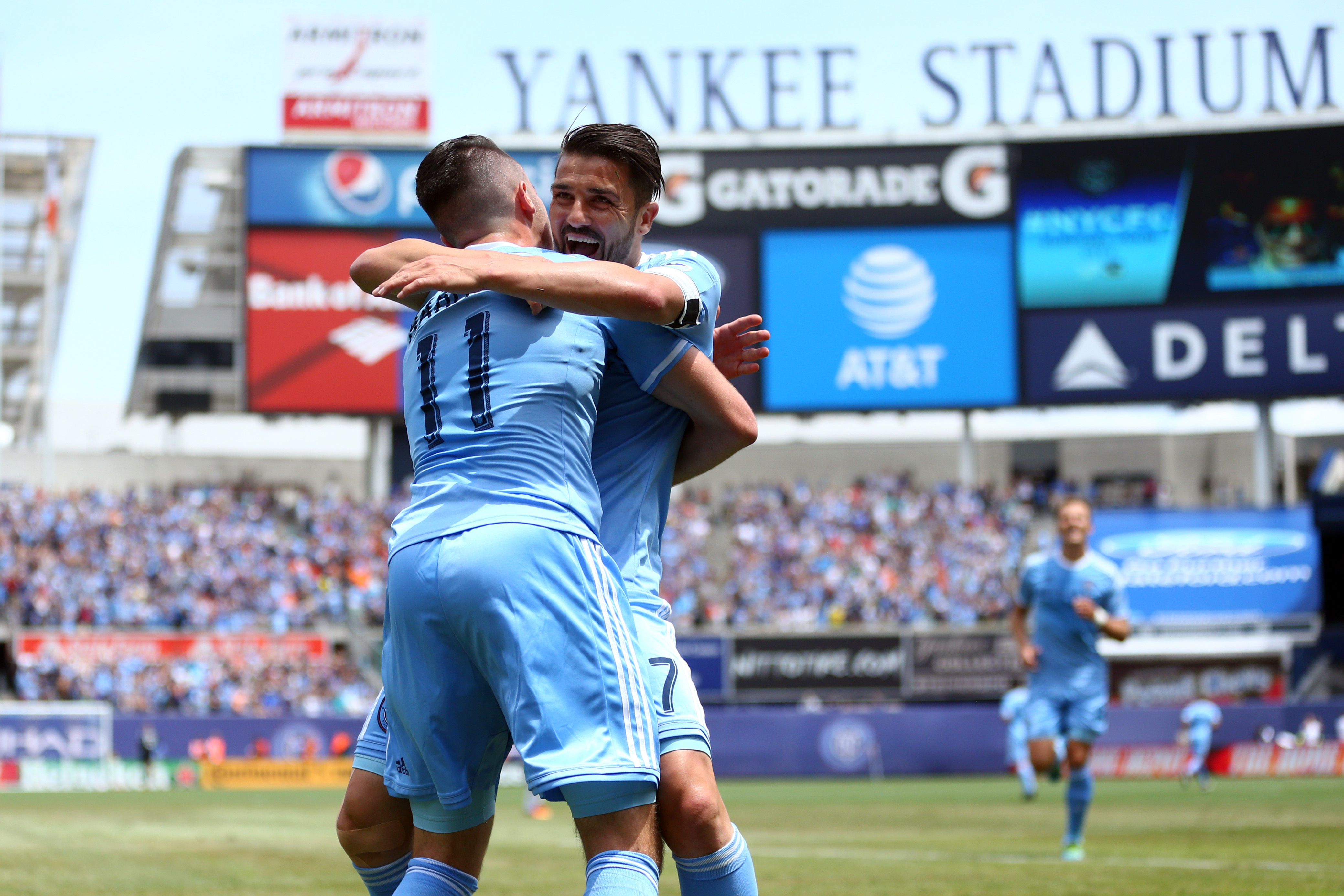 BRONX, N.Y. — Yankee Stadium is currently the home of New York City FC, and it apparently will be for quite some time.
NYCFC is in the midst of its second season as a professional club, but continues to play its MLS matches inside of the baseball cathedral that is Yankee Stadium. NYCFC has long been searching for a location inside of the Big Apple's five boroughs on which it can build a soccer-specific stadium, but has yet to pinpoint a spot.
In fact, no substantial updates have been given by club officials in months. NYCFC is still in the process of identifying where it can construct a permanent home, and there appears to be no end in sight right now.
"There's nothing else (to say) from probably the last statement we made on the stadium," said NYCFC sports director Claudio Reyna on Tuesday morning. "We continue to have discussions and there's positive inroads being made, but there's no other comment to be made. We'll continue to work together with the city on finding the right location."
Despite consistently drawing good crowds, Yankee Stadium has drawn heavy criticism since NYCFC began playing in it in 2015 because the venue is not tailor-made to host soccer games. The sight lines in parts of the stadium make it tough for fans to see the action, and a portion of the baseball diamond that MLB's New York Yankees use visibly overlaps the soccer field despite grass being grown on top of it. The dimensions of the soccer field – 110 by 70 yards – are also smaller than most others in MLS.
The lack of space available on the narrow pitch has been the subject of much discussion this season, too, as NYCFC has consistently struggled to get results at home. Currently, the club boasts a subpar 3-3-5 record at Yankee Stadium despite leading the Eastern Conference.
Nonetheless, NYCFC insists that it is not frustrated to play there.
"I think we're happy to be there," said Reyna. "It really does feel like a home for us. I think the players would say the same thing. We're much more comfortable in it than we were last year and in the beginning of this year, and we continue to really know how to play in it.
"I think the best examples are probably the last few games: the (Real) Salt Lake game, the (Philadelphia) Union game, and the (New York) Red Bulls game. We played well, we got a couple of results, but we've been playing better on the field.
"We're not about making excuses, we're about making sure we do all the talking on the field," added Reyna. "There's no excuse. It's the same dimensions for everyone. It's the same size, and we're looking forward to the rest of the games at home because it can really be an advantage to us and it should be."
Advantage or not, NYCFC understands that it ultimately needs to move out of Yankee Stadium and into a soccer-specific venue to call its own. Just when that will happen, however, is unclear.
"I think we all know that that's the long-term goal," said NYCFC midfielder Frank Lampard. "There's obviously difficulties, but I know it's not for a want of trying. People are working strongly behind the scenes. I think our fans would love (a soccer-specific stadium), but at the same time I don't want to talk down the Yankee Stadium because I think it's a very spiritual stadium. It's huge. The minute you walk into it, you understand – I know it's relatively new – the history that comes with that stadium.
"It's a pleasure to play in it, but, yes, long-term we need our own stadium and I think our fans will feel at home there."