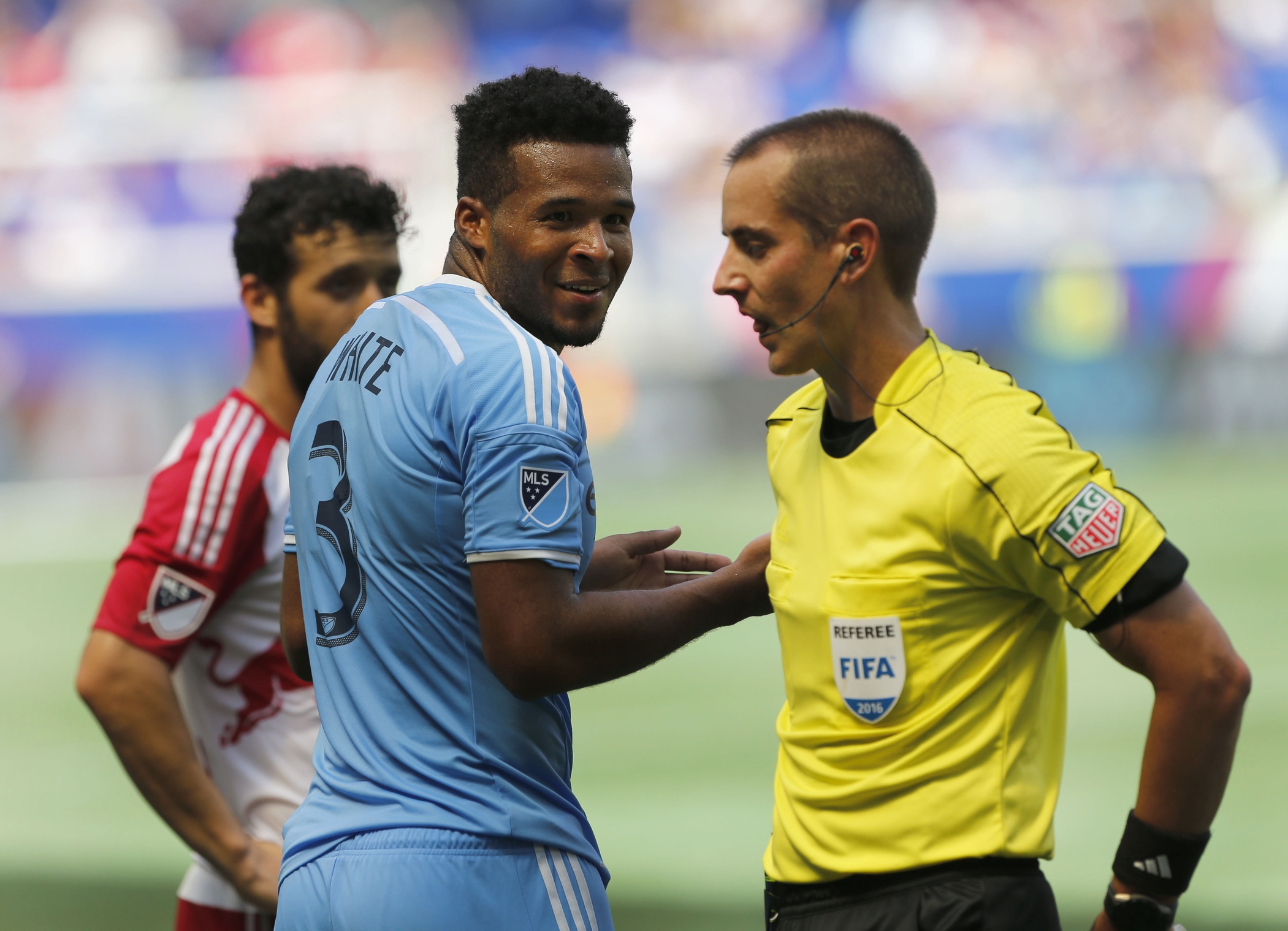 Rivalries always seem to bring out the nastiness in players. Crunching tackles, confrontations and consistent chirping are the norm when it comes to contests with major stakes, but there was also no love lost between coaches following Sunday's Hudson River Derby.
New York City FC head coach Patrick Vieira took aim at New York Red Bulls head coach Jesse Marsch on Sunday afternoon following the former's 4-1 loss to the latter at Red Bull Arena. The win was the Red Bulls' second in three games this season, taking the team's overall record to 5-1-0 against their local rivals.
While Vieira was quick to admit his side did not perform up to par, the Frenchman was also extremely critical of Marsch, who voiced his belief of a perceived discrepancy in referee's treatment of NYCFC stars compared to the rest of the league.
"I think the comment from Jesse during the week had a massive impact on the referees and that had an impact on the way we played," Vieira said. "When you take in doubt the credibility of the referee, it happens that the referee sometimes makes the wrong decision. I think today, he made the wrong decisions in favor of the Red Bulls because the manager was crying all week and, in the end, he got what he wanted to.
"This is a plan, this is a way he wanted to go for and he got fined for it, so that means he did something wrong," Vieira added. "If you want to accept it or not, that had an impact on the referee's decision, as simple as that."
In particular, Vieira took aim at several offside decisions that went against NYCFC early in the game. Vieira had no issues with a penalty kick called against his team for the Red Bulls' third goal, but the former French star did take issue to Marsch's comments putting "the credibility of the referee on the line". The head coach went on to state that he knows that referee's read and were aware of Marsch's comments, just as everyone else was, and added that he believes they were influenced to make calls in favor of the Red Bulls because of them.
Midway through the first half, Vieira's frustration came to a head. The NYCFC head coach was sent off by referee Mark Geiger for leaving his box, but took the opportunity to coach his team through a water break before leaving for the locker room. Following some complaints from Marsch, Vieira marched towards the Red Bulls coach before stating that Marsch needed to "stop crying and stop complaining".
Given the chance to respond, Marsch stated his desire to speak on his team's performance, while also stating that he believed Geiger called a "fantastic" game. Marsch said he understands that, from afar, it may be simple to criticize his assessment given the result of the game, but the head coach said it was important to stress that he believed that Sunday's match was among the top referee performances of the year.
"He never said anything to me. That's all I can say," Marsch said of Vieira. "He didn't want to shake my hand in the hallway, but I've seen this from him after the game before. It's not a problem. I'm going to focus on us, because I think that the game was decided by players, and I think that, in every way, our players put a big imprint on the game."
Marsch wouldn't go so far as to admit his comments were a part of any mind games. Rather, they were an attempt to help his team going into what he saw as a crucial battle with a local rival.
"I've tried to be respectful. I try to communicate with the league and with the officials in a respectful way," Marsch said. "They interpreted this latest opinion and way of voicing my opinion as disrespectful, so according to the policy, I get fined.
"I look at is I ask my players to fight for every inch, every day, on the field. I ask them to do everything they can to gain advantages and win battles. For me, I felt that my job, on this week, was to voice certain things and I felt it was important with where we were in the season and where we were on the schedule to make sure that I was standing up for our guys and our club. "
The season series may be over, but it appears the rivalry between Vieira and Marsch is one that is just beginning. Just three games into Vieira's Hudson River Derby career, a dislike has taken hold as both teams continue to hockey for playoff position in the crowded Eastern Conference.
"I think we are completely different as a person and as a character, because he's acting one way and I act in a different way," Vieira said of Marsch. "I think this is a part of the derby. He wants to win, I want to win, and sometimes there is tension. I think it's two different clubs acting in a different way and this is a part of the derby.
"Of course, I think you see that, after his comment, as a football club, we didn't respond because this is not the way we want to do things. We have the respect of the referee and we understand that sometimes decisions are difficult from the referee. One day it's for us, and one day it is against us. We understand it and we respect it. Some people don't, and they prefer to cry openly and it's good because it worked for them this time."