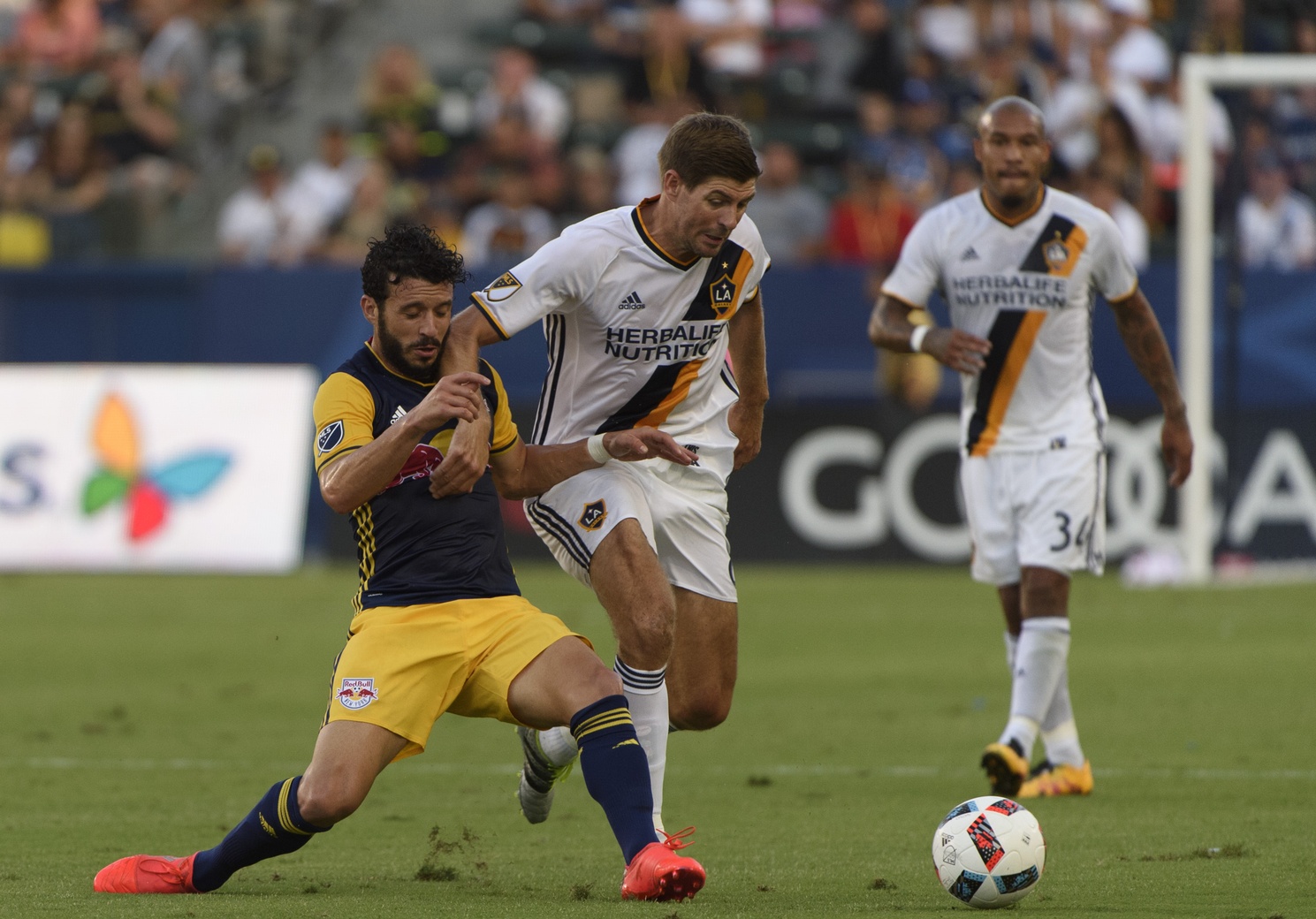 The home side seemed dead in the water with under a quarter hour remaining, but the LA Galaxy pulled out a thrilling comeback against the New York Red Bulls at StubHub Center.
Goals from Mike Magee and Ashley Cole helped the Galaxy complete their 2-2 comeback in the final 10 minutes of Sunday night's match against the Red Bulls. Cole's finish was his first since joining the Western Conference powerhouse this season, and extended the Galaxy's unbeaten streak to eight matches.
Referee Hilario Grajeda was at the center of attention in the dying moments, as the Red Bulls became infuriated by a pair of no-calls that likely could have resulted in penalty kicks. Alex Muyl and Gonzalo Veron were each involved in close calls with goalkeeper Brian Rowe during the latter stages of the match, with both Red Bulls players going down, but Grajeda swallowed his whistle on both sequences.
After joining the Red Bulls from Argentine side San Lorenzo a season ago, Veron's goalscoring struggles have been well-documented. The attacker gave the Red Bulls a 1-0 lead, though, in the 68th minute after Sacha Kljestan picked out the 26-year-old for his league-leading 13th assist of 2016.
The road side had its advantage doubled in the 74th minute when Sean Davis netted his first MLS goal. Felipe played a through ball into the midfielder's path in the penalty area, before the young Red Bull curled an effort into the far post.
The Red Bulls battled adversity throughout the match on Sunday night, as head coach Jesse Marsch was force to make three substitutions in the first 47 minutes. Injuries to Damien Perrinelle, Connor Lade and Bradley Wright-Phillips forced the second-year coach to adjust on the fly, including bringing on Veron at striker just moments into the second stanza.
The Galaxy will return to the field Wednesday night against FC Dallas in the U.S. Open Cup semifinals, while the Red Bulls host the Montreal Impact on Saturday evening at Red Bull Arena.
MAN OF THE MATCH
Giovani dos Santos was the dominant figure in the Galaxy attack, and the Mexican attacker was rewarded for his brilliance with an assist on Mike Magee's 80th minute finish.
MOMENT OF THE MATCH
While it was close to call in live action, referee Hilario Grajeda opted to not call a penalty kick in the final stages of the match after Gonzalo Veron was taken down in the box by Galaxy keeper Brian Rowe.
MATCH TO FORGET
The Red Bulls backline did well stifling the Galaxy attack in the most important moments for much of the night, but the group fell apart in the final 10 minutes, allowing two goals.