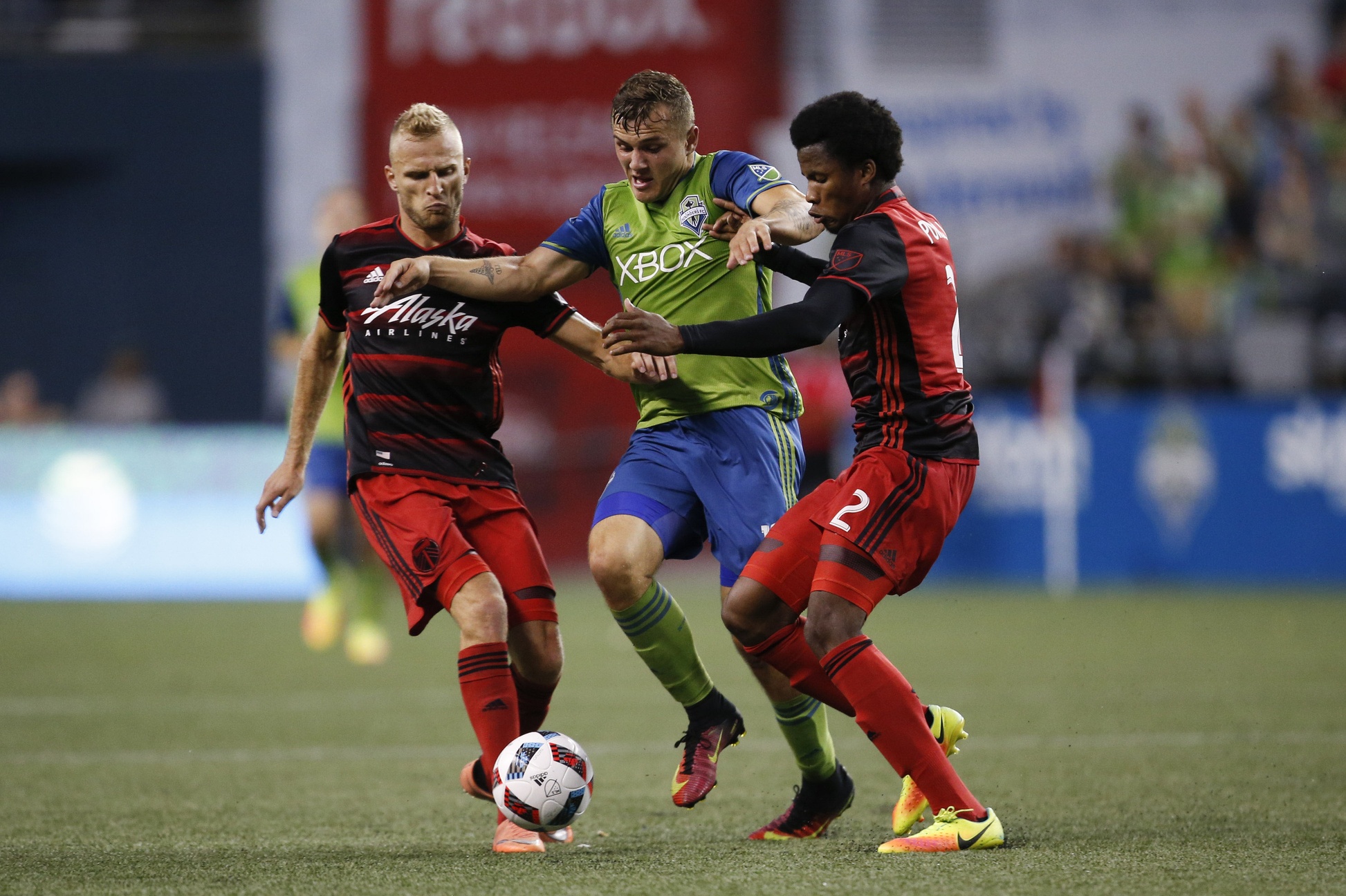 Rivalries dominate Week 25 in MLS, and there a few salivating matchups on tap this weekend.
The most notable is the Cascadia Cup as the resurgent Seattle Sounders face the Portland Timbers at Providence Park. Both sides met last week with the Sounders cruised to a 3-1 win.
Meanwhile, in the Eastern Conference, leader Toronto FC will battle the Montreal Impact at BMO Field. TFC won 2-0 in the first meeting on Apr. 23, but the implications are even larger this time around.
Elsewhere, expansion cousins New York City FC and Orlando City SC square off, plus Real Salt Lake and the Colorado Rapids jockey for playoff positioning in the Rocky Mountain Cup.
Here is a closer look at this weekend's MLS action.
REAL SALT LAKE vs. COLORADO RAPIDS (Friday, 8 P.M., UniMas)
Only three points separate Real Salt Lake and the Colorado Rapids entering their Rocky Mountain Cup showdown on Friday night.
However, the Rapids have two games in hand, so a win is even more crucial for RSL, which is unbeaten at home this season. The Claret and Cobalt edged Colorado, 1-0, in the first meeting of the season at Rio Tinto Stadium, but lost on the road in Commerce City by the same scoreline. Injuries to defender Sean St. Ledger, midfielder Jermaine Jones and attacker Dillon Serna are big losses for the Rapids, although RSL will also be missing defender Aaron Maund and midfielders Sunny and Jordan Allen.
D.C. UNITED vs. CHICAGO FIRE (Saturday, 7 P.M., MLS Live)
Just one week removed from their first road win since 2014, the Chicago Fire will try to make it two in a row against D.C. United.
D.C. is coming off a pair of solid results of its own after coming back to draw 2-2 with the New York Red Bulls. However, the 1-1 tie with the Montreal Impact will have left a sour taste. D.C. currently holds the sixth and final playoff spot in the East, but the Fire are just six points back with a game in hand. The Fire could be boosted by the possible returns of Nick LaBrocca and Razvan Cocis, while Arturo Alvarez could start.
PHILADELPHIA UNION vs. SPORTING KANSAS CITY (Saturday, 7 P.M., MLS Live)
Sporting Kansas City is in desperate need of a victory over the Philadelphia Union on Saturday, but it won't be easy.
The Union have won two of their last three games and are nine points clear of seventh-placed Orlando City SC. However, Sporting KC is six points above the Portland Timbers and Seattle Sounders, who have games in hand on SKC. It won't be easier for the visitors as their defense is weakened by the absences of Chance Myers and Seth Sinovic. Ike Opara is listed as questionable, although Matt Besler is fit again. Brian Carroll and Maurice Edu are Philadelphia's only injured starters, but Edu is slowly returning to full health.
TORONTO FC vs. MONTREAL IMPACT (Saturday, 7:30 P.M., MLS Live)
An all-Canadian matchup between Toronto FC and the Montreal Impact will be one of the top matches of the weekend.
The Impact are winless in their last three games and will be facing a red-hot TFC side that is unbeaten in seven straight matches. Both teams will still fancy their chances as their squads are almost fully fit. Clint Irwin is Toronto's only major absentee, but Benoit Cheyrou could return. Harry Shipp and Patrice Bernier will be out for Montreal.
COLUMBUS CREW vs. SAN JOSE EARTHQUAKES (Saturday, 7:30 P.M., MLS Live)
The Columbus Crew will be hoping that a midweek loss was just a minor blip as they push for an unlikely postseason appearance.
The Crew earned their first win since May last weekend against the New England Revolution, but lost 2-1 to the Philadelphia Union on Wednesday. Columbus now faces the San Jose Earthquakes, who haven't won since July 16. Injuries may have something to do with the Quakes' recent struggles, though. Marc Pelosi, Clarence Goodson and Fatai Alashe are all out, but Simon Dawkins could feature on Saturday. As for the Black and Gold, they could be welcoming back Gaston Sauro and Waylon Francis, although it's unlikely that they'll be risked.
HOUSTON DYNAMO vs. FC DALLAS (Saturday, 9 P.M., MLS Live)
A lot has changed since the first Texas Derby of 2016.
The Houston Dynamo have won just four times since their 5-0 beatdown over FC Dallas on March 12. However, despite the Dynamo's abysmal season, they are seven points out of the playoffs with a game in hand over the Portland Timbers. FC Dallas, meanwhile, is still leading the Western Conference, but it only holds a two-point lead over the second-placed Colorado Rapids. Tyler Deric and DaMarcus Beasley are still out, while Dallas is only missing Zach Loyd due to a concussion.
LA GALAXY vs. VANCOUVER WHITECAPS (Saturday, 10:30 P.M., MLS LIVE)
Did the Vancouver Whitecaps rekindle their form in the CONCACAF Champions League?
They will be hoping that is the case after demolishing a rotated Sporting Kansas City side on Tuesday. The Whitecaps, who have earned just one victory at the StubHub Center, may catch a break as the Galaxy are winless in five straight MLS games. Vancouver will be without winger Christian Bolanos, who is suspended one game after a review by the disciplinary committee. Brian Rowe is the only absentee for LA.
NEW YORK RED BULLS vs. NEW ENGLAND REVOLUTION (Sunday, 2:30 P.M., ESPN)
The New York Red Bulls return to their safe haven at Red Bull Arena as they try to get back on track versus the New England Revolution.
The Red Bulls have won just once on the road this season, but have a joint league-high nine victories at home. The Revolution are winless in MLS since July 23, and also struggle outside their own building, posting a 1-7-2 away record. One positive for the Revs is the return of Je-Vaughn Watson, but defender Jose Goncalves is questionable. Perhaps they could take advantage of the Red Bulls missing Gideon Baah, Dax McCarty, Connor Lade and Damien Perrinelle.
PORTLAND TIMBERS vs. SEATTLE SOUNDERS (Sunday, 5 P.M., ESPN)
The Seattle Sounders continue to put up points and are breathing down the necks of the Portland Timbers.
Cascadia Cup matches are usually intense, but add playoff implications to them, and the atmosphere is infinitely boosted. Seattle has not lost since Nicolas Lodeiro made his debut and is trailing Portland by one point with a game in hand. The Timbers will likely field Steven Taylor at center back again after making his MLS debut at CenturyLink Field to replace the injured Nat Borchers. The Sounders' back line, on the other hand, has more depth after Roman Torres returned from his ACL injury.
ORLANDO CITY SC vs. NEW YORK CITY FC (Sunday, 7 P.M., Fox Sports 1)
The final match of the weekend pits Jason Kreis against his former team.
Orlando City SC hosts its expansion cousin New York City FC as Kreis will face his old club for the first time since he was relieved of his duties last year. The Lions have not won any of their last four matches, but if there was ever a time for the MLS Cup winner to snap that skid, it's on national TV against the team that let Kreis go. It will be a difficult task as Orlando is missing four players, including Cristian Higuita and Rafael Ramos.