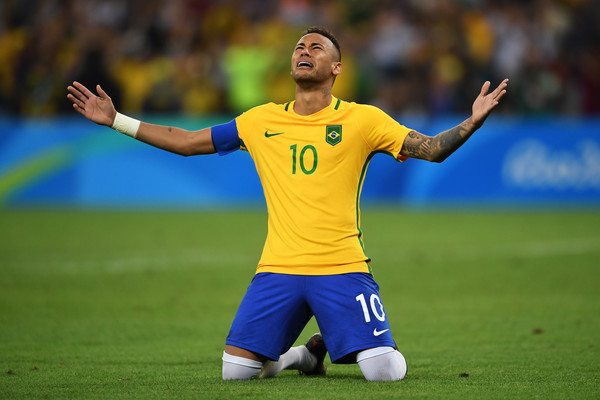 As the country's biggest star fired home from the penalty spot, Brazil erupted. It was a storybook ending, one more than worthy of sealing the country's first ever gold medal.
Neymar fired Brazil's fifth and final penalty kick in Saturday's shootout win over Germany, a win that claims Brazil's first gold ever with a triumph on home soil. The two sides played to a 1-1 draw in regular time and, after a scoreless extra time, the hosts prevailed, 5-4, in a penalty kick shootout.
The Barcelona forward provided the opening goal in the first half, rocketing home a free kick to light up the Maracana. The 27th minute Neymar striker sent Rio into a state of jubilation, but Germany came right back with a finish of their own 15 minutes into the second half.
On a cross in from Jeremy Toljan, Max Meyer placed a shot from the center of the box, pushing the score to 1-1. It would remain there for the next 60 minutes, sealing penalty kicks.
After both sides made their first four shots, Brazil goalkeeper Weverton saved Nils Petersen's attempt in the fifth round of penalties, opening the door for Neymar to win the match and the medal. He did just that, firing home before being mobbed by his teammates as they sealed a historic medal for the home nation.
The loss sees Germany claim silver in the country's first Olympic appearance since reunifying in 1990, while Nigeria claimed bronze with a win over Honduras earlier on Saturday.