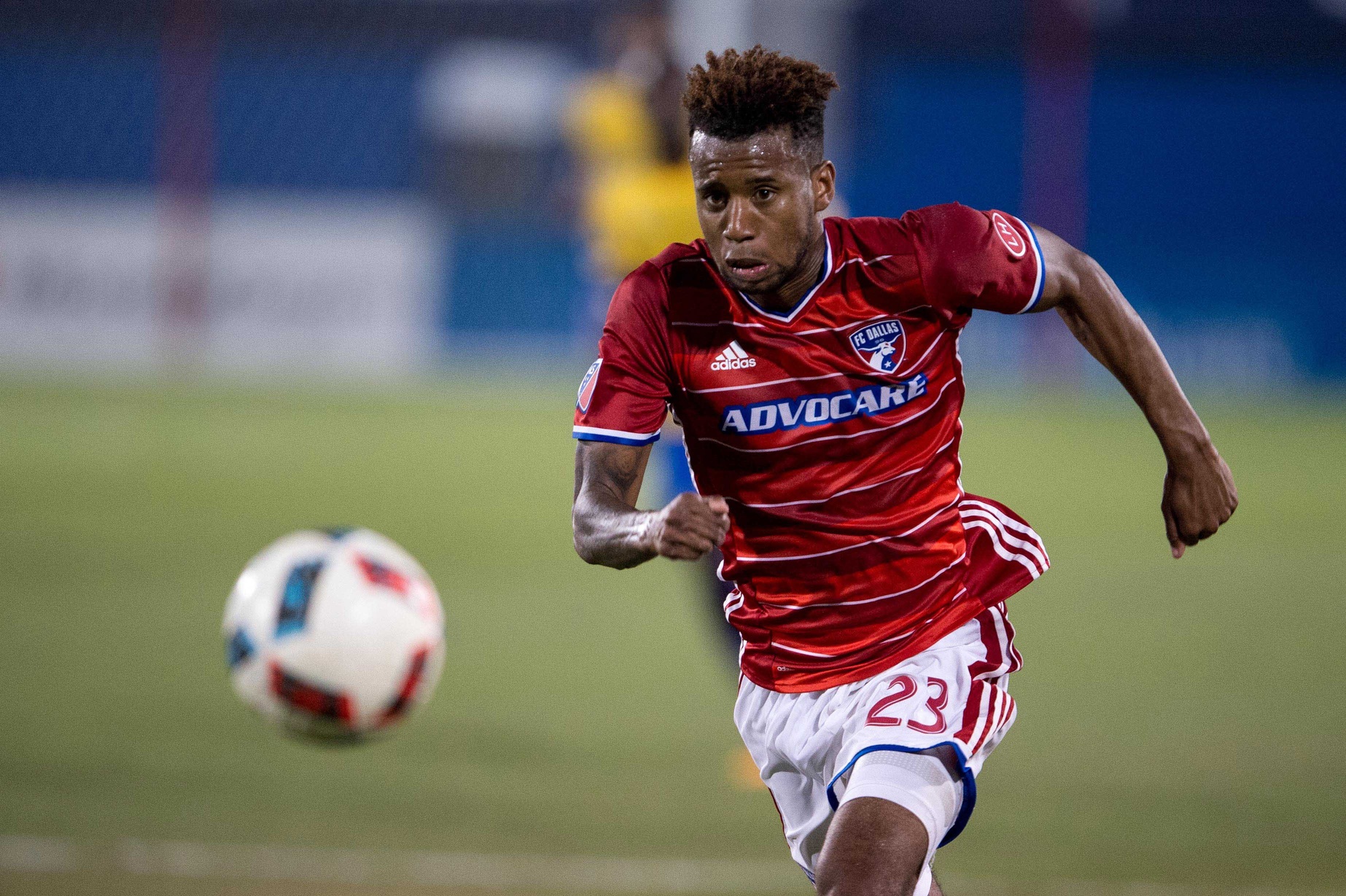 On the surface, the cities of Kingstown and Frisco have little in common. The former, the capital of St. Vincent & The Grenadines, is known much more for its tourism than its soccer, its beaches rather than the cricket pitch that the local national team calls home. The latter, a growing city on the outskirts of Dallas, is approaching the end of a standout summer, one which saw the local MLS team capture the hearts of fans throughout the U.S. thanks to a heavy dose of youth and a dynamic style of attacking soccer.
Yet, it was in those two cities that Kellyn Acosta faced what were likely two of the biggest moments of his professional career. Two cities, exactly 2,628 miles apart in vastly different worlds. In a span of just 11 days, Acosta had played his part in conquering both. When all was said and done, the 21-year-old, like the rest of his FC Dallas teammates, basked in a champagne shower. It was one Acosta was barely old enough to enjoy, but one he had more than earned after two grueling weeks for both club and country.
In late August, with World Cup qualifiers looming, Acosta was called into the U.S. Men's National Team roster for the final two matches of the round. After jetting to Jacksonville for the start of camp, Acosta and his teammates boarded a plane for Kingstown, where Acosta would earn just his third senior cap. In the end, Acosta and the U.S. enjoyed a 6-0 rout of the hosts, all but booking a spot in the Hexagonal round.
Just 11 days later, and with a 90 minute effort against the Colorado Rapids in between, Acosta was tasked with helping lead FC Dallas to the club's first trophy in 19 years. Facing a surging New England Revolution side, Acosta and FC Dallas overcame an early goal to seal a 4-2 win, one which served as a fitting celebration for a player that officially came out on top of a whirlwind.
"It's been pretty crazy. I was just excited to get called up," Acosta told SBI. "It was a great opportunity for me, and I was glad I did a good job, but that's the beauty of the game. You play a lot of games and in a lot of competitions. There's a lot of guys on the team that play at an international level and there's a time to join both teams and I was glad to have the opportunity. I'm glad that I also got to hold up a trophy with my teammates. I thought we did a great job."
Even if he hasn't quite locked down a spot on the national team, Acosta is used to the grind. After signing with FC Dallas as a 16-year-old Homegrown, Acosta played in 71 league matches before the age of 21. Internationally, he featured for the U.S. from the U-17s all the way up to the U-23s before making his senior debut as part of this past January's friendlies.
There are still so many things that are new as Acosta continues to make jump after jump for both club and country. For one, the taste of champagne, something Acosta hopes to replicate as part of FC Dallas' pursuit of a historic treble. After years of investing in young stars, players like Acosta have finally bloomed for Oscar Pareja's side, giving the team a realistic chance at achieving something no MLS team has done before.
On the international side, Acosta is still adjusting to the life of a USMNT player, where the expectations are vastly different than those he faces at the club level.
After beginning his career as a right back, Acosta was shifted into the midfield in 2015. It's a role he seemingly becomes more comfortable in by the day, with his performance in FCD's U.S. Open Cup finale win serving as evidence. While players like Mauro Diaz and Maxi Urruti earned most of the attention, Acosta was a rock in the midfield, completing pass after pass while limiting mistakes against a dangerous Revs attack. It was Acosta's tackle that sprung Urruti on FC Dallas' fourth goal, effectively ending the game and sealing a trophy celebration years in the making.
With the dearth of quality at fullback, though, USMNT head coach Jurgen Klismann sees Acosta as a potential solution at the left back position. For years, the U.S. has been searching for an anchor to hold down the left-hand side. In recent years, DaMarcus Beasley was dropped back, and promptly brought out of retirement, to man the position. Fabian Johnson, who starts as a midfielder on the club level, frequently earns the starting nod, depriving the U.S. of one of the team's more creative wide options in the attack.
Whether Acosta is an answer at left back remains to be seen. The 21-year-old has made so much progress as a deep-lying midfielder that it's hard to see him making a permanent move back to the position, at least on the club level. Still, Acosta feels some level of comfort, even with the back-and-forth that comes with switching between two vastly different positions.
"I'm starting to get used to it. It's different systems with, obviously, different coaches," Acosta told SBI. "It's a little bit difficult in that aspect, but at the end of the day, I'm just glad to get on the field. Wherever I am, I'm going to give it 100 percent and going to give it my all there. Here, I'm comfortable at the defensive mid spot, but I have another duty with the national team. It's just different approaches to different games. It's battling and working hard to earn a spot on both teams, and that's what I'm doing right now.
"I thought I did a decent job. I felt more comfortable at the left back spot," Acosta added, reviewing his recent effort with the U.S. "I hadn't played there since January camp, but I thought I did a decent job. I was getting forward. I felt more comfortable and the guys around me were very encouraging. They helped me out a lot. I thought, in that aspect, having confidence, it was a big part of my success. Carrying that on from the national team to here, confidence plays a big role and it can make or break you. I was confident in those games and here I'm confident as well. It's really making a difference for me."
Acosta now hopes that difference carries on through the rest of the season. Even with all of his recent successes, it doesn't appear that life is going to slow down any time soon for the 21-year-old.
FC Dallas is still battling for a Supporters' Shield, an honor the team fell just short of last season. The U.S. may once again come knocking for a pair of October friendlies, two matches that could give Acosta another chance to prove himself ahead of November's Hexagonal opener. Finally, at the end of it all, is the illustrious MLS Cup, a trophy FC Dallas remains favored to win.
However, at least for now, Acosta isn't looking forward to planes, hotels and travel; he's looking forward to a bit of rest and relaxation. Following the weekend's draw with New York City FC, Acosta now has a several days in Dallas before visiting Real Salt Lake. For a player that has played in MLS, the U.S. Open Cup, the CONCACAF Champions League and World Cup qualifying in less than a month, a breather is appreciated as Acosta looks back on what was a monumental month.
"It's important for me to recover well and get ready for the rest of the season," Acosta told SBI. "We're battling to, first, get in the playoffs and, second, to win the Supporters' Shield."
"It's good to regroup. The big part of being a professional is taking care of yourself. This upcoming week, being at home, kind of winding down and getting settled, that's very important for myself and my teammates. We need to regroup… Training starts again and we have another final to prepare for, so we need to recover well and turn our focus towards RSL."