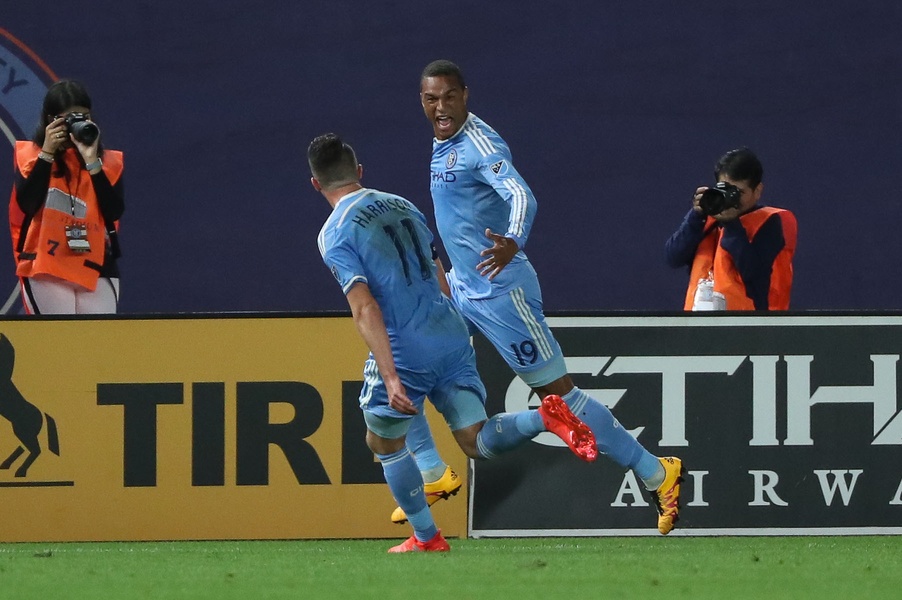 As a crowd of reporters amassed around Khiry Shelton, a rogue bottle of hair gel snuck in among the microphones. It was New York City FC midfielder Mikey Lopez jumping in to interview his teammate after a game-saving goal.
Question after question piled in as Shelton recounted a goal several months in the making. Naturally a bit shy, Shelton seemed collected, a bit stoic, as he thought back on a finish that must have felt like heaven. Finally, it was Lopez's turn to address Saturday's hero. He was direct.
"How much did you panic during that celebration," he asked with a laugh, recounting Shelton's madman-like dart towards the corner flag as he sealed a 2-2 draw with FC Dallas. "And why are you still sweating?"
"I'm always sweating," Shelton responded as a big smile suddenly appeared on his face. It was an apt response for a player that certainly hasn't had it easy throughout his young MLS career.
After appearing just once in the previous nine games, Shelton has earned substitute appearances in each of NYCFC's past four matches. It's a sign of progress for the 23-year-old forward, whose rookie campaign was marred by injury. After seemingly falling out of favor, and even earning Patrick Vieira's ire via a one-game suspension earlier this season, Shelton is back in the fold, and it paid dividends on Saturday night.
With his team trailing late against FC Dallas, Shelton raced onto the end of a Jack Harrison cross for a 78th-minute equalizer. It was a vital finish as NYCFC pushed towards the postseason, but it may have been even more important for a player like Shelton's self-belief as the season pushes on towards the home stretch.
"Once Jack got the ball, I read his body language and I sensed he was going to cross it," Shelton told SBI. "We've been working on getting wingers inside the box. That's where you're going to score your goals, and I was able to get on the end of a good ball.
"I've been working really hard and sometimes coach may not see something or something may not work out," Shelton said, "but it's a journey and I just try and keep my head up as much as I can and try to keep my confidence because I know what I can do."
Vieira certainly saw Shelton on Saturday night. As NYCFC chased the game, Shelton as introduced as a 63rd-minute substitute. It signaled a change in tactics. With the game on the line, Vieira shifted towards three at the back, pushing Harrison and Shelton into wing back roles to push on for a winner.
The NYCFC manager says, in certain situations, Shelton is ideal for that role. With NYCFC chasing and chasing a goal that looked like it would never come, Vieira said he looked to Shelton to provide physicality and strength while utilizing his speed to cover ground against a counterattacking FC Dallas team.
Shelton's performance was certainly impressive, as it appears the winger has battled back towards regular playing time. With a match against the Chicago Fire looming, Vieira says Saturday's appearance might be the start of bigger and better for the young winger.
"We have some really young and talented players in our football club and they will get time," Vieira said following the match. "It's important for them to keep working hard. They will get a chance to play and what is important is that they continue to improve every day, every week, every month.
"Today (Shelton) was a late sub, but he may start the game on Friday," he added. "It depends on how hard and how well we work during the week. But I'm really happy with Khiry. Every time he comes on he brings some energy. He brings something to the team and that's what I want from a sub."
Shelton acknowledges he has a long way to go. He has impressive physical skills that need refining. He still has a coach to impress, a team to fight his way into.
As this season, and his career, continues on, Shelton knows he has some maturing to do as he learns more about himself and his potential as a player. Saturday's goal may be the moment that helps him turn a corner in his promising career.
"The mental side of the game, for me, is big," Shelton said. "Once I have confidence, there are endless possibilities to what I can do. It's just about running at players and scoring goals
"It's more mental for me. The mental side is the toughest part for me," Shelton added. "I'm figuring that out by myself and I'm learning more about myself. That's been the biggest challenge: just keeping my head in it.