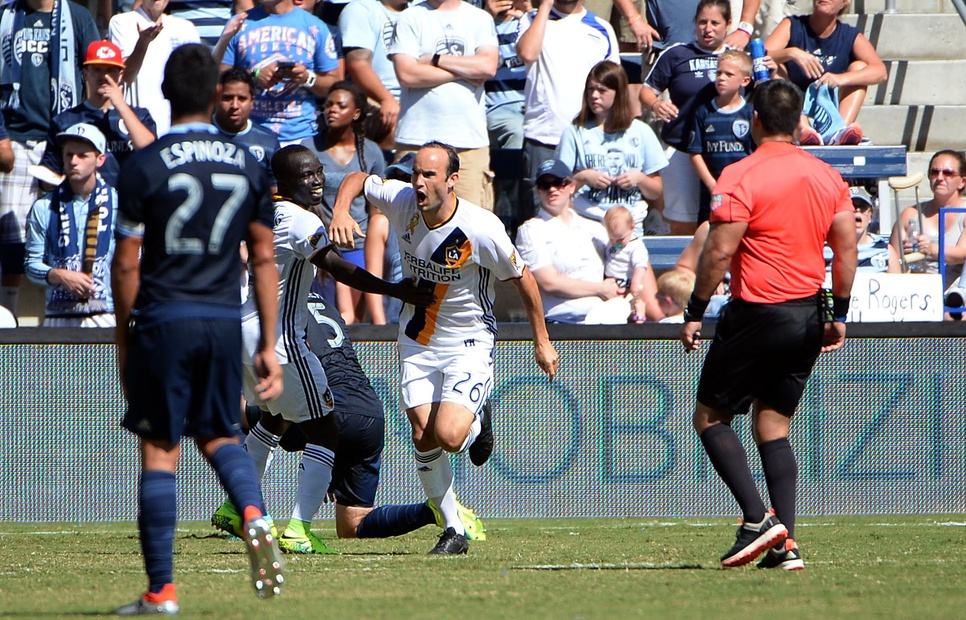 For the last ten years, useful has been the ultimate understatement for Landon Donovan's role at the Los Angeles Galaxy. In his recent comeback from retirement, it's all he's trying to be.
Donovan lamented he felt "useless" on the field last weekend against Orlando City. With his team already up big late in the match, Donovan joined in an effort to adjust to the speed of MLS play. He certainly didn't look like the Donovan of old, but the 34-year-old forward had moments in his first competitive match in two years.
Coming into his second game, on the road against Sporting KC, the team needed him as the forward entered a tight game. Donovan reflected back to the conversation with Galaxy coach Bruce Arena that brought him out of retirement.
Upon entering the field, fans at the stadium chanted "AARP" at the returning forward. Donovan quipped he missed out on AARP money to support his 8-month-old son, taking the mockery in stride as he continues to find his feet with his return to MLS.
"I felt like this week, this was a game that needed a play," Donovan said. "And when I talked to Bruce weeks ago, he said we need you to come in and make a few plays that count.
"I think [the fans] probably realize I might have a little time left in me, this old guy,"
Donovan showed exactly that Sunday afternoon, making the play that drew the Galaxy level with Sporting KC for a 2-2 draw at Children's Mercy Park. Just two minutes after entering the field, Donovan scored the equalizing goal as he met a diagonal pass from the endline and finished cleanly past Tim Melia at the far post.
Scoring is nothing new for a player who holds the all-time MLS scoring record, but scoring for the first time in two years certainly was. Donovan said this goal didn't feel much different. His overall goal with the Galaxy, however, did change.
"Ten years ago, I would've been really excited for me," Donovan said. "I told you guys and my family when I came back that I want to help this team.
"It felt good because it helped the team get a point out of the game. My first reaction was 'we have to see out the game now.' That's the motivation. Of course I'm happy personally but much more than that, I'm glad I can help."
Donovan's contribution may not be massive going forward, as he joined the team in a rare situation with the Galaxy's roster stretched thin due to the sale of Nigel de Jong and a number of key injuries. Arena said after the game Sunday that his minutes could increase, though it remains a question whether Donovan will start a match this season.
"Landon's experience was beneficial at the end of that game," Arena said. "He gave us 20 good minutes. He went from 10 to 20 in a week. [He's] going to try to go 20 to 30 and keep building."