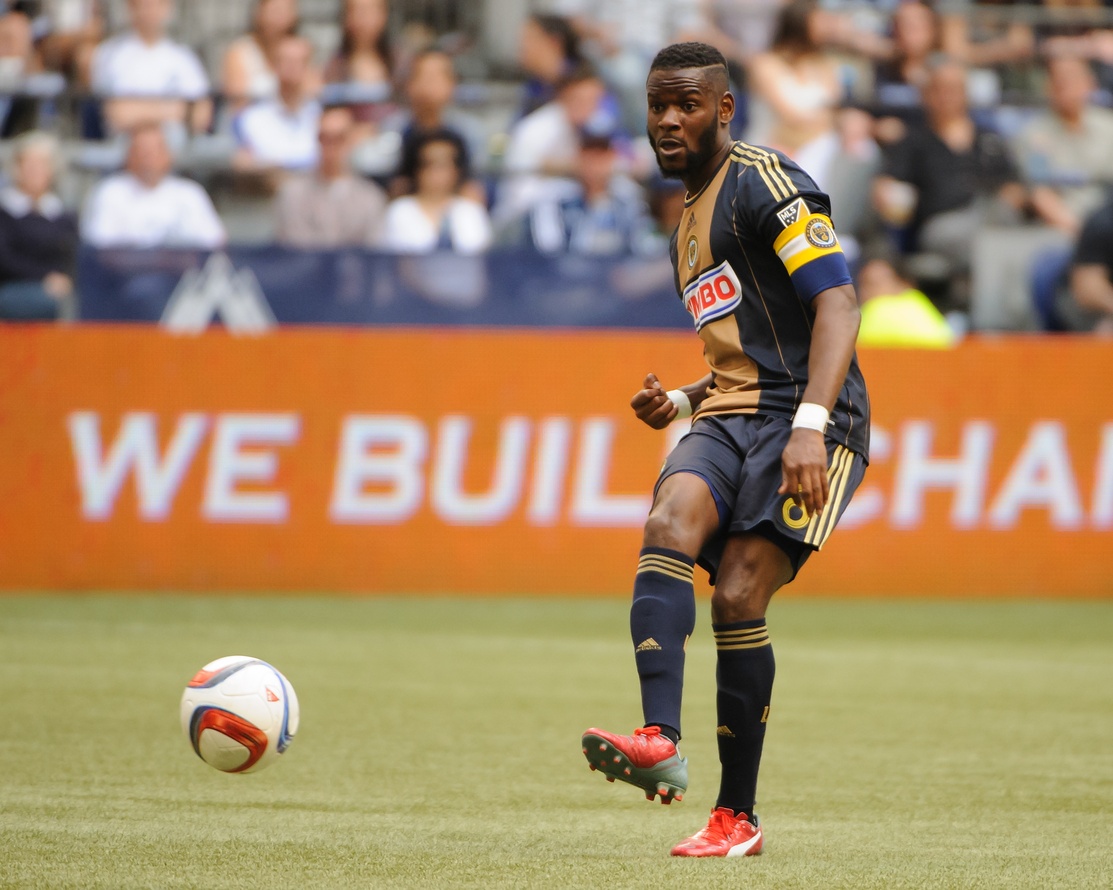 Maurice Edu took an important step in his recovery on Sunday as he played 33 minutes in a USL match between Philadelphia Union affiliate Bethlehem Steel FC and New York Red Bulls II.
Union manager Jim Curtin wasn't concerned with how Edu played on Sunday, he was just happy to see his designated player back on the pitch.
"I told him before the game even kicked off in Bethlehem, I don't care how you play," Curtin said. "I wanted it for his confidence to get back out there after such a long layoff."
"It's not a two to three week thing where you're saying you want him to be sharp on the ball as well," Curtin continued. "It's been so long that training is one thing and he's shown he can go through the training moments with no problem. I just wanted him to be on the field. I wasn't concerned with technically how he played and his decisions on the ball. I was most concerned with the act of walking out there with 11 guys, with the crowd and in a pro gram, From that standpoint, he passed and did all the things I wanted." 
As they have from the start of Edu's recovery, the Union are approaching the process with extreme caution.
Rushing back Edu has always been a concern of Curtin's and he stuck to his guns during his Wednesday press conference.
"We're not going to rush him back and instantly put him in the first team," Curtin said. "That's the first 30 minutes he's played in eight or nine months. We want to be smart with how we handle that." 
Edu will eventually be an important part of the Union midfield, but the recent acquisition of Alejandro Bedoya has provided the club with plenty of depth as they take on the Eastern Conference playoff race.
When he is ready, Edu should slot into the central midfield alongside Bedoya with Tranquillo Barnetta ahead of them at the No. 10 position and the duo of Chris Pontius and Ilsinho on the wings.
"Mo is a big player on this team and we want him to play a role down the stretch," Curtin said. 
The next step in the plan is for Edu to play another match with Bethlehem Steel and work on more technical things before the Union can even think of entering him into the matchday squad.
"I want a little more sharpness on the ball," Curtin said. "Getting the ball in the six-spot and starting our attack and we'll look more at that part of things." 
Bethlehem Steel play at the Charleston Battery on Saturday, followed by two home matches to end the regular season at the end of September.
There is a slim possibility Edu might be ready for the Union's trip to Portland next weekend. If that's the case, Curtin said there would be no concern about the U.S. international playing on the turf.
"If Mo tells us he's good, there would be no hesitation grass or turf," Curtin said.
But for now, the focus is on getting another match under the legs of Edu. After that, the Union will reevaluate and approach the situation with an intelligent mindset, just like they have since the midfielder returned to training.