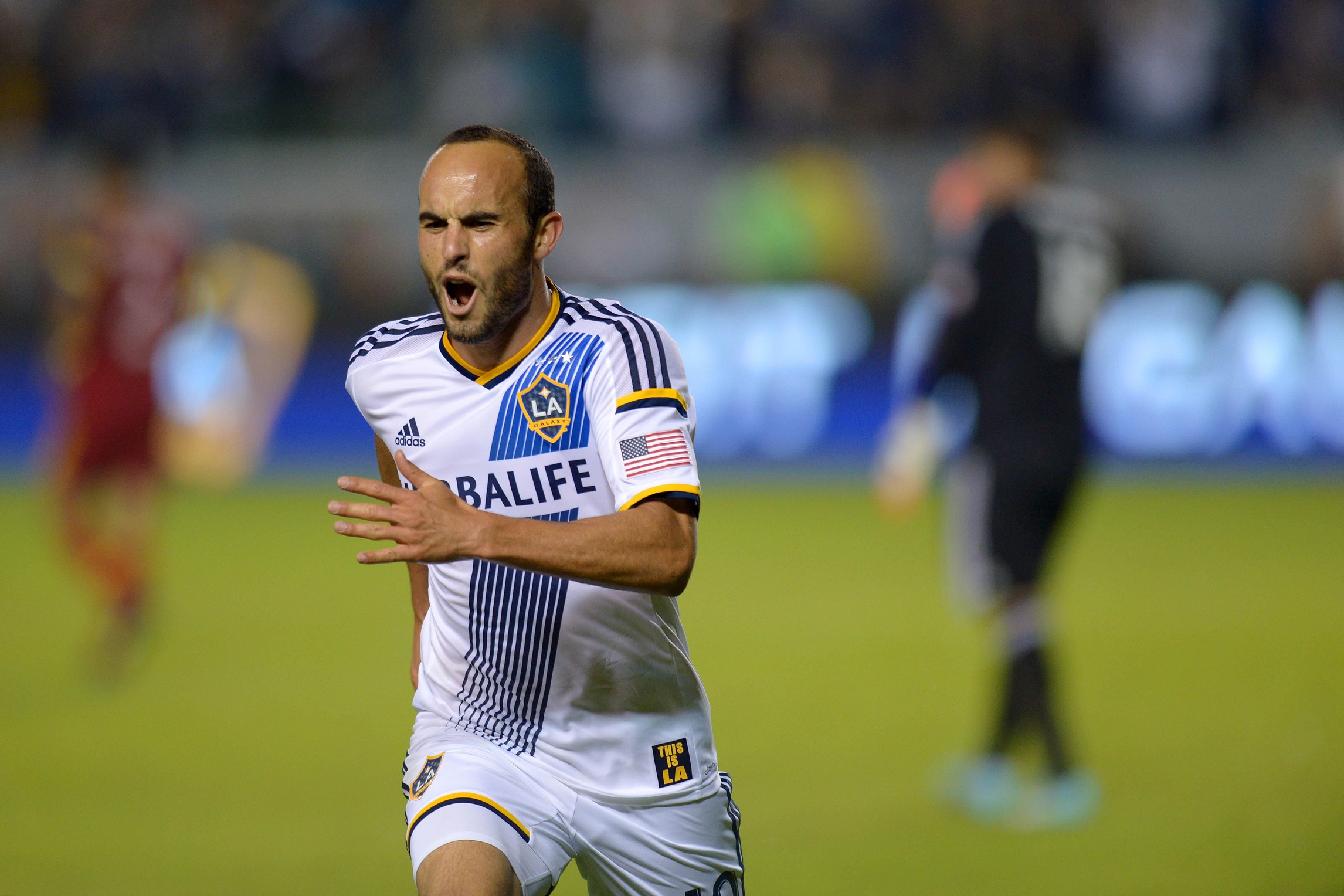 There is a full slate of games this weekend in MLS following the international break, and an American soccer legend could return to the pitch on Sunday.
Landon Donovan is back with the LA Galaxy after announcing that he is coming out of retirement to finish the 2016 season in light of the injury problems at the club. The Galaxy will play Orlando City SC at the StubHub Center in the final game of the weekend, when Donovan could come off the bench.
In the Eastern Conference, D.C. United and the New York Red Bulls renew their Atlantic Cup rivalry on Sunday. D.C. came back to draw 2-2 with New York in a rain-delayed match on Aug. 21, and are in control to win the cup in the final meeting of the regular season.
Over in the Western Conference, FC Dallas and the Colorado Rapids square off in a battle between two of the best-ranked teams in the conference. The Rapids are in fourth, but a win could move them up to second.
The Portland Timbers will try to get back on track against a resurgent Real Salt Lake side on Saturday night. RSL is chasing FC Dallas for the top spot in the West, while the Timbers are trying to solidify a playoff place.
Other key games include the Philadelphia Union hosting the Montreal Impact in a crucial game in the East, plus the New England Revolution will attempt to upset New York City FC.
Here is a closer look at the action in Week 29:
SPORTING KANSAS CITY VS. HOUSTON DYNAMO (FRIDAY, 8 P.M., UNIMAS)
If there is a team that is in desperate need of a win this weekend, it's Sporting Kansas City.
While almost every team fighting for a playoff spot are separated by a couple of points, Sporting KC can distance itself from the rest of the pack if it defeats the Houston Dynamo at home on Friday night. SKC has a six-point lead on the San Jose Earthquakes, who lie in seventh place in the Western Conference. However, the Earthquakes have two games in hand, so a victory would be critical for Sporting. The Dynamo have won just once in their past nine MLS matches, and will be missing goalkeeper Tyler Deric, plus DaMarcus Beasley and possibly Will Bruin as well. However, SKC's injury list is long, with the likes of Tim Melia, Lawrence Olum and Nuno Coelho.
COLUMBUS CREW VS. VANCOUVER WHITECAPS (SATURDAY 6 P.M., MLS LIVE)
Two teams who need a victory to keep their playoff hopes alive will kick off the action on Saturday.
The Vancouver Whitecaps, who are struggling offensively these days, face the Columbus Crew at MAPFRE Stadium. Despite their struggles this season, the Crew are eight points out of the playoffs with a game in hand. A loss could end their postseason dreams, though. If there was ever a chance to close the gap, it's against Vancouver, which has scored just once in its past seven MLS matches. Wil Trapp and Tyson Wahl are the only crucial injuries for the hosts, while Kekuta Manneh is still injured for the Whitecaps.
PHILADELPHIA UNION VS. MONTREAL IMPACT (SATURDAY, 7 P.M., MLS LIVE)
A pair of clubs trending in different directions will meet on Saturday at Talen Energy Stadium.
The Philadelphia Union are coming off a defeat at the hands of the Chicago Fire, but have won three of its past five games. The Montreal Impact, meanwhile have struggled. They were thrashed at home by Orlando City SC on Wednesday, which was the Impact's third loss in five matches. Both sides are separated by three points, so a victory would be crucial for either team. Montreal will be missing Evan Bush due to suspension, along with Harry Shipp. Maurice Edu is Philadelphia's only key injury.
NEW ENGLAND REVOLUTION VS. NEW YORK CITY FC (SATURDAY, 8 P.M., MLS LIVE)
The New England Revolution finally snapped their respective winless and scoreless runs last week. Can they earn another victory over first-placed New York City FC?
These teams have played each other close in the first two meetings. A 1-1 draw at Yankee Stadium preluded a 1-0 victory for NYCFC at Gillette Stadium, which is where Saturday's match will take place. New England is a respectable 6-4-4 at home, but New York City has a league-high six wins on the road. Patrick Vieira's side also has a clean bill of health. The same cannot be said about the Revolution, who is missing Bobby Shuttleworth and Teal Bunbury.
CHICAGO FIRE VS. TORONTO FC (SATURDAY, 8:30 P.M., MLS LIVE)
The Chicago Fire's slim playoff hopes could evaporate this weekend if they fall to Toronto FC on Saturday night.
Toronto could see Sebastian Giovinco return from his groin injury, despite being ruled out for a month. The Italian would come off the bench if he featured. TFC still has Jozy Altidore, who is returning from U.S. Men's National Team duty, but given Giovinco's absence, he should start up front. The Reds are coming off its first defeat in seven games, and are within a point of claiming the top seed in the Eastern Conference. However, it will have to face the Fire without Clint Irwin, Mark Bloom and Jay Chapman. That is assuming Giovinco plays, which is not a complete certainty.
FC DALLAS VS. COLORADO RAPIDS (SATURDAY, 9 P.M., MLS LIVE)
FC Dallas looks to be a lock for the Supporters' Shield, while the Colorado Rapids are slipping down the Western Conference standings at the worst time.
Dallas has a seven-point lead in the Shield race and has won back-to-back matches. Colorado is winless in four straight games, and has just two victories on the road this season. The Hoops are still unbeaten at Toyota Stadium, making the Rapids' task even tougher. It's not going to be even more difficult without Jermaine Jones, Sean St. Ledger and Dillon Serna.
PORTLAND TIMBERS VS. REAL SALT LAKE (SATURDAY, 10:30 P.M., MLS LIVE)
The Portland Timbers could move one step closer to the playoffs. Real Salt Lake could move within four points of FC Dallas, which highlights the importance of this match.
RSL is coming off a dramatic 3-3 draw with the LA Galaxy after clawing back from 3-1 down on Wednesday night. It could be enough to give them momentum going into Portland, but the Timbers are a solid 9-3-2 at Providence Park. Nat Borchers is the only injury concern for the hosts, while Aaron Maund is the one crucial absentee for the visitors.
SAN JOSE EARTHQUAKES VS. SEATTLE SOUNDERS (SATURDAY, 10:30 P.M., MLS LIVE)
Two teams with playoff aspirations will duke it out in one of the most important matches of the weekend.
The San Jose Earthquakes and Seattle Sounders are separated by one point. Both are within four points of the sixth and final postseason spot. The winner will deliver a serious blow to the loser's playoff hopes. Both sides are carrying small winless skids entering this game. The Earthquakes' is the longest at three. They also have up to seven players ruled out of the match, including most of the back line.
NEW YORK RED BULLS VS. D.C. UNITED (SUNDAY, 1 P.M., ESPN)
Arguably the marquee clash of the week, the third and final Atlantic Cup match opens Sunday's MLS slate.
The New York Red Bulls, winners in 2015, have yet to win a match against D.C. United this season. They lost 2-0 in the first game, then let a 2-0 slip on Aug. 21 to draw 2-2 in the second meeting. Both sides have done well since that game, although D.C. is coming off a 3-2 loss to New York City. The Red Bulls are also getting healthier, with just two injuries to deal with in Gideon Baah and Connor Lade. The visitors, on the other hand, could miss eight players, including Taylor Kemp and Jared Jeffrey.
LA GALAXY VS. ORLANDO CITY SC (SUNDAY, 7 P.M., FOX SPORTS 1)
The final match of the weekend might be the one to watch after some massive news on Thursday.
Landon Donovan is officially back with the LA Galaxy and could feature this Sunday against Orlando City SC at the StubHub Center. Donovan will be eased into the lineup, rightfully so as he has not played a professional match in almost two years. The absences of Jelle Van Damme, Steven Gerrard and Gyasi Zardes might accelerate the process, though. Especially with Orlando winning back-to-back games, including a convincing 4-1 victory during the week in Montreal. Meanwhile, the Galaxy have won just once in their last eight matches.