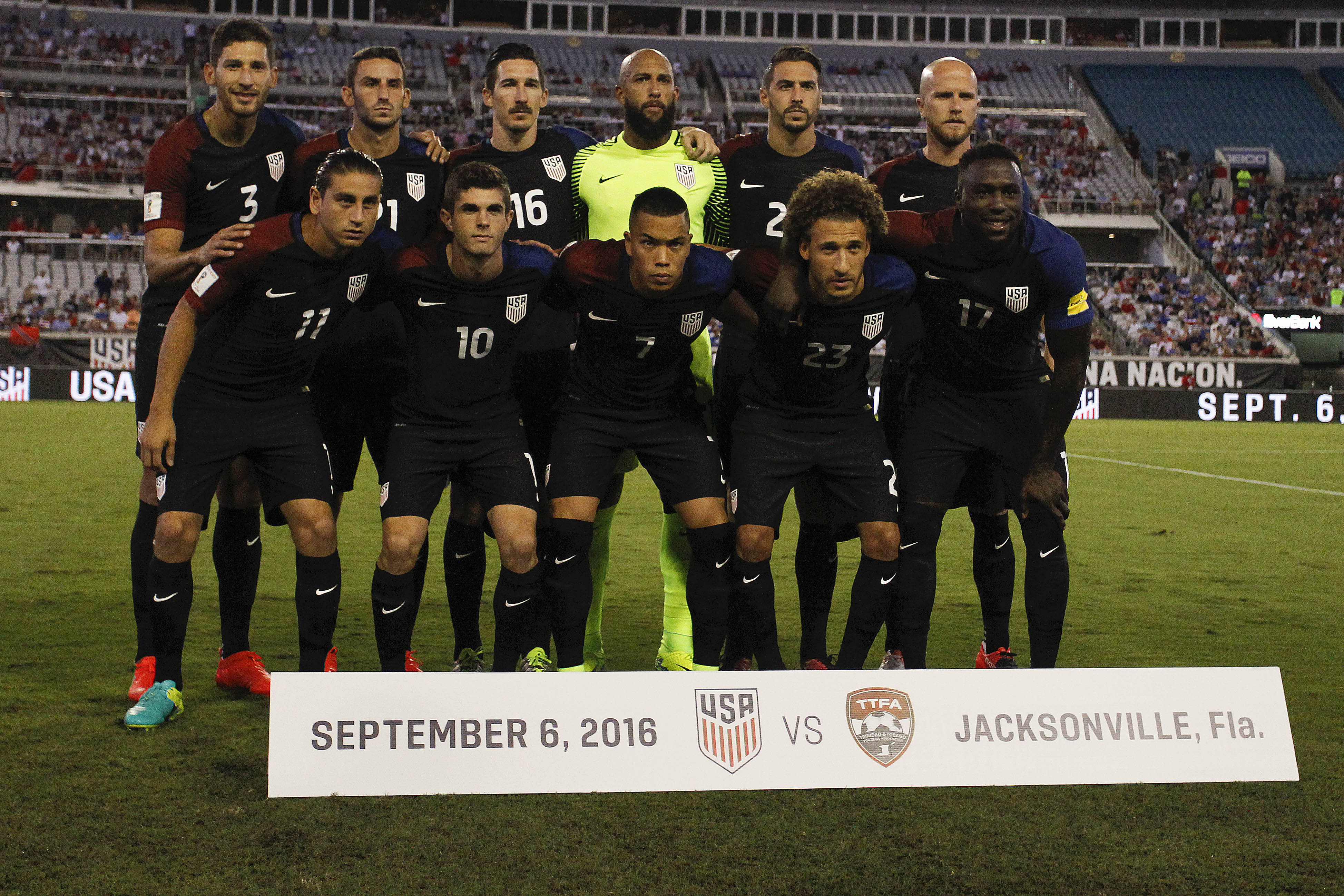 The Hexagonal looms large for the U.S. Men's National Team, making a pair of October friendlies vital for players looking to seal their spots on the next World Cup qualifying roster.
After qualifying for the Hex with a pair of lopsided wins over St. Vincent & The Grenadines and Trindad & Tobago, the U.S. can now take the foot off the gas a bit for two friendly matches. The pre-WCQ clashes begin when the U.S. visits Cuba on Oct. 7 before hosting New Zealand at RFK Stadium four days later.
Entering the friendlies, Jurgen Klinsmann will certainly have two things in mind. First, the USMNT boss will be looking to finalize his roster for the Nov. 11 clash with Mexico. To that aim, he'll be hoping to get a look at several fringe players while sorting out positions that still features competition. The camp and ensuing friendlies won't be about reinventing the USMNT identity, but rather plugging the gaps remaining before one of the biggest clashes of the World Cup cycles. That opens the door for younger players to earn some looks and officially cement the leap from youth-team star to first-team regular.
However, even with the desire to get newer faces involved, Klinsmann will also have one eye on the club scene. The German-born manager won't want to take any unnecessary risks for a pair of friendlies against overmatched competition. As several players continue to work back into form and fitness on the club level, Klinsmann will likely avoid bringing in players that require more time at home. That makes the likes of John Brooks and Aron Johannsson unlikely call-ups, while younger options like Matt Miazga or Emerson Hyndman could use more time to adjust to a new home. Meanwhile, Clint Dempsey and Gyasi Zardes will miss out on USMNT camp once again, opening up several spots for competition on the forward line.
Here are the 23 players that could make up Klinsmann's roster for the upcoming friendlies:
GOALKEEPER
Brad Guzan, Tim Howard, Ethan Horvath
Outlook- Competition remains at the goalkeeping position, but the faces in the mix for call-ups remain pretty clear-cut. Tim Howard and Brad Guzan continue to duke it out for the No. 1 spot, and one would expect each to get a start during the October friendlies. It remains to be seen which of the two earns the nod against Mexico on Nov. 11, but it's still very clear that the two are far and away Klinsmann's top two choices going forward.
That leaves one spot remaining for a younger option, namely Ethan Horvath or David Bingham. Horvath was most recently included in the September World Cup qualifying squad. That, along with his age, gives the Molde goalkeeper a slight edge as he looks to earn a spot on the first Hexagonal squad. Elsewhere, Bill Hamid has been spectacular for D.C. United down the stretch, but he hasn't been with the program since January and is unlikely to unseat either Bingham or Horvath for the time being.
Missed the Cut– David Bingham, Nick Rimando, Bill Hamid
——————
DEFENDERS
Kellyn Acosta, Matt Besler, Steve Birnbaum, Geoff Cameron, Timmy Chandler, Omar Gonzalez, Keegan Rosenberry, DeAndre Yedlin
Outlook- Starting with the centerback position, competition will be the theme as John Brooks likely remains in Germany to recover from a recent injury. In Brooks' absence, Matt Besler, Steve Birnbaum, Geoff Cameron and Omar Gonzalez all showed well during the September qualifiers. While Cameron remains likely to partner Brooks' given their obvious chemistry during the Copa America, it's up to the other three to battle it out for what will likely be the final two spots on the Hexagonal roster. Expect some rotation over the two friendlies as Klinsmann gets a further look, even if the names mentioned above are somewhat familiar.
Out wide, Klinsmann has some decisions. Kellyn Acosta appears to have made the leap to a legitimate international, but questions remain if left back is his best position. He'll all but certainly get another look at the position in the pair of games.
Still, every U.S. friendly roster calls for a few surprises, and one that could be included on this squad is Keegan Rosenberry. The Philadelphia Union fullback is a front-runner for MLS Rookie of the Year and has stepped up time and time again to stop some of MLS' elite. Aside from one poor match against the Vancouver Whitecaps, Rosenberry has been solid week-in, week-out, as he has played every minute of the Union's 2016 MLS season. While he may be one for January camp, Rosenberry has more than earned a look. It's just a matter of when it comes.
Another player deserving of a look as Jorge Villafana, who has perhaps eclipsed Sacha Kljestan as the most called for absence. Villafana's international future remains up in the air, as Mexico remains an option. However, Klinsmann has had a full year to get a look at Villafana, but has yet to add him to a USMNT roster, a sign that the manager possibly doesn't rate the fullback as highly as others do. Once again, a spot in January remains a possibility.
Finally, there's the case of Cameron Carter-Vickers, who has become the latest dual-national prospect in need of a USMNT cap. The Tottenham defender recently made his first team debut and, although England remains an option, the 18-year-old has never indicated interest in representing anyone but the USMNT. With centerback positions still up for debate and Carter-Vickers still battling for time on the club level, it makes sense to leave the youngster in England, at least for the time being.
Missed the Cut– Cameron Carter-Vickers, Matt Hedges, Michael Orozco, Tim Ream, Jorge Villafana, Walker Zimmerman
——————–
MIDFIELDERS
Paul Arriola, Alejandro Bedoya, Michael Bradley, Lynden Gooch, Fabian Johnson, Perry Kitchen, Sacha Kljestan, Darlington Nagbe, Christian Pulisic
Outlook–
Let's just get it out of the way: Christian Pulisic is for real. There's no more debate, no more argument. He's a Champions League-caliber player on an elite team, one that has seemingly gotten even better since shining in his last USMNT appearances. Given his recent ability to make plays with a club the size of Borussia Dortmund, it's impossible to ignore Pulisic any longer. He's a USMNT starter. Done.
Onto the veterans. Michael Bradley has been in fine form with Toronto FC as of late and, like he has been for the last several years, the midfielder is a lock for the roster. Joining him among the more experienced options are Alejandro Bedoya and Fabian Johnson, the latter of whom is fresh off Champions League clashes with Barcelona and Manchester City. Sacha Kljestan also seems a likely inclusion after taking complete advantage of what was likely his final two chances at reclaiming a USMNT spot.
Just behind them, Perry Kitchen and Darlington Nagbe have done well enough on the club level to warrant a spot. Kitchen was recently named Hearts captain and has become a mainstay with the Scottish club. Nagbe, meanwhile, recently scorched a game-winning free kick to keep the Portland Timbers' CONCACAF Champions League hopes alive. Klinsmann always places an emphasis on selecting players getting club minutes, and Kitchen and Nagbe certainly meet that mark.
That leaves a pair of youngsters: Paul Arriola and Lynden Gooch. Of the two, Arriola has the better chance to make the squad. The Tijuana winger showed well by scoring a goal against T&T, and he appears to be part of Klinsmann's plans going forward. Gooch, on the other hand, has yet to earn a senior team look after previously featuring for the U.S. U-20s. Given his recent play for Sunderland, Gooch is likely in line for a call-up at some point, and it would make sense to give him his first senior action during the upcoming friendlies.
Still, Gooch faces competition for the "young midfielder trying to join the senior team" role. Caleb Stanko was recently a part of the September roster and could use another look, but given Gooch's Premier League success, it's easy to see a scenario in which Klinsmann decides to give him the nod.
Missed the Cut– Kyle Beckerman, Alfredo Morales, Caleb Stanko, Danny Williams, Graham Zusi
——————
FORWARDS
Jozy Altidore, Jordan Morris, Bobby Wood
Outlook- There are several forward spots that also appear to be all but locked up. Jozy Altidore is in his best form since joining Toronto FC with eight goals in his last 11 appearances on the club level. Add in the goals scored against St. Vincent & The Grenadines and T&T and Altidore is all but certainly the USMNT's most in-form striker.
Joining him is Bobby Wood, who has cemented his spot throughout the past year. The forward has enjoyed a solid start to his Hamburg career with two goals in his first five appearances. At this point, Wood is a virtual lock for each and every USMNT squad.
That leaves Jordan Morris, who is also more than deserving of selection. The Seattle Sounders forward has scored four times in five matches while solidifying his status as Rookie of the Year favorite. The only thing that may prevent him from joining the USMNT roster is the playoff race. With Dempsey already out, and the upcoming USMNT friendlies all but meaningless in the grand scheme of things, the Sounders may ask the USMNT to throw them a bone by letting Morris remain. The Sounders still face a battle for the postseason, and there are other prospects that could be called in if Klinsmann opts to do the Sounders a favor.
Missed the Cut– Julian Green, Aron Johannsson, Jerome Kiesewetter, Rubio Rubin, Chris Wondolowski