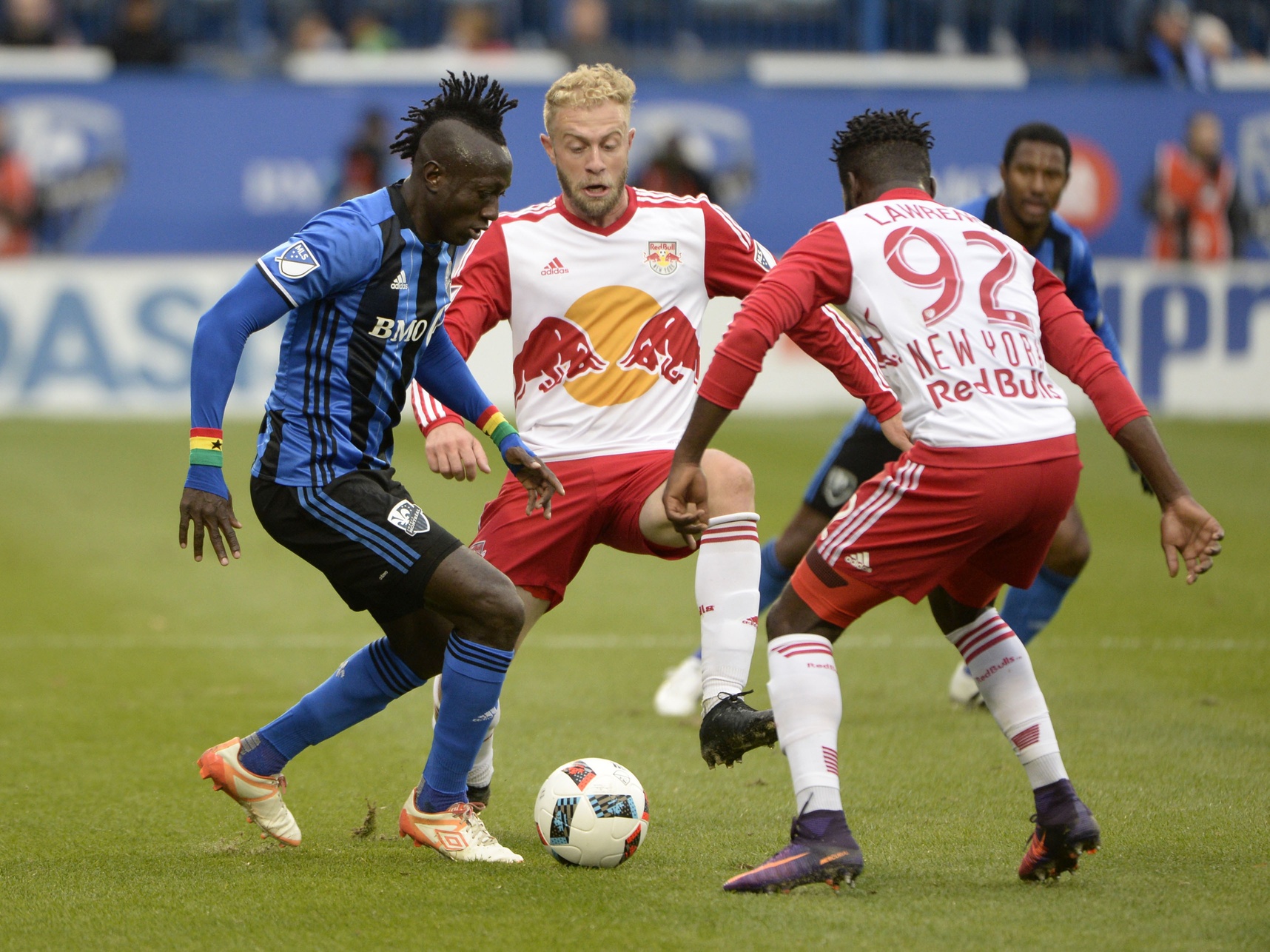 Following a midweek win over D.C. United, the Montreal Impact kept their momentum going on Sunday with a vital win over the Eastern Conference's top seed.
With Didier Drogba out once again, Matteo Mancosu scored in the 61st minute, leading the Impact to a 1-0 win over the New York Red Bulls in Sunday's playoff clash at Stade Saputo. The win gives the Impact an advantage heading into the second leg, while the loss ins the REd Bulls' first since July 3, a span of 16 games.
Mancosu's vital moment came early in the second half. Assisted by Marco Donadel, Mancosu fired a volleyed finish past Luis Robles, scoring his third goal in his second playoff game.
Both sides generated chances throughout Sunday's match, with the Red Bulls' best look coming via a Felipe shot that rattled the crossbar. The visitors also nearly got on the board just three minutes in, but Bradley Wright-Phillips' one-on-one shot was snagged by an onrushing Evan Bush.
Matters went from bad to worse for the Red Bulls with just moments remaining, as forward Omer Damara was issued a red card shortly before Wright-Phillips missed a legitimate chance to tie the game. When all was said and done, the Red Bulls finished with eight shots compared to the Impact's 11, with both sides firing two on frame.
The win, which saw the Impact prevent the Red Bulls from nabbing a vital away goal, gives the Canadian club a vital advantage heading into next Sunday's second leg at Red Bull Arena.
MAN OF THE MATCH
His partner, Laurent Ciman, tends to get the recognition, but Victor Cabrera was vital in Sunday's win. The Impact defender made four tackled and seven interceptions to stifle the Red Bulls attack.
MOMENT OF THE MATCH
Goalscorers win you games, and Matteo Mancosu's 61st minute winner gives the Impact a vital advantage heading into the second leg.
MATCH TO FORGET
Bradley Wright-Phillips was held quiet throughout Sunday's match, as the Golden Boot winner struggled to find a rhythm against a stout Impact defense.