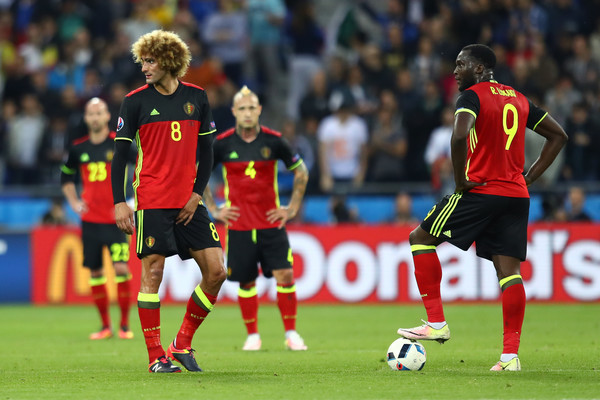 While clubs take a break from league action this weekend, European and African countries look to take their next steps toward Russia in the 2018 FIFA World Cup qualifying matches.
Headlining the weekend's fixtures will be Belgium, the No. 2 team in the latest FIFA World Rankings, taking on No. 23, Bosnia and Herzegovina. Both sides picked up shutout victories in their group openers last month and are looking to draw some early separation as leaders in the table.
Other UEFA powerhouses like Spain and Italy will take part in road matches at Albania and Macedonia, respectively, while reigning champions Germany will host Czech Republic.
The United States Men's National Team, on the other hand, will travel to Cuba for a match between the two sides for the first time since 1947. The contest is scheduled to take place on Friday evening, barring Hurricane Matthew causing havoc in Havana.
Mexico, meanwhile, will partake in an international friendly of their own as they travel to New Zealand.
Stateside, the lone MLS game will carry on between the Houston Dynamo and the Colorado Rapids on Saturday, but the NWSL final on Sunday between the Washington Spirit and the Western New York Flash should provide a little extra fireworks.
Here is a rundown of all the soccer action on TV this weekend, with all times Eastern:
FRIDAY
FIFA WORLD CUP QUALIFYING
11:30 a.m. — beIN Sports Connect — Ghana vs. Uganda
2:45 p.m. — Fox Sports 2/Fox Sports Go/Fox Soccer 2Go — Netherlands vs. Belarus
2:45 p.m. — ESPN3/WatchESPN — France vs. Bulgaria
2:45 p.m. — Fox Soccer 2Go — Luxembourg vs. Sweden
2:45 p.m. — ESPN3/WatchESPN — Hungary vs. Switzerland
2:45 p.m. — Fox Soccer 2Go — Latvia vs. Faroe Islands
2:45 p.m. — ESPN Deportes/ESPN3/WatchESPN — Portugal vs. Andorra
2:45 p.m. — Fox Deportes/Fox Soccer Plus/Fox Soccer 2Go — Belgium vs. Bosnia and Herzegovina
2:45 p.m. — Fox Soccer 2Go – Greece vs. Cyprus
2:45 p.m. — Fox Soccer 2Go — Estonia vs. Gibraltar
INTERNATIONAL FRIENDLY
4 p.m. — ESPN2/WatchESPN/UniMás/Univision Deportes — Cuba vs. United States
NCAA MEN
7 p.m. — YES Network/Fox Sports (regional) — Louisville vs. Syracuse
7 p.m. — MASN/MASN2/Fox Sports (regional) — Texas Tech vs. Oklahoma State
7 p.m. — ACC Network/WatchESPN — Virginia vs. North Carolina
7 p.m. — Big Ten Network — Maryland vs. Ohio State
7 p.m. — ACC Network/WatchESPN — Boston College vs. Pittsburgh
NCAA WOMEN
8 p.m. — Longhorn Network — Kansas State vs. Texas
8 p.m. — ESPN3/WatchESPN — Central Arkansas vs. Stephen F. Austin
FIFA U-17 WOMEN'S WORLD CUP
9 a.m. — Fox Sports 2/Fox Sports Go/Fox Soccer 2Go/NBC Universo/Telemundo Deportes en Vivo — Spain vs. Mexico
9 a.m. — Fox Soccer Plus/Fox Soccer 2Go/Telemundo Deportes en Vivo — New Zealand vs. Jordan
Noon — Fox Soccer 2Go/Telemundo Deportes en Vivo — Germany vs. Cameroon
Noon — Fox Soccer Plus/Fox Soccer 2Go/Telemundo Deportes en Vivo — Canada vs. Venezuela
SATURDAY
FIFA WORLD CUP QUALIFYING
10:20 a.m. — beIN Sports USA/beIN Sports Connect — Congo vs. Libya
11 a.m. — beIN Sports USA/beIN Sports Connect — Gabon vs. Morocco
Noon — Fox Soccer Plus/Fox Soccer 2Go — Azerbaijan vs. Norway
Noon — Fox Deportes/Fox Soccer 2Go — Armenia vs. Romania
Noon — ESPN3/WatchESPN — Montenegro vs. Kazakhstan
Noon — ESPN Deportes/ESPN3/WatchESPN — England vs. Malta
2 p.m. — beIN Sports USA/beIN Sports Connect — Ivory Coast vs. Mali
2:45 p.m. — Fox Sports 2/Fox Sports Go/Fox Soccer 2Go/UniMás/Univision Deportes — Germany vs. Czech Republic
2:45 p.m. — ESPN3/WatchESPN — Northern Ireland vs. San Marino
2:45 p.m. — ESPN Deportes/ESPN3/WatchESPN — Poland vs. Denmark
2:45 p.m. — Fox Soccer Plus/Fox Soccer 2Go — Scotland vs. Lithuania
2:45 p.m. — ESPN3/WatchESPN — Slovenia vs. Slovakia
INTERNATIONAL FRIENDLY
6 p.m. — Univision/Univision Deportes — New Zealand vs. Mexico
MAJOR LEAGUE SOCCER
8:30 p.m. — MLS Live — Houston Dynamo vs. Colorado Rapids
NASL
7:30 p.m. — beIN Sports USA/beIN Sports en Español/beIN Sports Connect — Carolina RailHawks vs. Fort Lauderdale Strikers
7:30 p.m. — ESPN3/WatchESPN — Puerto Rico vs. Minnesota United
CLUB FRIENDLY
9 p.m. — Univision Deportes — Club América vs. Pumas UNAM
NCAA MEN
4:30 p.m. — ESPN3/WatchESPN — Youngstown State vs. Northern Kentucky
7 p.m. — ACC Network/WatchESPN — Wake Forest vs. Notre Dame
7 p.m. — ACC Network/WatchESPN — NC State vs. Clemson
7 p.m. — ESPN3/WatchESPN — Wright State vs. Oakland
7:30 p.m. — ESPN3/WatchESPN — Cleveland State vs. Northern Kentucky
8 p.m. — ESPN3/WatchESPN — Southern Illinois-Edwardsville vs. Bradley
8 p.m. — ESPN3/WatchESPN — Milwaukee vs. Valparaiso
NCAA WOMEN
Noon — ESPN3/WatchESPN — Niagara United vs. Monmouth Town
1 p.m. — ESPN3/WatchESPN — Northern Iowa vs. Indiana State
6 p.m. — ESPN3/WatchESPN — Evansville vs. Loyola-Chicago
7 p.m. — ESPN3/WatchESPN — Valparaiso vs. Wright State
7 p.m. — ESPN3/WatchESPN — Illinois-Chicago vs. Cleveland State
FIFA U-17 WOMEN'S WORLD CUP
9 a.m. — Fox Sports 1/Fox Sports Go/Fox Soccer 2Go/Telemundo Deportes en Vivo — Brazil vs. England
9 a.m. —Fox Sports 2/Fox Sports Go/Fox Soccer 2Go/Telemundo Deportes en Vivo — North Korea vs. Nigeria
Noon —Fox Sports 2/Fox Sports Go/Fox Soccer 2Go/NBC Universo/Telemundo Deportes en Vivo — Japan vs. United States
Noon — Fox Soccer 2Go/Telemundo Deportes en Vivo — Paraguay vs. Ghana
SCOTTISH CHALLENGE CUP
8 a.m. — Fox Soccer Plus — Bala Town vs. Alloa Athletic
SUNDAY
FIFA WORLD CUP QUALIFYING
8:30 a.m. — beIN Sports Connect — Zambia vs. Nigeria
10:30 a.m. — beIN Sports USA/beIN Sports Connect — Congo vs. Egypt
Noon — Fox Sports 1/Fox Sports Go/Fox Deportes/Fox Soccer 2Go — Wales vs. Georgia
Noon — Fox Sports 2/Fox Sports Go/Fox Soccer 2Go — Ukraine vs. Kosovo
Noon — ESPN3/WatchESPN — Israel vs. Liechtenstein
Noon — ESPN Deportes/ESPN3/WatchESPN — Finland vs. Croatia
1 p.m. — beIN Sports USA/beIN Sports Connect — Tunisia vs. Guinea
2:45 p.m. — ESPN3/WatchESPN — Moldova vs. Ireland
2:45 p.m. — ESPN3/WatchESPN — Serbia vs. Austria
2:45 p.m. — Fox Sports 1/Fox Sports Go/Fox Soccer 2Go/UniMás/Univision Deportes — Albania vs. Spain
2:45 p.m. — Fox Sports 2/Fox Sports Deportes/Fox Sports Go/Fox Soccer 2Go — Macedonia vs. Italy
2:45 p.m. — ESPN/ESPN Deportes/WatchESPN — Iceland vs. Turkey
3:30 p.m. — beIN Sports USA/beIN Sports Connect — Algeria vs. Cameroon
INTERNATIONAL FRIENDLY
9 a.m. — ESPN Deportes/ESPN3/WatchESPN — Russia vs. Costa Rica
NASL
2 p.m. — One World Sports — Ottawa Fury vs. New York Cosmos
NCAA MEN
1 p.m. — ACC Network/WatchESPN — Clemson vs. Louisville
2 p.m. — ESPN3/WatchESPN — Oklahoma State vs. Kansas
2 p.m. — ESPN3/WatchESPN — Missouri State vs. Illinois State
4 p.m. — Pac-12 Network — Utah vs. Oregon
8 p.m. — Pac-12 Network — Washington vs. California
NCAA WOMEN
1 p.m. — ACC Network/WatchESPN — Miami vs. Pittsburgh
1 p.m. — ACC Network/WatchESPN — Wake Forest vs. North Carolina
1 p.m. — ACC Network/WatchESPN — Virginia vs. Notre Dame
2 p.m. — SEC Network +/WatchESPN — Kentucky vs. Vanderbilt
2 p.m. — SEC Network +/WatchESPN — Alabama vs. Missouri
2 p.m. — SEC Network +/WatchESPN — Arkansas vs. South Carolina
3 p.m. — SEC Network +/WatchESPN — Mississippi State vs. Auburn
3 p.m. — Big Ten Network — Minnesota vs. Nebraska
5 p.m. — SEC Network +/WatchESPN — Texas A&M vs. Tennessee
6 p.m. — SEC Network/SEC Network +/WatchESPN — Florida vs. Ole Miss
7 p.m. — ACC Network/WatchESPN — Duke vs. NC State
NWSL
5 p.m. — Fox Sports 1/Fox Sports Go/Fox Soccer 2Go/YouTube — Washington Spirit vs. Western New York Flash (Final)
CLUB FRIENDLY
5:55 p.m. — Univision Deportes — Cruz Azul vs. Atlas
SCOTTISH CHALLENGE CUP
8 a.m. — Fox Soccer Plus — Queen of the South vs. Linfield