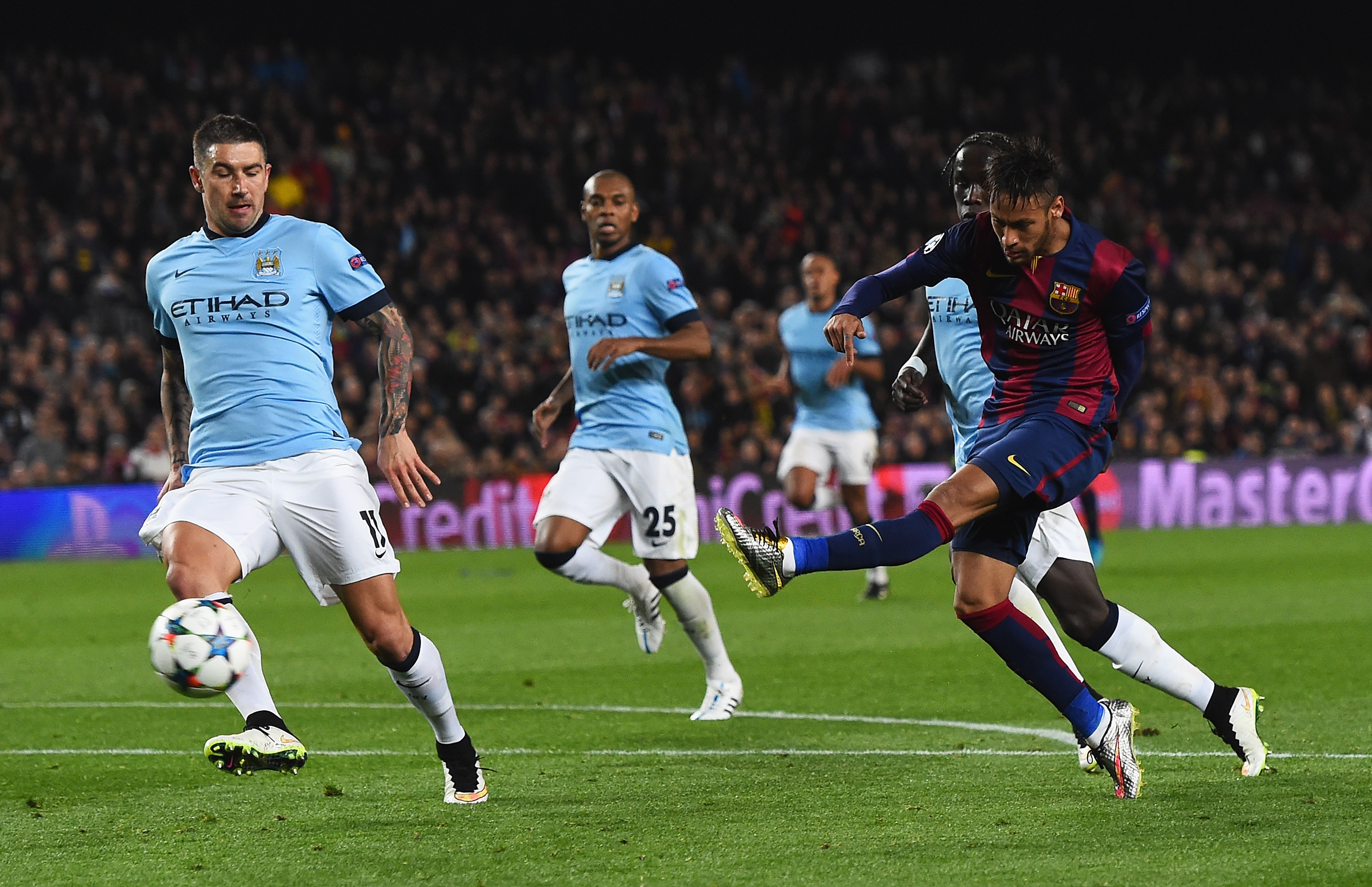 The UEFA Champions League returns to action on Wednesday as a titanic showdown of world powers headlines the schedule.
The undoubted must-watch match of the day comes from Spain as Leo Messi and Barcelona welcome Sergio Aguero and Manchester City to Camp Nou in a massive Group C battle. After a disappointing draw to Celtic last time around, Manchester City will aim to retake control of the group with a win, while Barcelona looks to cement their place on top and extend their two-point advantage.
Elsewhere, Bayern Munich trail Atletico Madrid after the latter's 1-0 victory in their first meeting and will hope to bounce back against PSV Eindhoven, who have yet to win a match through two matches.
Here's a closer look at all of Wednesday's UCL action:
BARCELONA VS. MANCHESTER CITY
A titanic clash between two of the largest teams in the world, this Group C showdown will go a long way to deciding who comes out on top after all six matches have been played.
Barcelona have cake-walked through their first two matches against Celtic and Borussia Monchengladbach, winning each with a combined goal differential of +8 and second only to Borussia Dortmund with 9 goals scored. The City defense will need to bunker down to stop the three-headed monster of Messi, Neymar, and Suarez, but can't get too shy as they'll need a win to bounce back from their 3-3 draw against Celtic last time out. It'll certainly be an impactful match for City manager Pep Guardiola, who returns to face his former club and aims to make Manchester City just the second English team to beat Barcelona at Camp Nou in the Champions League.
BAYERN MUNICH VS. PSV EINDHOVEN
Group D sees German giants Bayern Munich return to action against their Dutch opponents, PSV Eindhoven.
Bayern Munich find themselves in the unusual position of not being on top of a table after their 1-0 defeat at the hands of Atletico Madrid, their first in any competition this season under new manager Carlo Ancelotti. They'll try to get back on track and keep pace when they take on a PSV Eindhoven team that has just a point through two matches after a loss to the same Atletico team and a draw against Rostov.
ROSTOV VS. ATLETICO MADRID
In the other Group D match on Wednesday, the leaders return to action after a strong win and face a much easier opponent.
Atletico Madrid are riding high coming off their 1-0 victory over Bayern Munich. The win sees the Spaniards sit alone atop the group, three points clear of their German competition a third of the way through the group stage. They'll seek to extend that lead when they take on Rostov, who currently sit bottom with only a point through two matches and a goal differential of -5 after a thrashing by Bayern.
CELTIC VS. BORUSSIA MONCHENGLADBACH
Borussia Monchengladbach needs to rebound to keep their Champions League hopes alive, as Celtic try to straighten out their campaign.
Borussia Monchengladbach have been unfortunate to begin their group stage by facing both Manchester City and Barcelona in their first two matches, predictably losing both, managing only a single goal scored so far. Celtic have had the misfortune of starting against the same two teams, but after receiving a 7-0 thrashing from Barcelona, managed to draw Manchester City, 3-3, in a very positive showing. In a match with big implications for keeping campaigns alive, and that 3rd-place Euro spot, Monchengladbach will have to do without Fabian Johnson, who is expected to miss the match.
ARSENAL VS. LUDOGORETS RAZGRAD
While not the most compelling matchup, Arsenal will want to secure a win on Wednesday to keep every English team in the top two of their respective groups.
The Gunners have secured their expected results so far, though haven't exceeded them, with a victory over FC Basel and a draw against Paris Saint-Germain. Olivier Giroud, Alexis Sanchez and company will aim to defeat Ludogorets Razgrad on Wednesday and perhaps seize control of the group with PSG in action elsewhere. Ludogorets fell to PSG in their earlier match and drew FC Basel and will aim to steal a point from their English opponents to perhaps take control of the important 3rd-place position.
PARIS SAINT-GERMAIN VS. FC BASEL
Though expected to win, the French giants will not want to overlook their Swiss opponents amid a tumultuous season.
After a win against Ludogorets Razgrad and a draw against Arsenal, Paris Saint-Germain will aim to secure all three points against an FC Basel team that can prove difficult at times. Angel di Maria and Edinson Cavani will need to be at peak form to keep pace with Arsenal and try to even surge ahead on goal differential. FC Basel will hope to surprise their French opponents and take control of 3rd in the group with some assistance from the Gunners in the other Group A match.
DYNAMO KIEV VS. BENFICA
Neither Dynamo Kiev nor Benfica has started the competition on the right foot, but both will seek to correct it on Wednesday.
Benfica have endured a difficult beginning to their UCL campaign, as a draw against Turkish side Besiktas and a big loss to group-leaders Napoli have them on a single point through two matches. However, with Besiktas only managing two draws, a victory over Dynamo Kiev on Wednesday will put them right back into the competition. Dynamo will be less disappointed with their start, but playing Napoli to a close 2-1 loss gives hope to the Ukrainian team that perhaps an upset is in the air at home.
NAPOLI VS. BESIKTAS
Group B is ripe for the taking is Napoli can make the most of their match on Wednesday.
After two victories to begin their campaign, including a massive 4-2 win over Benfica, Marek Hamšík and Napoli can take firm control of their group with a victory over Besiktas, currently sitting in second. Already up four points, the hosts can extend their lead to almost unreachable heights with a third consecutive win. Besiktas, though currently in second, sit on only two points after two draws and will seek to remain ahead of Benfica and within reach of Napoli by stealing a result on the road.
–
What do you expect from Wednesday's Champions League action? Which teams do you see earning results?
Share your thoughts below.