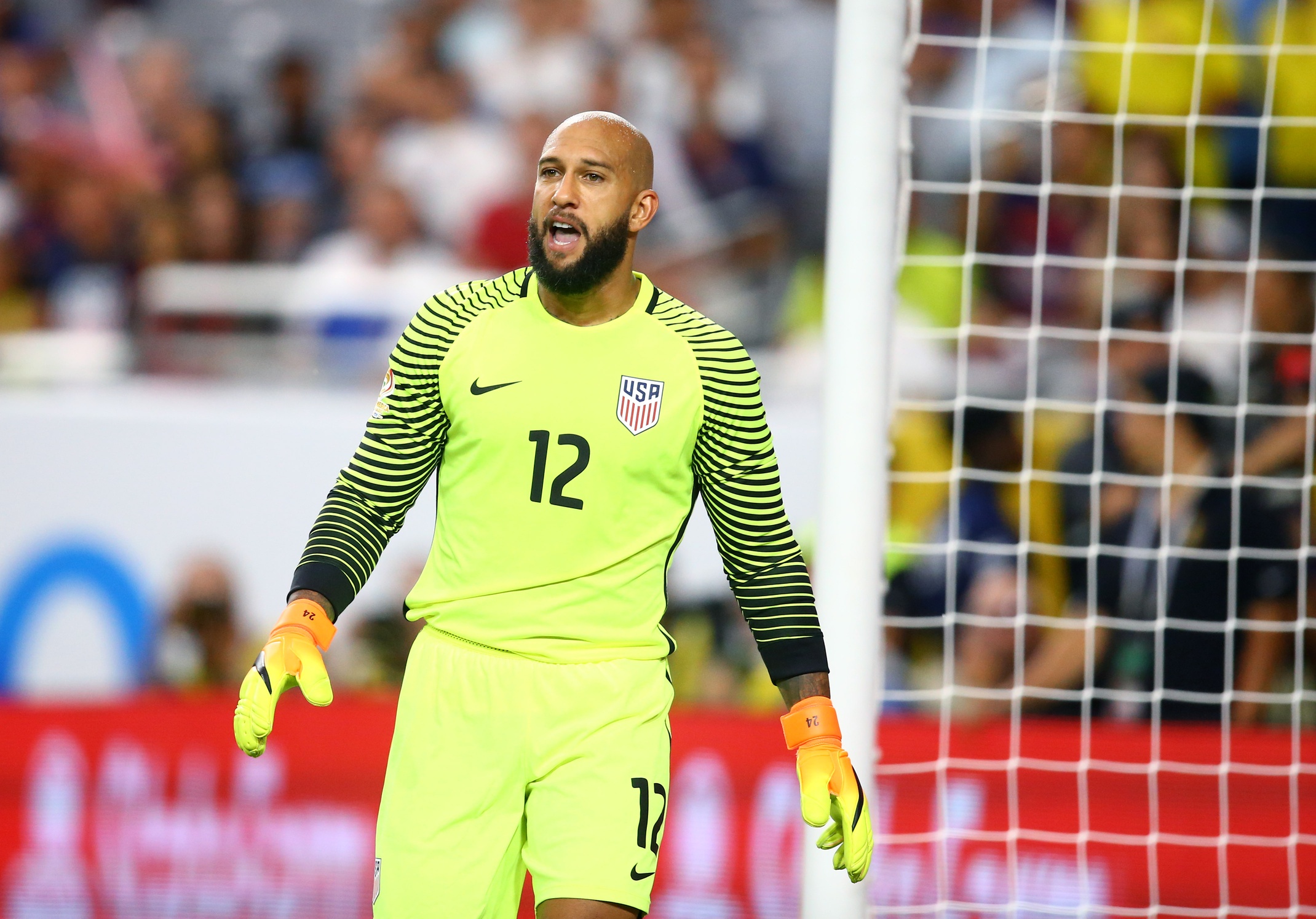 Tim Howard never felt or acted like a backup. However, for the past year or so, the veteran was listed as the U.S. Men's National Team's second-string goalkeeper, even if the sight of him warming up with the No. 12 on his back never looked fitting.
On Friday, Howard sheds a label that never felt quite right, reclaiming a starting spot ahead of one of the USMNT's biggest games.
Jurgen Klinsmann announced over the weekend that Howard would be in goal with the U.S. takes on Mexico on Friday night. With 110 appearances, the Rapids star is the most-capped U.S. goalkeeper of all-time, and his start on Friday will see Howard become the first U.S. goalkeeper to start three-straight home qualifiers against Mexico.
"I haven't changed anything," Howard said. "I keep saying that I don't get involved in those conversations. My daily work has been the same the last two weeks as they had been the last 12 months. Nothing is going to change in that regard. Coming home has been good for me, been good for Colorado. I don't make those decisions or get involved in it. I just try and do what I can do."
For months, Howard had been, at best, in a rotation with incumbent Brad Guzan and, at worst, the Middlesbrough goalkeeper's backup. However, with the USMNT in need of a hot hand in goal, Howard proved the obvious choice.
Since joining the club following this summer's Copa America, Howard has been a rock for the Rapids, helping lead the team to the Western Conference finals. Guzan, meanwhile, fell behind former Barcelona goalkeeper Victor Valdes at Middlesbrough, depriving him of valuable gametime as the Hex loomed.
Howard's best performance was his most recent one. Facing off with the LA Galaxy, and coincidentally, Mexico's Giovani dos Santos, Howard stood tall throughout a come-from-behind effort that saw the Rapids move to penalty kicks. Once there, Howard provided a pair of saves, preserving a 3-1 penalty kick win that helped the Rapids book a Western Conference finals date with the Seattle Sounders.
"I think that's football at the highest level and I've been doing it for a while now," Howard said of his playoff heroics. "You allow yourself 24 or 48 hours to enjoy it but then you get back to work."
"Those guys are flying and you always want your players coming in feeling high," Klinsmann said of the players coming on playoff-induced highs. "You want them to have confidence and a positive spirit. But you have the other side too. There are guys coming in who've been knocked out of the playoffs and have been virtually on holidays for a week. So, I have to deal with both sides of the coin."
With that in mind, Howard is more than ready for Mexico. The goalkeeper was left on the bench in the two sides' most recent clash in last year's CONCACAF Cup. Howard is now fully prepared for the game that lies ahead, one that remains unique for all involved.
Having faced Mexico numerous times throughout his career, Howard provides a calming presence in the back. Howard says that he expects Mexico to attempt to mentally undo the U.S. team, using various tactics to get in their heads throughout the 90 minutes. With a laugh, the goalkeeper also added that he expects his side to do the same going the other way, helping add to the intensity and tension of the day.
It's a matchup that still fills Howard with excitement, an event that still makes him a bit nervous on the inside. Even at 37-years-old, the experience is a valued one for Howard as he reclaims his starting gig on the road to Russia.
"I think U.S.-Mexico will always be intense," Howard said. "You can never let your guard down. Mexico is too good of a team. You have to prepare the right way. You can never let it become old because that's when you get caught."