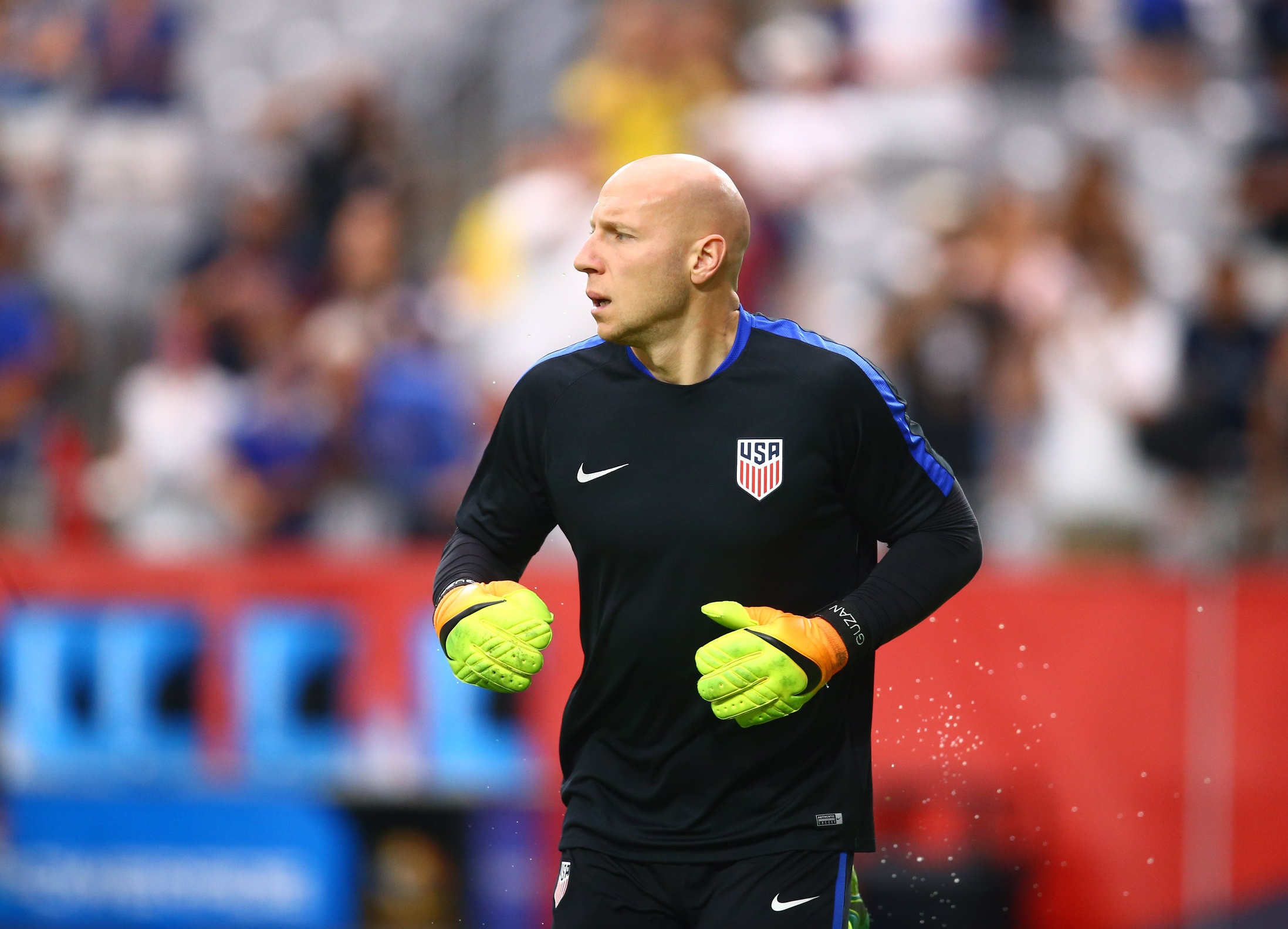 For the first time in several years, Brad Guzan entered a U.S. Men's National Team camp as a backup. With just three Middlesbrough appearances to his name this season, Guzan joined the U.S. in the midst of one of the lower points of his career, one headlined by several months on the bench.
Now, with a vital match against Costa Rica looming, the U.S. will likely once again turn to Guzan to help push the team through a difficult time.
Following Tim Howard's injury on Friday night, Guzan was thrust onto the field midway through the first half. The U.S. was down a goal, and down on confidence, as Mexico swarmed. A formation change helped calm the tide, but Guzan was left utterly helpless as his defenders let him down on a late Rafael Marquez winner.
Like the rest of the USMNT, Guzan is now looking to bounce back with a win. Just several days ago, it didn't appear that Guzan would be charged with any on-the-field contribution, but now, with everything on the line, the U.S. will need him to step up much like he did during a solid summer at the Copa America.
"Unfortunately, injuries are part of the game," Guzan said. "We just want Timmy to recover as fast as possible, but we have a job to do in terms of going down to Costa Rica and trying to get three points."
The situation is not ideal for the USMNT. Howard entered camp in fine form with the Colorado Rapids and was a deserved No. 1 starter. The former Everton star's recent penalty kick heroics against the LA Galaxy helped push the Rapids to the Western Conference semifinals while also furthering Howard's edge over Guzan on the U.S. depth chart.
The U.S. does have several options in Howard's absence. There's always Guzan, a player that has played in these types of matches before but enters Tuesday's clash without a start since Sept. 2. Alongside him are a pair of youngsters in Ethan Horvath and William Yarbrough. Of the two, the former has looked the most promising in recent months, but it's quite fair to doubt how ready the 21-year-old shot-stopper is for a hostile Costa Rica crowd.
With that in mind, Guzan is likely the man that needs to regroup the team from the back. Guzan has generally looked solid throughout the last year while on USMNT duty, but his club form, or lack there of, has left Jurgen Klinsmann concerned. It's certainly understandable to doubt Guzan's sharpness. Guzan is about as cold as cold could be, but is now being thrust into the spotlight for a key clash with Los Ticos.
Guzan is a veteran, one that has played in plenty of big games. Tuesday is not his first World Cup qualifier and it almost certainly won't be his last. Guzan will be mentally prepared for Tuesday night and the challenged that will come with being thrust into a World Cup qualifier in a "hostile" Estadio Nacional de Costa Rica.
"It's going to be a hard place to go to. Saying that, we know the ability we have with our guys," Guzan said. "We showed that at times, especially in the second half on Friday night, that, when we're playing our best, we're a good team. We're going to need that for 90 minutes come Tuesday night.
"We knew we had two tough games before the games started," he added. "We knew they'd be difficult. Saying that, it's a marathon, not a sprint. We know the result wasn't what we wanted on Friday night, and now we have a chance on Tuesday to correct that."