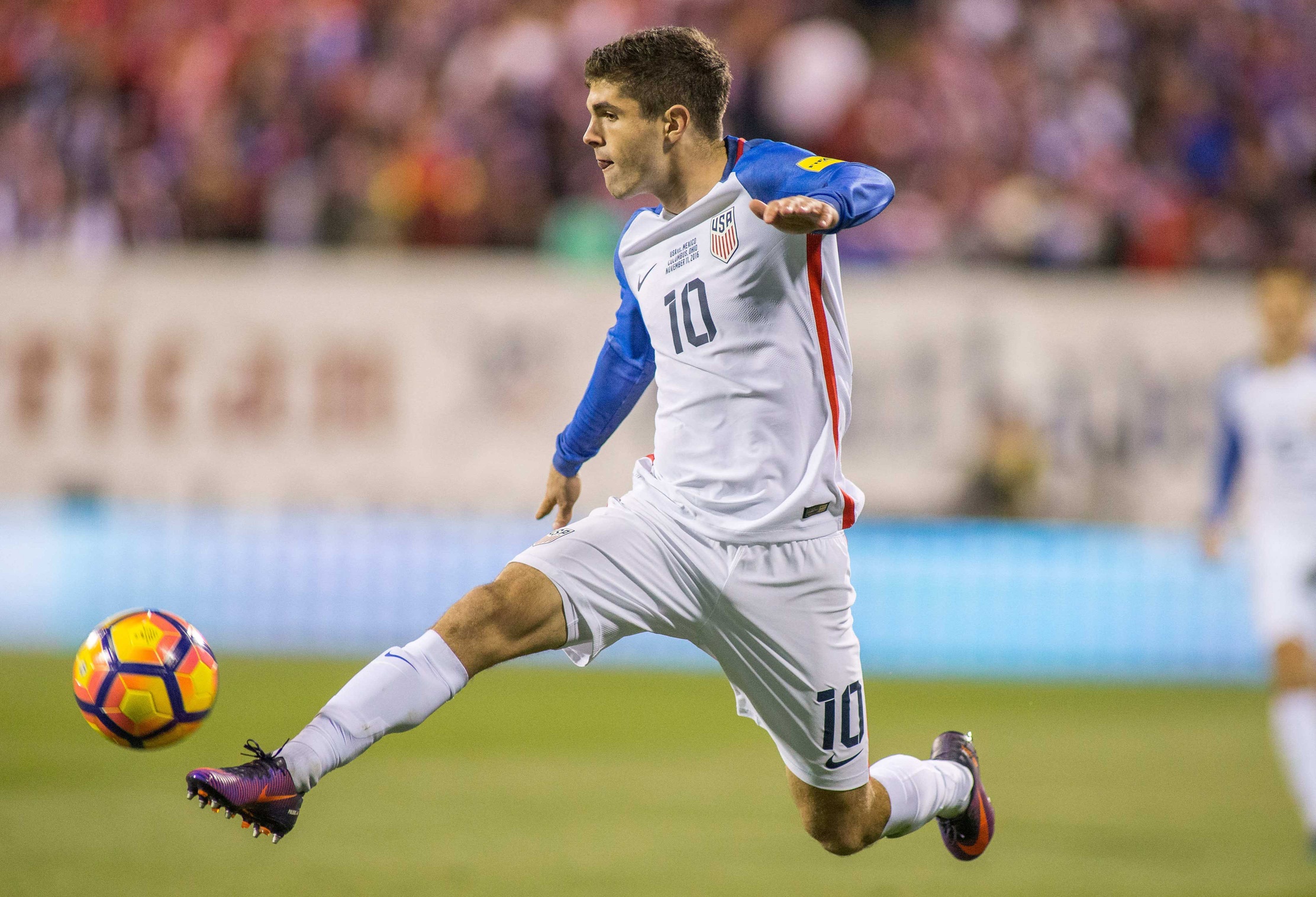 Little doubt remains: the U.S. Men's National Team is now built around Christian Pulisic.
Jurgen Klinsmann confirmed as much in a recent Facebook Q&A, detailing the thought process behind deploying a three-at-the-back system against Mexico in the USMNT's Hexagonal opener. The decision backfired, as Mexico scored early while keeping the U.S. on their heels, prompting an eventual switch to a more traditional 4-4-2.
According to Klinsmann, the 3-4-1-2 system was selected to maximize the talent of Pulisic, who was given freedom to roam behind the striker partnership of Bobby Wood and Jozy Altidore.
"There was a reason we went to that formation, and that was simply Christian Pulisic," Klinsmann said. "With that formation, the four midfielders spread over the width of the field and then having Christian as the one behind Jozy Altidore and Bobby Wood, we hope that gives him freedom to roam and hurt Mexico at specific times, similar to what he does at Borussia Dortmund. We trained it before, it went really well in training, but the problem was, after 10-12 minutes, we were not able to put pressure on their attacking midfielders.
"A formation is built on the strengths and weaknesses of your players, and when you have a player now like Christian Pulisic, who is a very, very special talent for us, you want to adjust things for him. You want to build a system around players to show strengths and help each other where they have weaknesses."
Klinsmann went on to say that formation choices are much more about the players than coaching preferences. The players dictate the tactical decisions, not the other way around, and players like Pulisic will help drive Klinsmann's selections going forward. The USMNT boss cited Mexico's three-at-the-back set, one used to maximize a player like Rafa Marquez.
While the recent tactical switch didn't work as planned, Klinsmann reiterated that it was one that could return in the future, especially as the U.S. prepares for further big tests.
"When you go towards a World Cup, it's important to know you have different systems in your pocket," Klinsmann said. "You need to know you can go from a 3-5-2 into a 3-4-3 or a 3-4-1-2 or a 4-4-2. The system is not really important; it's the way the players are connected on the field doing their attacking movement and especially having their discipline defensively to take away the space for the opponents to break through.
"That was the reason for the formation against Mexico, and I have to give the team credit for how they played the second half. We had them right there and should have scored the second goal."