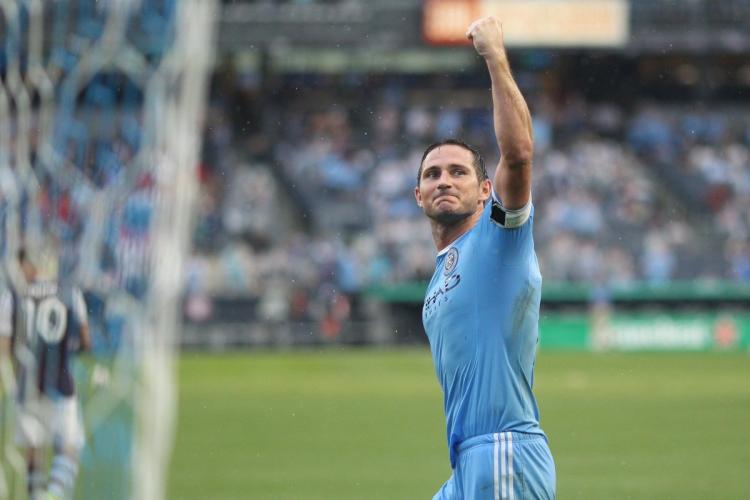 From biggest DP bust in MLS history,= to solid acquisition with the second highest goal total on the team. From oft-injured absentee to crucial piece in a franchise-first playoff run.
New York City FC star midfielder Frank Lampard has been polarizing to say the least in his time in MLS, but while his bang-for-buck value is up for debate, the gaping hole he leaves in NYCFC's midfield is not.
When healthy, Lampard has been a key component in the middle for NYCFC, scoring goals with regularity and in big moments. When out, manager Patrick Vieira has had to shift and twist his line-up to compensate, moving wingers inside, defensive midfielders into more attacking roles, even starting forwards in the midfield at times.
So with Lampard's contract up and now officially on the way out, how does NYCFC adjust in his absence?
Perhaps the simplest option is signing another DP midfielder to replace Lampard. Rumors are constantly circulating around players such as Samir Nasri, Bastian Schweinsteiger, Andres Iniesta, and Keisuke Honda. Another big-name midfielder could fit the bill and perhaps even improve the midfield if the new player can stay on the field more than Lampard managed to in New York.
But NYCFC has, if not an abundance, certainly no shortage of MLS-quality midfielders. Fan-favorite Tommy McNamara has occupied Lampard's midfield role at times, and while he seems to have found a home on the left wing, he could certainly make the shift to a more central role. Mix Diskerud has been out of favor with Vieira since the early parts of the season, but unless NYCFC can find a willing buyer of his huge contract, he'll likely be around next season and could finally step up and into a significant role. NYCFC fans may not love the idea, but Mikey Lopez could also see increased time to fill in the gaps. The point being, NYCFC has bigger needs elsewhere that an open DP slot could fix.
Were NYCFC to shift McNamara to Lampard's role, and perhaps not renew their loan of or purschase Steven Mendoza, the open DP slot could be used to fill in the left wing position that would be vacated. MLS has seen a boon of talented attacking Central and South Americans of late, a market NYCFC seems happy to tap into with players like Mendoza, Federico Bravo, and Ronald Matarrita, and the team could perhaps find an option in that manner.
The DP could be used to patch other crucial holes as well. While Vieira seems confident that Maxime Chanot and Frederic Brillant are his centerback pairing for the near future, behind them is an unsettling lack of depth. Jason Hernandez is an older player while Jefferson Mena has been hugely polarizing due to his obvious physical ability, but poor technique and performances. A veteran DP centerback would likely do well in MLS and could be the answer to NYCFC's defensive woes.
Lampard's tenure has had a massive impact on NYCFC, playing a huge role in the team's second-year turnaround, but his departure and the resulting changes could play an even bigger role than his time with the club. Only time will tell what Vieira and NYCFC have planned for next season, but Lampard's departure has given them options to work with as they attempt to take the next step forward.