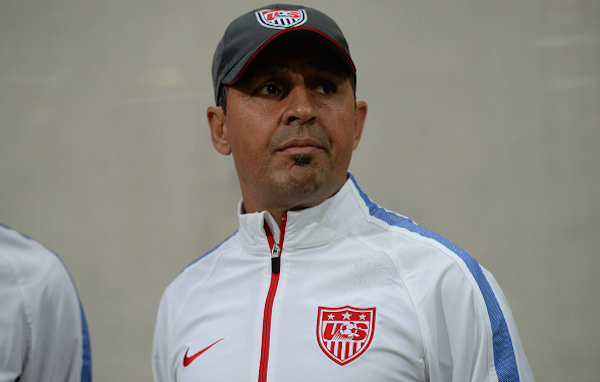 Some of the youngest American prospects will earn a chance to impress U.S. U-18 Men's National Team boss Omid Namazi for the first time in 2017 during a week-long January camp. Twenty-eight players were named to Namazi's roster and they will spend the next week training at IMG Academy in Bradenton, Florida.
During the camp, the U-18 roster will play matches against some of the U-17 players in residency at IMG Academy ahead of another training camp in March and a tournament in Slovakia in April.
"The purpose of this camp is to identify new talent and expand our pool of players," Namazi said. "For this camp, we have invited back some of the core players that we've identified through the last year. More than half of the players are either newer players we are inviting back to see how they've developed since our player identification camp last January, or brand new players who have never been invited to a previous Youth National Team camp."
Twenty-four of the 28 players selected for the camp have spent time with the U.S. Soccer Development Academy, with New England forward Justin Rennicks and LA Galaxy goalkeeper Eric Lopez being the most experienced players from the academy.
Here's a closer look at the full squad:
GOALKEEPERS:  Eric Lopez (LA Galaxy; Los Angeles, Calif.), Trey Muse (Seattle Sounders; Tukwila, Wash.), Alec Smir (NC Fusion; Greensboro, N.C.)
DEFENDERS: Jose Alfaro (Chicago Fire: West Chicago, Ill.), Jonathon Esparza (Club Tijuana; Chula Vista, Calif.), Daniel Jones (New England Revolution Academy; West Hartford, Conn.), Jack Maher (Scott Gallagher; Caseyville, Ill.), Mark McKenzie (Philadelphia Union; Bear, Del.), Jake Morris (Seattle Sounders; Kirkland, Wash.), Stirling Russell (Seattle Sounders; Colorado Springs), Aedan Stanley (St. Louis Scott Gallagher SC; Columbia, Ill.), Angel Uribe (Club Tijuana; San Diego, Calif), Aristotle Zarris ( LA Galaxy; Casa Grande, Ariz.)
MIDFIELDERS: Abdi Faris (IMG Academy; Bradenton, Fla.), Christian Cappis (Texans SC Houston; Katy, Texas), Jose Carranza (D.C. United; Manassas, Va.), Andrew Paoli (San Jose Earthquakes; San Jose, Calif.), Brian Perez (Club Tijuana; San Diego, Calif.), Brandon Servania (FC Dallas; Brimingham, Ala.), Noah Verhoeven (Vancouver Whitecaps; Surrey, B.C)
FORWARDS: Shaft Brewer (FC Dallas; Sacramento, Calif.), Griffen Dorsey (Colorado Rush; Evergreen, Colo.), Ernesto Espinoza (Club Tijuana; Chula Vista, Calif.), Will Inalien (Portland Timbers; Taramac, Fla.), Justin McMaster (Philadelphia Union; King of Prussia, Pa.), Alfred Perez (Weston FC; Miami, Fla.), Emanuel Perez (CASL; Garner, N.C.), Justin Rennicks (New England Revolution Academy; Hamilton, Mass.)