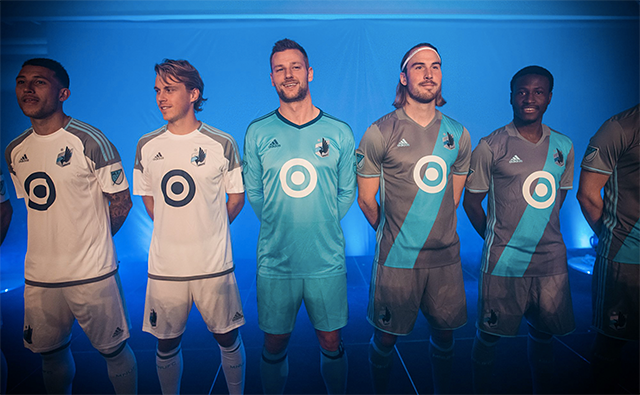 Adrian Heath has heard the talk, read the commentary. As Minnesota United's first season approaches, the Loons head coach understands that doubts continue to linger.
Minnesota United enters its inaugural MLS campaign with no Designated Players, no big names to lean on. Expansion teams have notoriously struggled in their opening campaigns and many believe the Loons could see a wide array of issues throughout their first MLS season.
Heath understands those issues will come, much like they did when he was with Orlando City, but don't count him among the doubters that predicted Minnesota United to completely stumble out of the gates.
"I couldn't have asked anything more of them," Heath told SBI. "Everything we've asked, they've approached it and given everything they've got. One thing I know is that we have a really good group and they want to work hard. The other thing that's been apparent is that we're going to be better than people think.
"We've seen some of the quotes, people thinking we're going to be the worst team that's ever been, and that will just serve as extra motivation for us this year."
Minnesota's roster process admittedly began a bit late. Heath wasn't brought on board until late November, giving the club just a handful of months to construct a roster that fits his vision. To that aim, they've brought in several types of players, ranging from league veterans, to international contributors, to a group of budding young stars looking to make their way in MLS.
The club maintained its roots as Christian Ramirez, Justin Davis and Kevin Venegas made the leap from the NASL before being joined by a returning Miguel Ibarra. The team raided Scandinavia to construct a spine, headlined by defender, and likely captain, Vadim Demidov, midfielder Rasmus Schuller and John Alvbåge. The rest was largely supplemented by MLS talent, headlined by Kevin Molino, a player pegged to be Heath's difference-maker.
The addition of Molino gives Heath a key piece from his time at Orlando City, one he believes will be vital in the season to come. However, it's the lone link to Heath's previous experience, which began with an admittedly overambitious influx of youth.. Heath has learned from his expansion past and those lessons, he says, are what will help the team prove any lingering doubts false.
"We made a conscious effort to go for 23, 24, 25 years of age that were hungry and had something to prove," Heath said. "I think that the transition has been a little bit easier because we have a little bit more experience. The players have been through it, or more often, and I think that will stand out.
"It's still a work in progress," he added. "We're not going to be what we want to be in three or four weeks, but I've been really encouraged with a lot of the things we've done in preseason."
Here's a closer look at Minnesota United:
MINNESOTA UNITED SEASON PREVIEW
2016 Finish: N/A
Key Acquisitions: Francisco Calvo, Kevin Molino, Miguel Ibarra, Mohammed Saeid, Johan Venegas, Rasmus Schuller, Josh Gatt, Jermaine Taylor, Vadim Demidov
Key Losses: N/A
Newcomer to Watch: Francisco Calvo
The Costa Rican international has been a star for Saprissa and, at just 24-years-old, it appears the defender will be a vital part of the Ticos plans going forward. In Calvo, the Loons add a leader with significant experience on both the international and club level. He's a player that could be, and probably should be, a centerpiece for years to come as the Loons look to find their version of Laurent Ciman, Kendall Waston or Jelle van Damme to lead the team from the back.
Pressure Is On: Kevin Molino
Minnesota United unloaded a dump truck of money to bring in the former Orlando City playmaker as they look to make him the team's focal point in the attacking end. Even playing second fiddle to Kaka, Molino provided 11 goals and eight assists in his first full season in MLS. Molino certainly has the talent in the attacking end to be the primary creator, but questions remain on whether he can become the guy for Minnesota. Adrian Heath bets he can be, and Minnesota will go as far as Molino can lead them in the attacking end.
Outlook: 
The process of constructing the first Minnesota United roster may have been quick, but it was also deliberate. From the moment he was brought in, Heath had a vision, one based on his previous experience.
This time out, Heath didn't target 21-year-old prospects with potential; he targeted slightly older, more proven commodities that could adapt to MLS quickly. He didn't look too far to the future because, ultimately, you can't get there if you don't survive the present.
Minnesota United's present will be build around the lone Orlando City link: Kevin Molino, who is charged with leading the attack. He's a player Heath worked with for many years, one that's more than trusted to lead an attack that still remains a question mark.
"People thought we gave up an awful lot for Kevin Molino. I thought we got him cheap," Heath told SBI. "I was down in South America looking at players and my mind just kept coming back. 'Is he any better than Kevin Molino?' We were talking millions of dollars for these people and their salaries were incredible.
"First and foremost, everybody knows my feelings about Kevin. I think he's the best in the league at his position. I really do. We're looking forward to him taking that next step, which is him becoming one of the best players in this league. He certainly has the ability to do that."
To supplement Molino, the Loons targeted a number of different routes towards player acquisition. Heath and longtime Minnesota United boss Manny Lagos made several trips abroad, much like the ones to South American to find that playmaker that never came to be thanks to Molino. The most fruitful trips were ones to Scandinavia, where the team found several eventual signings.
Vadim Demidov is likely to serve as captain from the centerback position, while Rasmus Schuller is expected to start in the central midfield.  Danish forward Bashkim Kadrii brings years of experience from his home league and could figure in across the attacking line. Goalkeeper John Alvbåge remains a potential starter.
"Everybody who has worked with Scandinavian players, first, they all speak English, which is obviously a real plus and they're real diligent, very good professionals," Heath said. "The one thing that stuck out about all of the players we brought in is that they came in in really good physical condition. They came in as professionals and they want to do well.
"I said in my press conference that I want people that want to be in Minnesota; not just people that want to come to America. These guys have come in and they've been a dream to work with."
The forward group remains a bit of a mystery as there are a number of able players ready to jump in and assume a starting gig. Christian Ramirez lit the NASL up for years before making the leap to MLS. Johan Venegas can play centrally, even if he's primarily featured as a wing player. Even Miguel Ibarra is an option up top, while Josh Gatt can add speed on the wing.
But the most interesting name on the list is Abu Danladi, the player the Loons selected as the No. 1 overall pick back in January. The former UCLA standout is an elite forward and brings a spectacular physical base to the pro game. He's quick and he understands how to make the runs required to cause danger. However, questions remain. He was hampered by injuries last year and he is likely to require time to adjust to the pro game. Danladi has ability, and that's why Minnesota liked him, but he must translate that ability into consistency if he hopes to make the starting XI.
"There's a lot of competition for places and they're working hard every day in training," Heath said, "and I've said to them that when we play opening day in Portland, it's going to be very interesting what the starting XI is because we have a lot of options in those positions and a lot of good players. They're working so hard and its going to be interesting to see how it all shakes out."
The midfield also faces several options, although have jumped out in front of the rest. Heath says he views Collen Warner as one of the most underrated players in MLS, and the former Houston Dynamo midfielder should hold down a deep-lying role. Schuller brings finishing and finesse, while former Crew midfielder Mohammed Saeid adds even more MLS experience to the mix. Add in NASL import Ibson and even up-and-comer Collin Martin, and Heath feels confident in his midfield unit.
Defensively, things are also fairly straight-forward. NASL signings Kevin Venegas and Justin Davis remains options at the fullback positions, even if the former is likely to be supplanted Swede Jerome Thiesson. Jermaine Taylor brings versatility, as he can take charge at either fullback or centerback in times of need.
Demidov and Calvo will likely start in the heart of the defense, giving Heath a pair of defenders he relies on to maintain the spine of the team.
"We all know Costa Rica because we've seen them in the big games against the U.S.," Heath said, "and every time I watched (Calvo), this kid, whether he was playing left back, centerback, he impressed me every time. He was one of the first players we wanted to get when I took the job and, fortunately, we got him. Since we've had him, he's exceeded all expectations. This kid is going to be one of the best players in the league I believe.
"When we took Vadim Demidov, he's experienced. He's played a long time and he's been captain nearly everywhere he's been," Heath said. "The fact that he speaks three or four languages, he's comfortable with the Hispanic players and he's stepped up and he's been captain and he'll probably remain captain. He's shown real leadership qualities… When you take in that many players, you don't know what type of leadership you've got. Fortunately, we've got really strong characters within the group. We've done well with that."
The task is molding it all together. It's a near-impossible task, especially with just two weeks remaining until the start of the MLS season. Minnesota United is inevitably playing catch-up, and time is running out.
Heath knows the difficult days will come, and they may come often at the beginning. But, given everything he's seen, Heath believes those days won't be as prevalent or last as long as some people may think as Minnesota United embarks on their first MLS season.
"I think the most important thing is that we know it's never easy. I've been through it," Heath said. "The records show that making the playoffs is difficult in that first year. What I think is that we keep believing in what we try to do and not allow the bad moments, which are going to come, affect what we're trying to do, affect how we're going to play.
"I have a firm belief in the way we want to play and we have to keep the faith with that regardless of how things go," Heath said. "There are going to be times that will test us this year, because that's the nature of this league, but keeping our belief and the faith in what we do and believing in each other, it's going to be huge for us throughout this season."
PROJECTED STARTING LINEUP