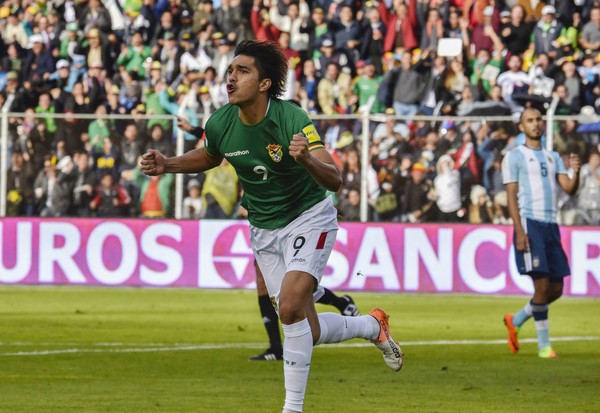 After a 1-0 victory over Chile last Thursday, Argentina slumped to a disappointing road defeat to Bolivia on Tuesday. Edgardo Barza's side came into the match without star forward Lionel Messi, who was serving the first of a four-match suspension.
The Barcelona star was handed the ban by FIFA on Tuesday morning after negative comments made about Thursday's refereeing crew.  Bolivia made the most of the opportunity in a 2-0 home victory.
Juan Carlos Arce's 31st-minute header opened the scoring for the hosts which gave them a 1-0 lead at half-time. Marcelo Moreno extended the Bolivians lead to 2-0 in the 52nd-minute after his right-footed effort was ripped into the roof of the net.
Argentina forced six saves from Bolivian keeper Carlos Lampe, but failed to find a goal, slumping to their first qualifying defeat since Nov. 10. Bolivia earned their second victory in their last three qualifiers.
Elsewhere, Colombia climbed to second in the standings after a 2-0 win in Ecuador, while Uruguay slumped to their third consecutive defeat. Brazil, meanwhile, locked up a spot in the World Cup with a win.
Here is a look back at Matchday 14 in CONMEBOL World Cup Qualifying and the updated standings:
COLOMBIA USE STRONG FIRST HALF TO DEFEAT ECUADOR
After squeaking by Bolivia, 1-0, last Thursday, Colombia made it back-to-back wins after a 2-0 road win in Quito. James Rodriguez's 20th-minute close-range effort opened the scoring at 1-0 for Colombia. Rodriguez played contributor on the visitors second goal, finding winger Juan Cuadrado for a 2-0 lead after 34 minutes.
Things got worse for the hosts as defender Luis Caicedo was sent off after earning a second yellow card just after the hour mark. Ecuador only mustered one shot-on-goal in the match, while Colombia was content to defend the rest of the way for the three points.
Colombia climb to second, while Ecuador drop a spot to sixth.
CHILE DOMINATE VENEZUELA IN BOUNCE-BACK WIN
Chile climbed to fourth in the standings after a 3-1 home success over last-place Venezuela. Arsenal's Alexis Sanchez opened the scoring after five minutes from a wonderfully taken free-kick, before Esteban Paredes doubled the lead two minutes later. Paredes doubled his tally on the afternoon, tapping home Sanchez's headed assist in the 22nd-minute.
Eduardo Vargas came close to making it 4-0 before halftime, ripping a right-footed effort off the post in the 38th-minute. Salomon Rondon cut the lead to 3-1 heading Romulo Otero's cross to the bottom-left corner in the 63rd-minute. However, that was the closest the Venezuelans got, suffering their second defeat out of the last three matches. They remain in last place with only six points, while Chile sit 10 points off group-leaders Brazil.
BRAZIL EASE PAST PARAGUAY IN SAO PAULO TO SEAL WC BERTH
Group-leaders Brazil made it eight consecutive qualifying victories after a 3-0 thumping of Paraguay in Sao Paulo. Marcelo's 86th-minute finish capped a perfect day for Adenor Bacchi's side who were in control for most of the match.
Despite seeing his 53rd-minute penalty saved by Antony Silva, Neymar doubled Brazil's lead in the 64th-minute, finishing off Marcelo's assist. Liverpool's Philippe Coutinho opened the scoring for Brazil in the 34th-minute rifling home a left-footed effort from outside the box. Paraguay failed to record a shot-on-goal, while Silva made four saves in the defeat.
Paraguay drop to eighth-place, while Brazil become the first county to qualify for the 2018 World Cup in Russia.
URUGUAY DROP THIRD IN A ROW IN PERU DEFEAT
After consecutive losses to Chile and Brazil respectively, Uruguay fell for the third consecutive time, this time in Lima on Tuesday evening.
Despite a 30th-minute opener from Carlos Sanchez, Uruguay saw their first-half lead crumble in a disappointing performance. Paolo Guerrero's right-footed goal four minutes later leveled the score at 1-1 for Peru.
Edison Flores earned the hosts all three points thanks to a 62nd-minute goal, assisted by Guerrero. Uruguay's evening got even worse as substitute Jonathan Urreta saw a second yellow card for handball. Diego Godin's 93rd-minute header struck the bar for Uruguay, summing up their performance.
Peru climbed to seventh, sitting four point Argentina in the fifth-place playoff spot. Uruguay drop to third, knowing better results need to come in August for a chance at World Cup Qualification.
STANDINGS (ROUND 14)
1. Brazil (33 points | 10-3-1 | 35 Goals For | 10 Goals Against)
2. Colombia (24 points | 7-3-4 | 18 Goals For | 15 Goals Against)
3. Uruguay (23 points | 7-2-5| 26 Goals For | 17 Goals Against)
4. Chile (23 points |7-2-5 | 24 Goals For | 19 Goals Against)
5. Argentina (22 points |6-4-4 | 15 Goals For | 14 Goals Against)
6. Ecuador (20 points | 6-2-6 | 23 Goals For | 20 Goals Against)
7. Peru (18 points | 5-3-6 | 22 Goals For | 23 Goals Against)
8. Paraguay (18 points | 5-3-6 | 13 Goals For | 21 Goals Against)
9. Bolivia (10 points | 3-1-10 | 12 Goals For | 32 Goals Against)
10. Venezuela (6 points | 1-3-10 | 17 Goals For | 34 Goals Against)