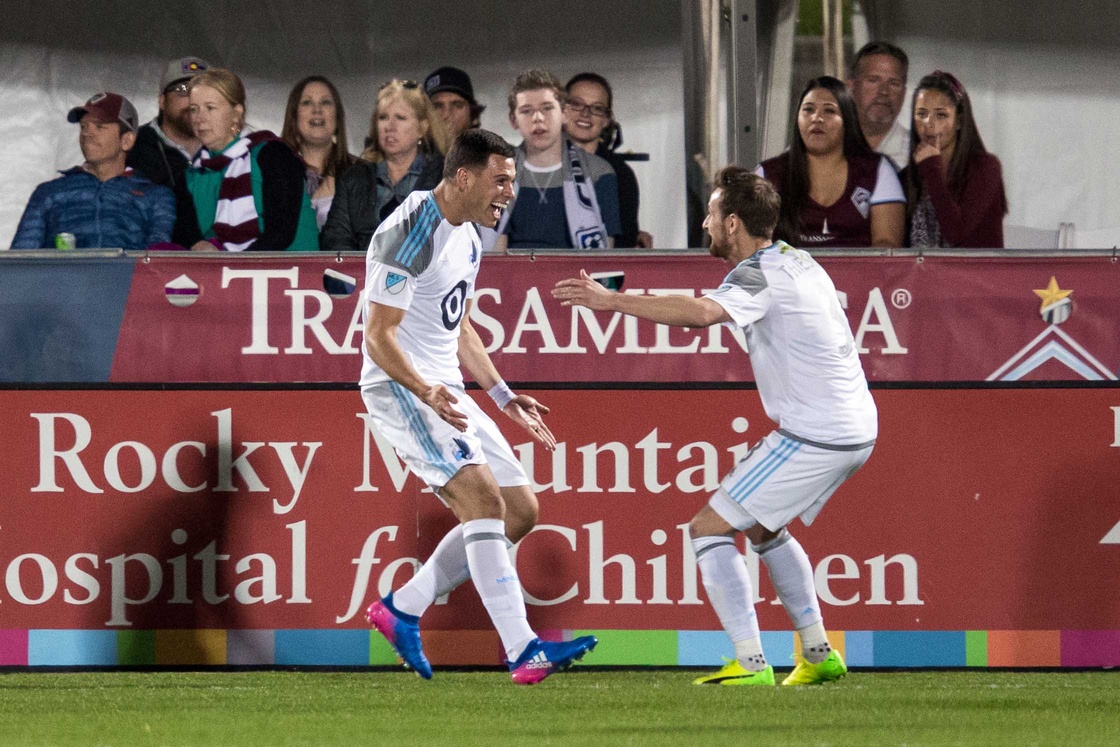 The international break only slows down MLS, it rarely ever shuts it down for a weekend. That's the case for Week 4, as three matches take place on Saturday at a trio of Eastern Conference venues.
Among the small slate of matches in MLS is a rematch of the 2015 MLS Cup and a crucial match for a team that fired its manager earlier in the week.
Here's a look at three games taking place in MLS on Saturday:
New England Revolution vs. Minnesota United (2 p.m. ET, MLS Live)
Two weeks after the original home opener was supposed to take place at Gillette Stadium, the New England Revolution are set to take the turf for the first time, and in much warmer weather than the cold that caused a postponement two weeks ago.
The Revs are the only team in MLS without a point, albeit they've played one less match than everyone else in league sans Orlando City. Jay Heaps' men have dropped road results in the Western Conference to the Colorado Rapids and FC Dallas, scoring one goal in 180 minutes of action.
Minnesota United showed progress in Week 3, which is something we didn't think would happen after the calamitous first two games in MLS franchise history. However, international duty will wreak havoc on the Loons' lineup with Kevin Molin, Francisco Calvo, Johan Venegas and Rasmus Schuller all off representing their countries this weekend. The one positive to come out of that is we should see the "Superman and Batman" combination of Christian Ramirez and Miguel Ibarra together for the first time in MLS.
New York Red Bulls vs. Real Salt Lake (4 p.m. ET, MLS Live)
We had a little fun at expense of both the New York Red Bulls and Real Salt Lake thinking RSL would hire Mike Petke in time for the Saturday trip to Red Bull Arena. Although that would've been a juicy headline, there's still plenty of things that will actually happen to keep an eye on Saturday afternoon in New Jersey.
The Red Bulls are still piecing together the formation puzzle that Jesse Marsch is trying hard to solve with the 4-2-2-2. With Sacha Kljestan off on international duty, don't expect a massive change up from the Red Bulls boss, but he could alter his formation a bit to suit the skill sets of those in his starting XI. More pressure will be on Mike Grella, Daniel Royer and new signing Fredrik Gulbrandsen to provide for Bradley Wright-Phillips with Kljestan on USMNT duty.
RSL travels across the country with a heavy limp, as the club's injury situation is the worst in the league. In addition to Joao Plata, Jordan Allen, Justen Glad, David Horst and Aaron Maund dealing with injuries, Kyle Beckerman is suspended and Nick Rimando and Albert Rusnak are off on international duty. Interim manager Daryl Shore will have to piece together a lineup with the club's healthy parts. If the Claret and Cobalt are to leave New Jersey with a point, the midfield led by Luke Mulholland and Brooks Lennon will have to perform well.
Columbus Crew vs. Portland Timbers (7:30 p.m., MLS Live)
The most dangerous attack in MLS takes its show east of the Mississippi River for the first time this season for a MLS Cup rematch with the Columbus Crew at Mapfre Stadium. The Portland Timbers will be without Darlington Nagbe and David Guzman, but Diego Valeri, Sebastian Blanco and Fanendo Adi will still be in Caleb Porter's starting lineup. The Timbers have looked dominant at home against Minnesota and Houston, and they found a way to grind out a win at StubHub Center against the Galaxy in Week 2.
The Crew go from one extreme to another after facing lifeless D.C. United in Week 3. Gregg Berhalter broke out a 3-4-1-2 that succeeded with rookie Alex Crognale starring at center back. If the back three can withstand the pressure from Portland's front four, the Crew stand a chance at earning a point at home, but make no mistake about, they enter as the underdogs in Week 4 given the splendid form of the Timbers.