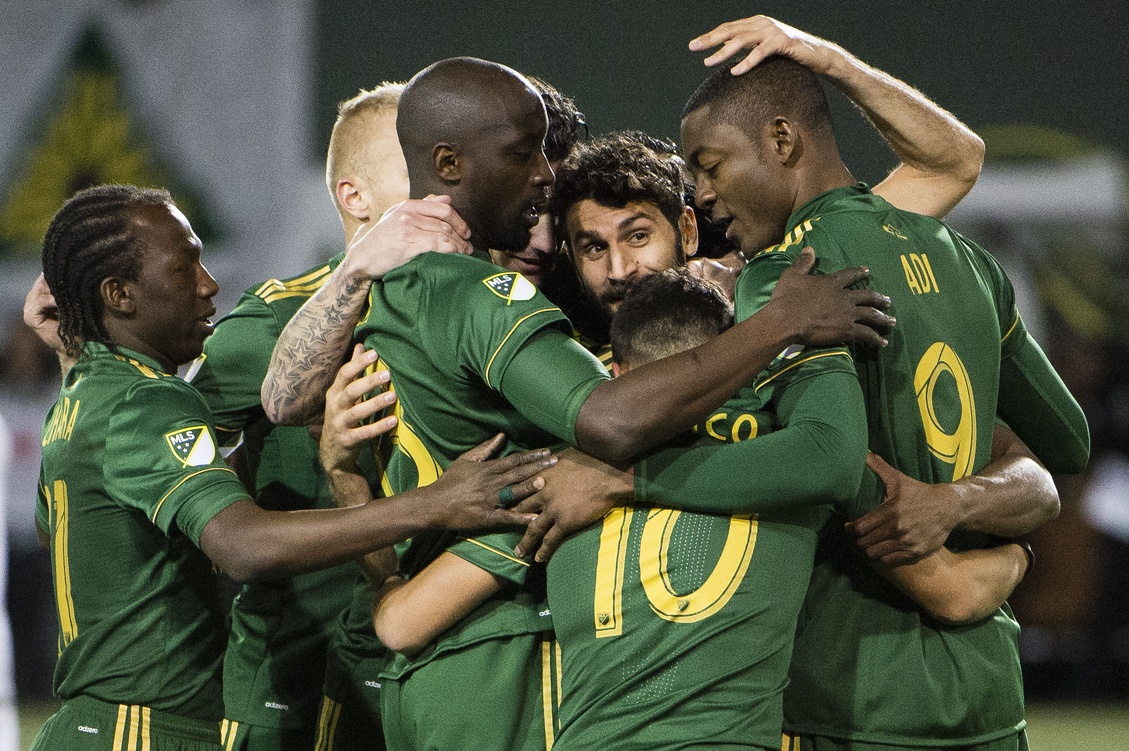 The unit some have hyped as the best front six in Major League Soccer showed plenty of brilliance in the Portland Timbers' 5-1 win over Minnesota United at Providence Park on Friday night.
Diego Valeri and Fanendo Adi bagged a pair of  second-half braces to propel the Timbers to their first three points of the season.
The scoring was opened by an unlikely face in Lawrence Olum, who knocked in a set piece from newcomer Sebastian Blanco in the 14th minute. Olum wasn't a Portland player until Gbenga Arokoyo went down with a season-ending injury in preseason. The former Sporting Kansas City man directed the free kick into the right part of the net.
After working their way through the calamitous Minnesota defense on a few occasions in search of a second goal, the Timbers finally struck the back of the net again on Valeri's tally in the 47th minute.
The Loons scored their first-ever goal in MLS in the 79th minute by way of substitute Christian Ramirez, who beat Jake Gleeson from just outside the top of the box. However, the momentum didn't last long on United's side, as Vadim Demidov conceded a penalty two minutes later.
After Demidov pulled down Fanendo Adi in the penalty area, Valeri knocked home his second goal of the contest past John Alvbage into the left part of the net.
Adi sent the crowd in Cascadia into two uproars in stoppage time. He patiently waited to score his first from close range in the 91st minute, and he breezed past defenders on the left wing to put away his second two minutes later.
The Timbers will look to remain on top of the Western Conference in Week 2 with a road win over the LA Galaxy, while the Loons will host fellow expansion side Atlanta United.
Man of the Match
Valeri was one of a few standout stars for the Timbers on Friday night, as he knocked home the second and third Portland goals. Defensive midfielder David Guzman also deserves recognition for his play in the middle of the park.
Moment of the Match
Valeri's first goal of the night handed the Timbers a comfortable two-goal advantage and exposed just how long Minnesota has to go in the defending department.
Match to Forget
It's going to be a rough year for Minnesota's full backs if they play like they did on Friday. Justin Davis and Jermaine Taylor looked out of place as the Timbers wingers ran rampant for 90 minutes.