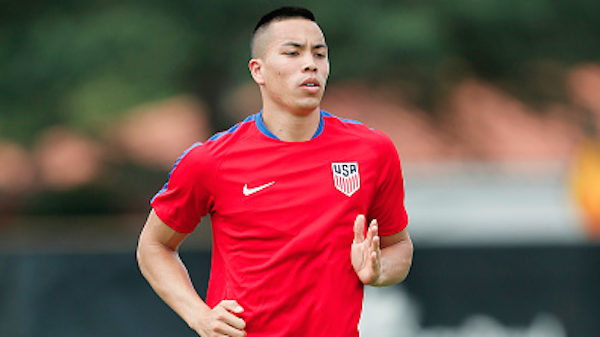 Before Bobby Wood turned himself into a prolific scorer for both club and country, he needed a boost of confidence from someone that was keeping close eyes on him, and that man was former U.S. Men's National Team manager Jurgen Klinsmann.
"He's very important to me," Wood said, per Bild. "I think if Jürgen had not been a US coach, I might have stopped playing football or played somewhere in the fourth league. "
Wood, who had to take himself off the current USMNT roster with a back injury, made his international debut in 2013 under Klinsmann and scored his first goals for the Yanks in 2015.
Before a loan spell at Erzgebirge Aue helped his confidence, scoring three goals in nine matches, Wood struggled at 1860 Munich. The Hawaii native only scored three times in 50 appearances for 1860. Even during his struggles, Klinsmann was one of the forward's top backers.
"I was in a deep hole – it was really hard," Wood said. "But Jürgen Klinsmann gave me a leash in this situation so I could get out of there again. "
Since moving to Union Berlin for the 2015-16 campaign, Wood's stock has been on the rise at all levels. He is one of the primary choices to start at forward for the USMNT, and he is garnering interest from all over Europe thanks to his current production for Hamburg.