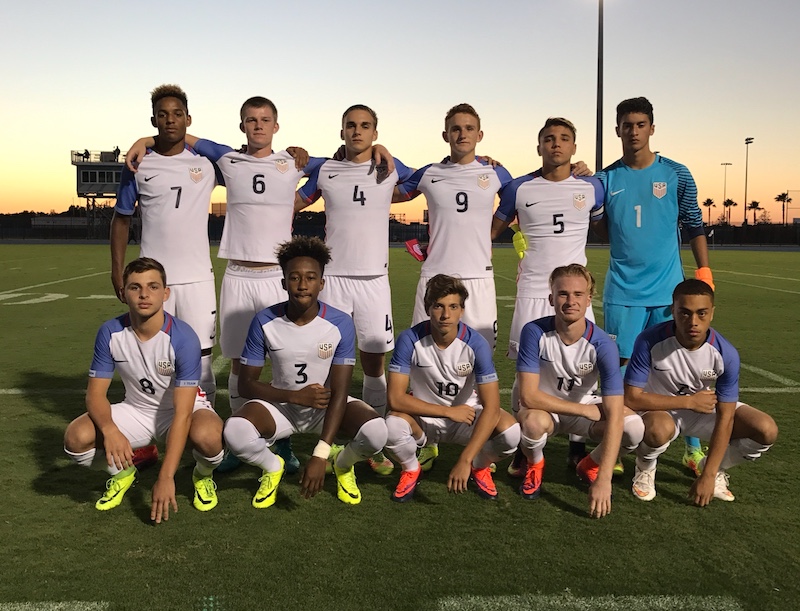 With just under one week to go until the CONCACAF U-17 Championships kick off, head coach John Hackworth has named his 20-player roster that will join him in Panama.
The tournament, which doubles as qualification for the 2017 FIFA U-17 World Cup taking place in India this October, sees the U.S. U-17 Men's National Team compete in Group C against Jamaica, Mexico, and El Salvador. Hackworth elected to bring an attack-heavy squad, featuring only 5 defenders on the roster.
The roster includes four players who signed Homegrown deals with MLS teams in 2016, including Chris Goslin and Andrew Carleton of Atlanta United, Chris Durkin of D.C. United, and Bryan Reynolds of FC Dallas. Joining them are seven players currently in MLS academies, with New York City FC, the New York Red Bulls, Sporting Kansas City, Real Salt Lake, the Portland Timbers, Atlanta United, and Toronto FC each contributing one player currently in their academies.
Two players join from their European teams, with goalkeeper Carlos Joaquim Dos Santos of Benfica and Timothy Weah of Paris Saint-Germain joining the team. The remaining seven players join from private academies, with IMG Academy contributing two players in defender Akil Watts and midfielder Indiana Vassilev.
Here's a look at the complete roster:
ROSTER BY POSITION:
GOALKEEPERS (2): Carlos Joaquim Dos Santos (Benfica; Philadelphia, Pa.), Justin Garces (Kendall SC; Miami, Fla.)
DEFENDERS (5): Christopher Gloster (New York Red Bulls; Montclair, N.J.), Jaylin Lindsey (Sporting Kansas City; Charlotte, N.C.), James Sands (New York City FC; Rye, N.Y.), Arturo Vasquez (FC Golden State; Mira Loma, Calif.), Akil Watts (IMG Academy; Fort Wayne, Ind.)
MIDFIELDERS (7): George Acosta (Weston FC; Hollywood, Fla.), Taylor Booth (Real Salt Lake AZ; Eden, Utah), Christopher Durkin (D.C. United; Glen Allen, Va.), Blaine Ferri (Solar Chelsea SC; Southlake, Texas), Christopher Goslin (Atlanta United FC; Locust Grove, Ga.), Indiana Vassilev (IMG Academy; Savannah, Ga.), Adrian Villegas (Portland Timbers; Hood River, Ore.)
FORWARDS (6): Ayomide Akinola (Toronto FC; Brampton, Ont.), Andrew Carleton (Atlanta United FC; Powder Springs, Ga.), Zyen Jones (Atlanta United FC; Clarkston, Ga.), Bryan Reynolds, Jr. (FC Dallas; Little Elm, Texas), Joshua Sargent (Scott Gallagher Missouri; O'Fallen, Mo.) Timothy Weah (Paris Saint-Germain; Rosedale, N.Y.)