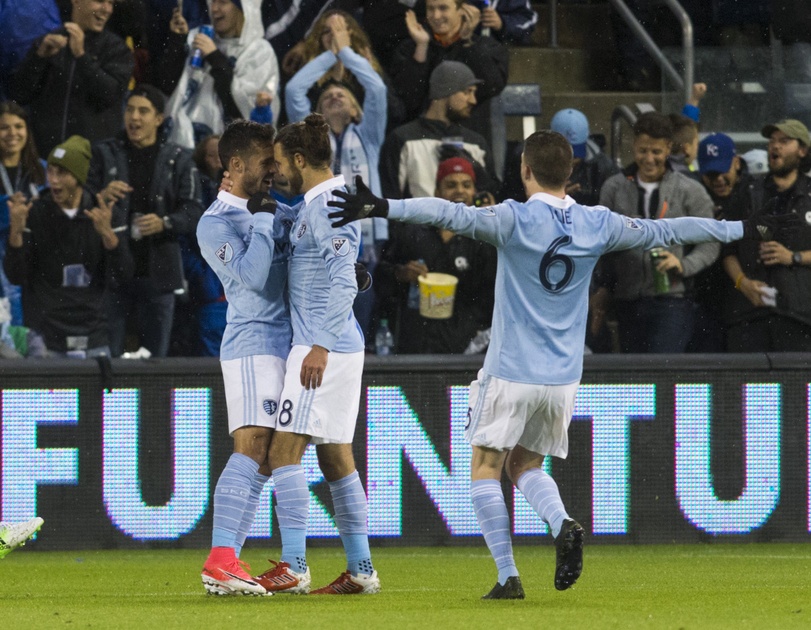 Sporting Kansas City's attacking stars shone bright in yet another home match on Saturday night, as they jumped back on track in the Western Conference with a 3-0 win over Real Salt Lake at Children's Mercy Park.
Benny Feilhaber, Dom Dwyer and Gerso Fernandes all scored a goal each in the club's third home win of the season. The win shot Sporting up to third in the Western Conference and improved their home record to 3-0-1.
Real Salt Lake stood pat for most of the first half, but the visitors could not stop a wonderful strike from Benny Feilhaber in the 17th minute. Feilhaber timed up a pass at the top of the box and sent a thunderous strike into the left part of the net.
Dwyer doubled Sporting's lead in the 51st minute with a lethal breakaway goal. The Sporting KC forward picked up the ball on the left wing, drove toward the box and beat Matt VanOekel with an attempt into the bottom-right part of the net.
Sporting held a clear advantage as the second half progressed, launching a number of threatening counter attacks. At the very last second of the match, one of those breakaways put an exclamation point on the win for Sporting. Late substitute Soony Saad rounded the goalkeeper, then passed to winger Gerso Fernandes, who delivered a third goal on the empty doorstep.
Injury problems proved to undo RSL in the match. The loss of Kyle Beckerman due to a calf injury made previous matters much worse. Matt Van Oekel started in goal for RSL after Nick Rimando left the match last weekend with an injury.
The loss was the second in a row for RSL after a pair of wins started the Mike Petke era in Utah.
Sporting KC stays home next weekend to take on the New York Red Bulls. Real Salt Lake returns to Rio Tinto Stadium next weekend to face FC Dallas.
MAN OF THE MATCH
In his Children's Mercy Park return, Benny Feilhaber found plenty of space to pass and launched another highlight-reel goal. Feilhaber's strike drew the early advantage in the match. Unlike the previous match against FC Dallas, a 1-0 away loss, Feilhaber's impact was invaluable for a Sporting KC win.
MOMENT OF THE MATCH
Sporting established a lead quickly, but it took a little time to put the match away. Dom Dwyer's 51st minute goal made the rest of the match a foregone conclusion.
MATCH TO FORGET
It was a rough night for centerback Chris Schuler and the RSL defense. Schuler made a number of reckless tackles that kept possession in Sporting's favor.