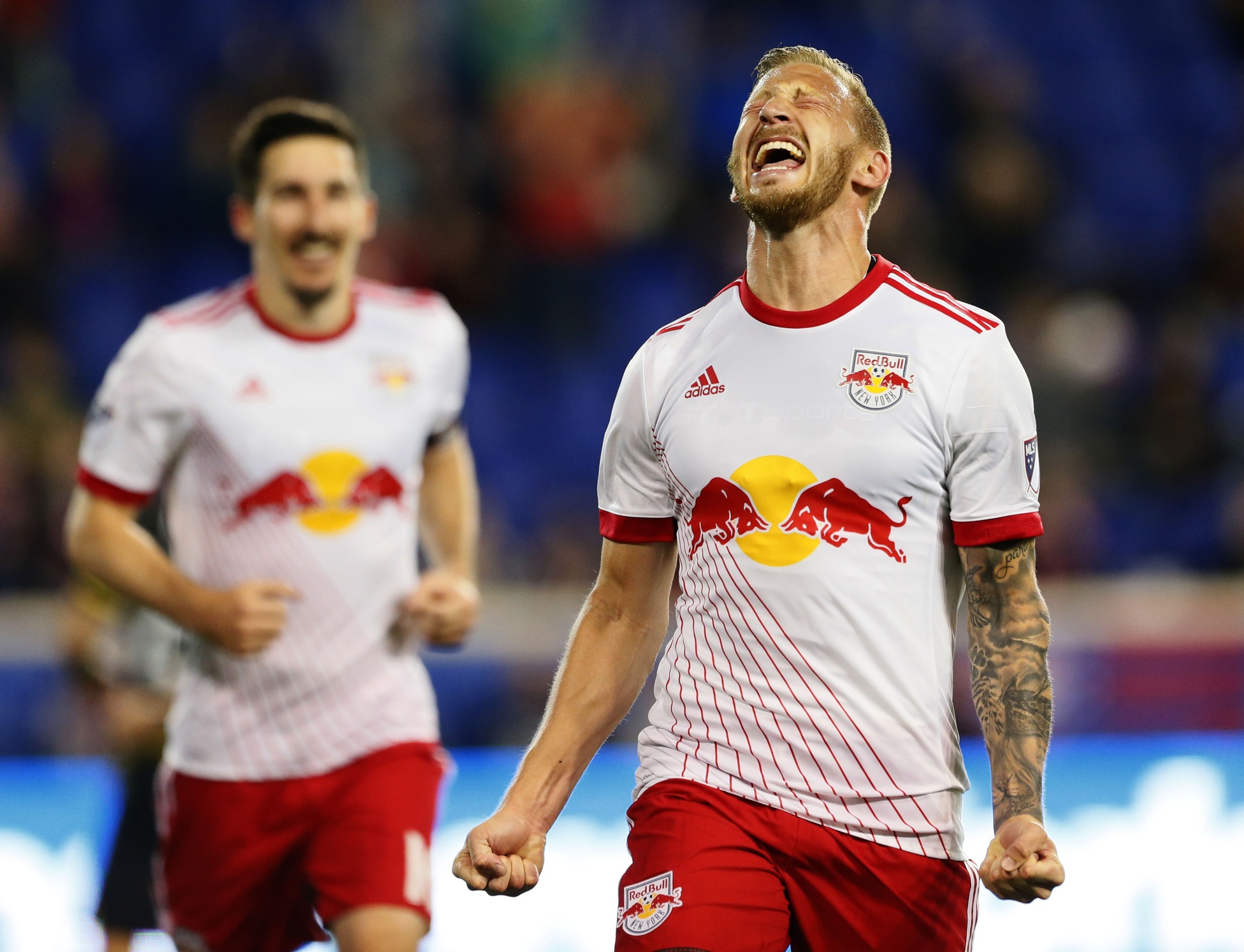 The New York Red Bulls rose to the top of the Eastern Conference standings as they beat the team level on points with them at the top, the Columbus Crew, 2-0 at Red Bull Arena on Saturday.
The first goal of the match came just 11 minutes in, when Sacha Kljestan found Kemar Lawrence running into the penalty area. Lawrence then sent the ball to Alex Muyl, standing in front of goal, who easily scored from close range.
The Red Bulls increased their lead towards the end of the first half, as Alex Crognale took Bradley Wright-Phillips down in the penalty area, conceding a penalty. Daniel Royer converted, sending the ball to the left side of the goal.
While the Red Bulls dominated the first half, the second half was more even, as both team had big opportunities to add to the goalscoring. Both Luis Robles and Zack Steffen, though, made crucial saves, and despite some close calls in front of the Crew goal in the late stages of the second half, the match remained 2-0 to the Red Bulls.
The Crew were dealt injury blows in the first half, forcing them into making two substitutions before the break. The first injury came after just 30 seconds, as Artur went down after an altercation with Lawrence with what the team is calling a left wrist injury. Crognale was the second to go down, hurting his right ankle right after conceding the penalty.
Man of the Match
As the Red Bulls begin a run of good form, so has their captain, Sacha Kljestan, who put in a strong 83 minutes at the top of the midfield. He was crucial in creating the first goal, as he made the important pass to Kemar Lawrence before Alex Muyl scored. Kljestan remained active throughout the match, playing key passes as the Red Bulls' attack consistently threatened the Crew defense.
Moment of the Match
Following a foul on Alex Crognale, Danie Royer's penalty kick gave the Red Bulls a much-needed cushion with halftime looming. The goal helped clear the way for the Red Bulls' to continue the team's 18-game home unbeaten streak.
Match to Forget
Alex Crognale's 39 minutes were full of few highlights. Part of a leaky defense that allowed Alex Muyl to remain virtually unmarked for the first goal, the night got worse for the defender. In the 36th minute, the rookie first conceded a penalty, leading to the game's final goal, and then immediately hurt his right ankle and was subbed off.