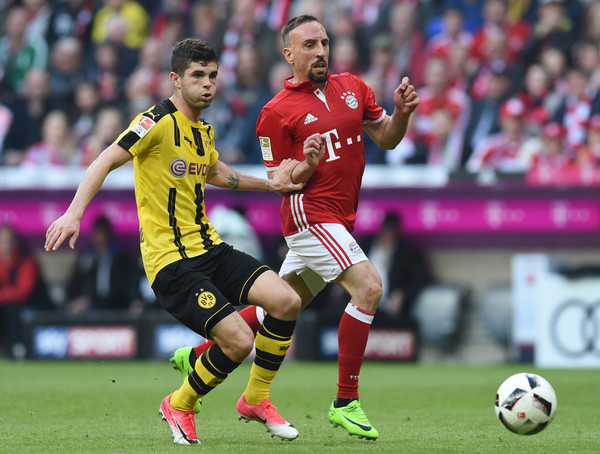 A clash of German heavyweights takes centerstage on a busy Wednesday as Borussia Dortmund and Bayern Munich battle to reach a cup final
The two powerhouses face off in Wednesday's DFB-Pokal semifinal. Awaiting them are Timmy Chandler and Eintracht Frankfurt, who took down Borussia Monchengladbach on Tuesday to book their spot in the tournament finale.
In England, Tottenham will look to continue their title push against Crystal Palace while Arsenal continues to fight for a top four finish in a match against Leicester City. Middlesbrough also takes on Sunderland in a match featuring two relegation contenders.
Elsewhere, the CONCACAF Champions League final returns on Wednesday for the second leg while the U.S. and Mexico collide in the CONCACAF Under-17 Championship.
If you will be watching today's action, please feel free to share your thoughts and opinions in the comments section below.
Enjoy the action (Today's TV schedule below):
PREMIER LEAGUE
2:45 p.m. – NBC Sportes Live – Arsenal vs. Leicester City
2:45 p.m. – NBC Sportes Live – Middlesbrough vs. Sunderland
3 p.m. – NBCSN – Crystal Palace vs. Tottenham
DFB-POKAL
2:45 p.m. – ESPN 2 – Bayern Munich vs. Borussia Dortmund
LA LIGA
1:30 p.m. – beIN Sports – Barcelona vs. Osasuna
2:30 p.m. – beIN Sports Connect – Leganes vs. Las Palmas
2:30 p.m. – beIN Sports Connect – Valencia vs. Real Sociedad
3:30 p.m. – beIN Sports  – Deportivo La Coruna vs. Real Madrid
CONCACAF CHAMPIONS LEAGUE
10 p.m. – Univision Deportes – Pachuca vs. Tigres
CONCACAF U-17 CHAMPIONSHIP
6:30 p.m. – Univision Deportes – Mexico U-17 vs. U.S. U-17