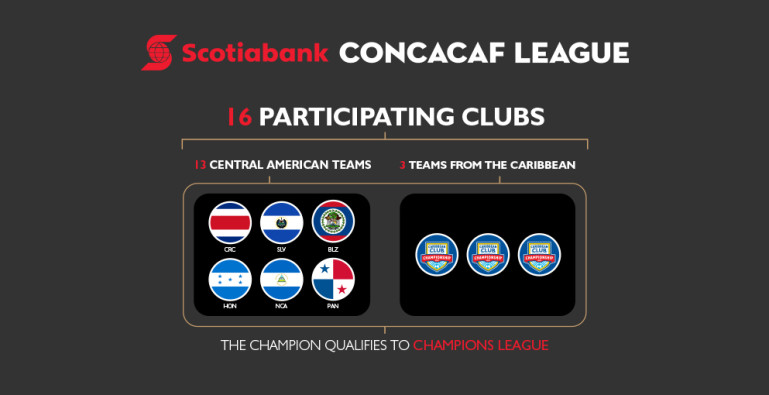 In continuation of their expansion of the CONCACAF Champions League, the confederation announced a new tournament to serve as qualification for smaller countries in Central America and the Caribbean.
The newly announced Scotiabank CONCACAF League will be a 16-team tournament, the champion of which qualifies for the next year's Champions League. The tournament will include 13 teams from Central America and three that qualify via the Caribbean Club Championship. Two teams from each of Costa Rica, Honduras, El Salvador, Guatemala, Panama, and Nicaragua, as well as one team from Belize, join the three Caribbean teams in the new tournament.
The champion will join the Canadian Cup Champion, the Caribbean Club Champion, the overall champions of Cota Rica, Honduras, Panama, El Salvador, and Guatemala, four Mexican teams, and four American teams in the subsequent Champions League. The new tournament provides an avenue for a smaller team from Central America and the Caribbean to qualify.
The draw for the new league will take place on May 31st in Miami, FL. The tournament itself is set to begin play this August for qualification into the 2018 Champions League.
For the 2017 edition, due to the continued FIFA suspension of the Guatemalan federation, three teams will replace those set to compete in the 2017 CONCACAF League and 2018 CONCACAF Champions League. Panama and Honduras will each have an additional team in the 2017 CONCACAF League, while the second-place Costa Rican team will qualify for the 2018 CONCACAF Champions League.