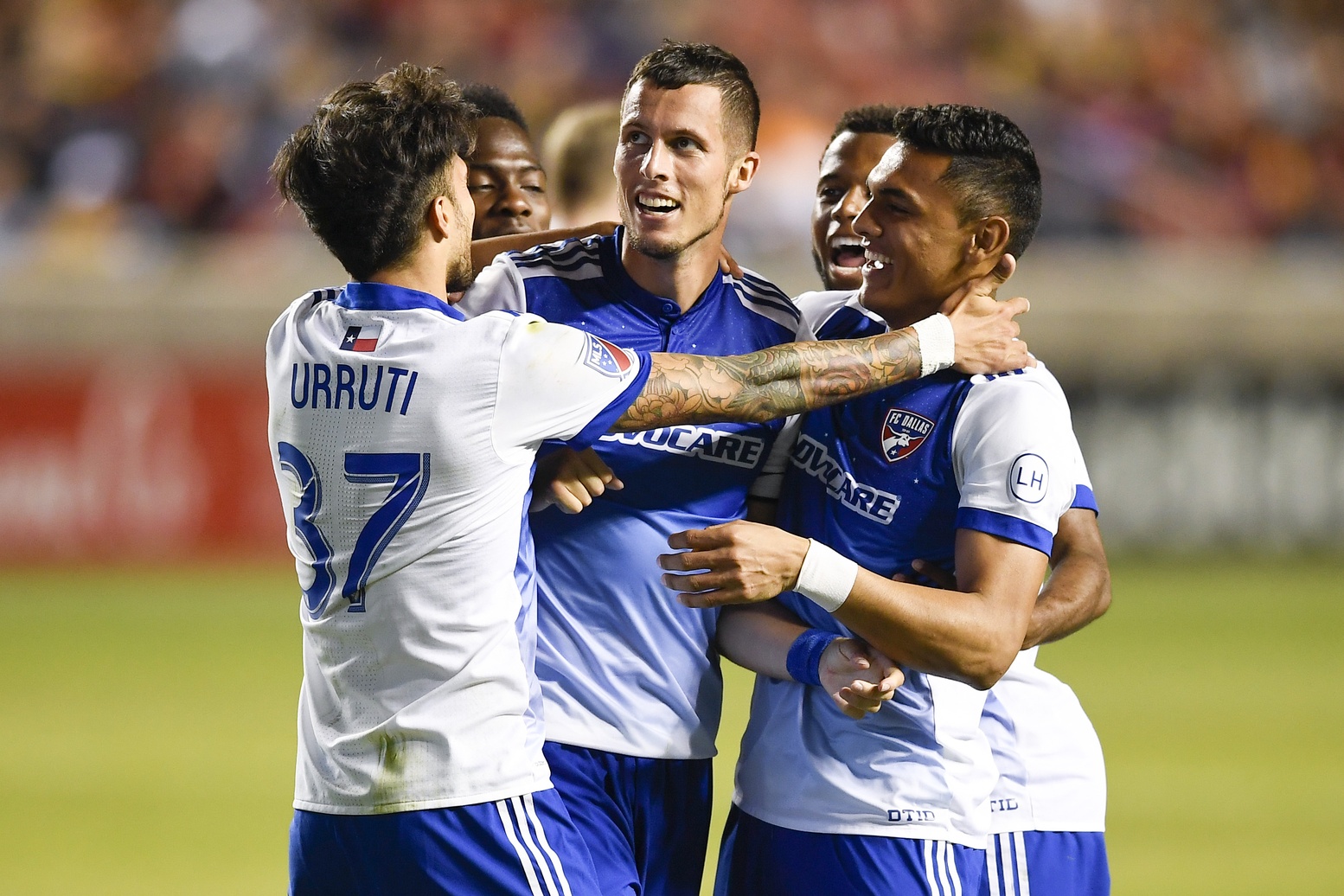 FC Dallas went into Rio Tinto Stadium on Saturday night and thoroughly dominated Real Salt Lake, earning their second road victory of the season, 3-0.
Maxi Urruti knocked home a pair of strikes for Oscar Pareja's men, while Matt Hedges chipped in a tally of his own in the rout.
The visitors did not waste any time to get on the score sheet—not without a dose of controversy however. Demar Phillips' left arm was trailing down while sliding in to deny Techo Akindele of an opportunity to pass and the RSL defender touched the ball in the process.
FC Dallas were given the penalty kick despite the natural nature and lack of intent of the handball inside the 18-yard box. Maxi Urruti sunk in the penalty to give his team a one-goal advantage with only three minutes played in the game.
Another controversial moment came later in the first half when Hernan Grana seemed to have had a handball of his own in the box while jumping to head the ball. However, the penalty was not awarded to the displeasure of the fans at Rio Tinto Stadium.
FC Dallas added to their tally in the 67th minute off a corner kick. Matt Hedges managed to push himself off of Chris Wingert to allow himself the space to head the ball in the net for the two-goal lead.
The men in blue and white gave themselves a three-goal cushion in stoppage time when Urruti netted his second goal of the game. Breaking away on the left side, the Argentinian chipped Matt Van Oekel before tapping an easy third goal for the visitors.
Real Salt Lake will try to rebound in New England on Saturday night, while FC Dallas take on New York City FC on Sunday night.
Man of the Match
Maxi Urruti, despite not always being central to his team's success, was there to score the goals that counted for FC Dallas. He converted the early penalty to start the game on the right foot and ended the match with a seemingly effortless chip over Van Oekel, leading to his team's third and final goal of the night.
Moment of the Match
A controversial start to the game it was. Tesho Akindele, inside the 6-yard box, passed back towards the penalty spot and a sliding Demar Phillips touched the ball with his hand—giving FC Dallas a penalty kick which was converted by Urruti.
Match to Forget
Demar Phillips was the catalyst to FC Dallas' goal tally. The 33 year-old Jamaican was not solely responsible for RSL's loss but he'll want to let Saturday night's memories go as soon as possible.